In a "Nick News" interview from 1994, we catch a glimpse of the life of Neil Young -- as a dad.
Young, now 71, has lived in California for decades, but he was born in Omemee, Ontario.
He is a father of three. He had his oldest son, Zeke, in 1972 with actress Carrie Snodgress. Then he married Pegi Morton in 1977 with whom he had two children, Ben in 1978 and Amber Jean in 1984.
In the clip, Young reveals his love of model trains started when he was just a kid himself. As Amber Jean, who was 10 in the video, says matter-of-factly: "Dad's a train nerd."
And those model trains became a way for Young to share time with Ben, who has cerebral palsy.
"When I started building the railroad, I built it so that my son and I could have something to do together especially when we found out how disabled Ben was physically," Young says. He still has an entire building on his Broken Arrow ranch for their trains.
At the end of the video, Young says: "Ben has taught me you never give up. You can't say 'This is too hard.' It can't be too hard. There's so many kids with challenges that are so great and yet they just keep trying. So if I come up against something that's hard to deal with, I can handle it and it's because of him."
Neil and Pegi divorced in 2014 after being married for 36 years. In their divorce documents, they both agreed to continue supporting Ben.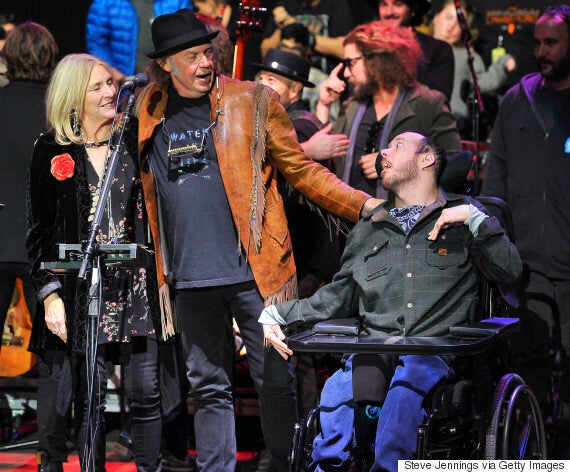 Pegi Young, Neil Young and Ben Young attend the 30th Annual Bridge School Benefit concert on October 22, 2016 in Mountain View, California.
Ben now goes on every tour with Young. "He's our spiritual leader in that way," Young told the New York Times. "We take him everywhere, and he's like a measuring stick for what's going on."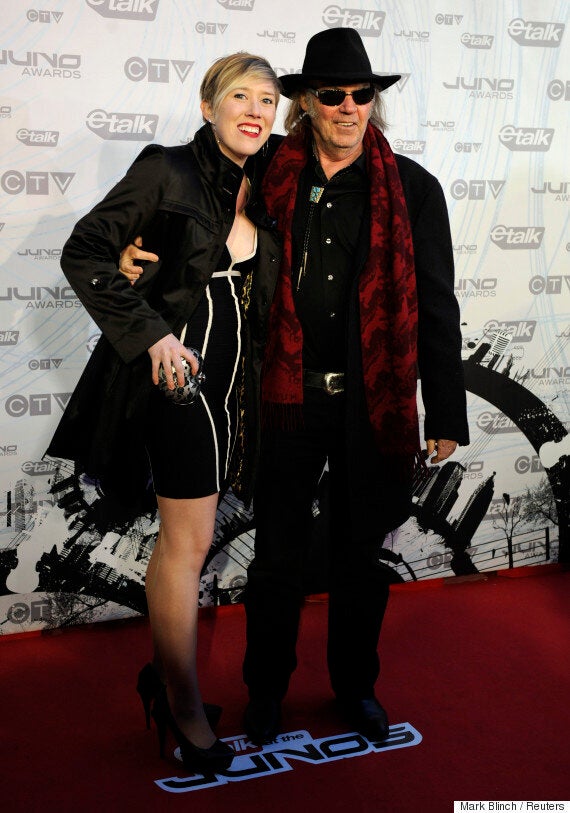 Recording artist Neil Young and his daughter Amber Jean pose on the red carpet during the 40th Juno Awards in Toronto on March 27, 2011.
Using a computerized communication device in an interview with a local paper, Ben explained why he started the chicken farm. "The whole idea of nurturing animals that can give you something in return without having to slaughter them just works for me. There is a very (strong bond) between people on the farm and the animals on the farm. Besides baby chicks are so cute, and eggs are one of my favourite foods."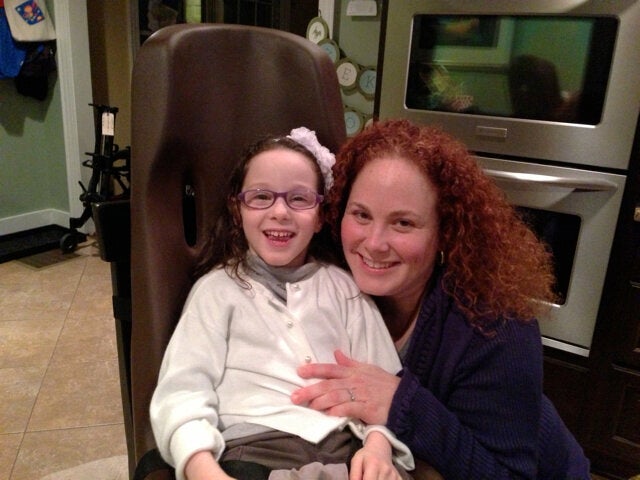 Mums Speak Out About Lack Of Cerebral Palsy Research