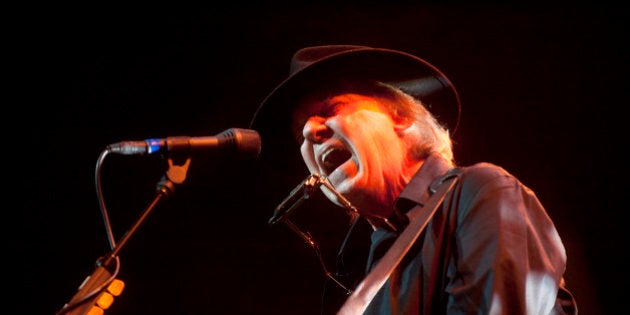 Neil Young has seen his concert in Israel slated for later this week cancelled due to the ongoing conflict in northern Gaza. CBS News (citing a Reuters article) reported Sunday (July 12) the gig was nixed by police for security reasons. Police spokesperson Micky Rosenfeld said the decision was "in order not to put people in Gaza rocket range at unnecessary risk."
As of Sunday evening Young's official site had no statement on the cancellation. However, Rolling Stone reported Sunday afternoon that a representative for Young issued the following brief statement:
"It is with heavy hearts and deep sadness that we must cancel our one and only Israeli concert due to tensions which have rendered the event unsafe at this time. We'll miss the opportunity to play for our fans and look forward to playing in Israel and Palestine in peace."
Young state he'll make donations to the Louse Tillie Alpert Youth Music Center of Israel and Heartbeat, "two organizations that teach music to Palestinian and Israeli youth simultaneously by enabling them to play music together."
On Friday, Young was called out by Roger Waters on a Facebook post for then still planning to honor the July 17 concert. In the lengthy post entitled "Enough Is Enough", Waters said he sent a private letter to Young last January through the email of Young's longtime manager Elliot Roberts.
"Dear Neil Young," Waters began. "There are rumors flying about that you are considering doing shows in Tel Aviv this year. The picket lines have been crossed in this last year by one or two lightweights from our community but no one of your stature. Woody Guthrie would turn in his grave. Neil Young!"
Waters, who put Young in a short list of other musical heroes, added Young's songs have "always been redolent of love and humanity and compassion for your fellow man and woman." Waters also said he found it "hard to believe that you would turn your back on the indigenous people of Palestine."
Waters also stated he would go with Young "to Palestine, and Israel, if they'll let me in, you will see what I have seen, and then let us figure out the right thing to do."
Young's tour page simply has "(cancelled)" beside the July 17 show which was slated for Hayarkon Park. Young was scheduled to perform with Crazy Horse with the Shuki Weiss production company, the concert promoter, stating 30,000 had purchased tickets for the show.