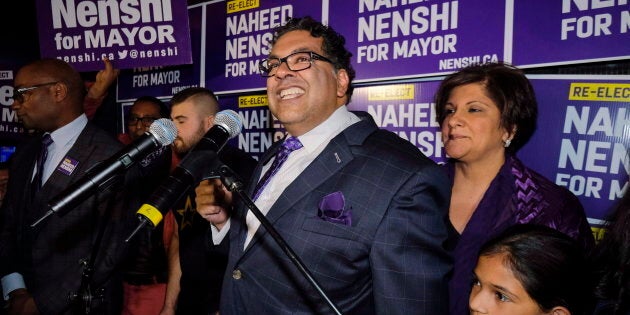 Calgary and Alberta are changing thanks to new citizens, a new economy, and different values. But the swaggering conservatives don't realize their old playbook is out of date, and their experiment with the United Conservative Party does not assure a return to power.
The re-election of Calgary Mayor Naheed Nenshi should be a sign to Alberta's conservatives, led by career right-wing politician Jason Kenney with his United Conservative Party, that they are out of step with the times. Calgary now has thousands of immigrants from faraway places who prefer public transportation, have good jobs in hospitals, schools and public institutions, and enjoy parks and shopping. Their children attend our schools and universities, and are succeeding.
Alongside these new Canadians, we see massive numbers of young people — we've come to know them as millennials — taking their own unique place in society, building careers and dominating new industries that didn't exist 10 years ago.
The new Calgarians believe fighting climate change is not an act of sedition; it is an act of good citizenship. Supporting LGBTQ equality is not sacrilege, but basic fairness.
Had the election been held 10 years ago, Nenshi likely would have lost.
Nenshi's re-election to his third term was a potent example of these changing times. Because of the collapse of TransCanada PipeLine's Energy East proposal, Calgary's oilmen — a very large percentage of whom regularly support conservative causes — were enraged at those they viewed as socialistic tree huggers in the Notley and Trudeau governments who sabotaged their project.
Alberta conservatives and their traditional allies in the province's Postmedia daily print media monopoly — the Calgary Herald, the Edmonton Journal and the Sun tabloids — quickly fanned the flames of resentment toward their arch-enemies in Edmonton and Ottawa, which they considered friendly to Nenshi.
Calgary conservatives eagerly anticipated the looming showdown against an ideal symbolic opponent. Nenshi, Calgary's mayor since 2010, was vulnerable in their eyes. He needed to dig deep for more tax money in the last two years to bolster a wobbling economy. He often responds to critics with condescending impatience. Nenshi is also a Muslim at a time when some conservatives have grown bolder in their racism, thanks to the election of U.S. President Donald Trump.
Calgary's conservative establishment believed the bland Bill Smith was the man to beat Nenshi. Smith is an ex-firefighter and WASPish lawyer with no elected experience. He was, however, president of the Alberta Progressive Conservatives, now absorbed into the right-wing United Conservative Party through a merger with the Wildrose Party.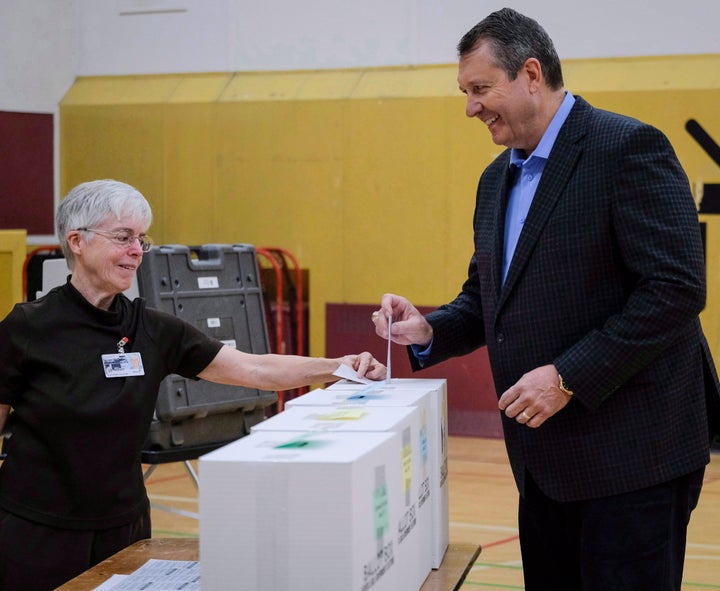 The UCP sees itself as an unstoppable juggernaut on an inexorable course to boot Rachel Notley's NDP government. Based on questionable polls, they anticipated Nenshi's imminent defeat to be a dry run that would obviously signal to Albertans that crony conservatism dominated by the oil and gas establishment was back in the driver's seat and would soon be gorging itself on pork from their very own barrel.
Even the beloved Calgary Flames NHL team were dragged into the mayor's race. The conservative puppetmasters, who also dominate the Flames' ownership and head office, bet they could seal Nenshi's fate by threatening to move the team and pinning the blame on him.
On Oct. 16, Calgary's conservatives were proven sadly misinformed. Nenshi campaigned tirelessly on substance and policy, disclosed his financial supporters while Smith kept his secret, and defended tough decisions. Although his 30,000-vote margin was not nearly as impressive as his first two victories, his opponents were beaten decisively.
If Calgary conservatives are reflecting on what went wrong, here is a short list: Smith bungled a mini-scandal over a lawsuit against him during his years as a practicing lawyer; he dawdled and ultimately refused to disclose his financial contributors; and he did not even have a basic grasp of policy, which was absent from his campaign in favour of lengthy grievances about Nenshi's mayoralty.
But the biggest factor in Nenshi's victory is that he represents what Calgary has become and what conservatives are trying to smother.
Smith's fate was sealed by the Flames' inept mid-campaign gambit to demand a new arena to be largely paid for by taxpayers. Led by the Flames' bumbling bully president Ken King and his grim consigliere, NHL commissioner Gary Bettman, the team crassly threatened to move if Nenshi did not knuckle under and give them everything they demanded in order to stay.
The Flames' heavy-handed attempt to be the instrument to dump Nenshi was a unifying factor for thousands of Calgarians who do not like to be bullied by billionaire oligarchs and their henchmen.
But the biggest factor in Nenshi's victory is that he represents what Calgary has become and what conservatives are trying to smother. Had the election been held 10 years ago, Nenshi likely would have lost. In 2007, Calgary was still a thoroughly conservative city controlled by like-minded oil barons, media and political operatives forming a ruling troika elite.
In 2017, the victory of Naheed Kurban Nenshi confirmed that Calgary has been fully transformed into a vibrant city with a progressive attitude toward government, multiculturalism and economic development. His victory shows the UCP cannot rely on the threats, media complicity and crony capitalism of the past. Their time for reinvention has arrived. The question is whether they are aware of it.