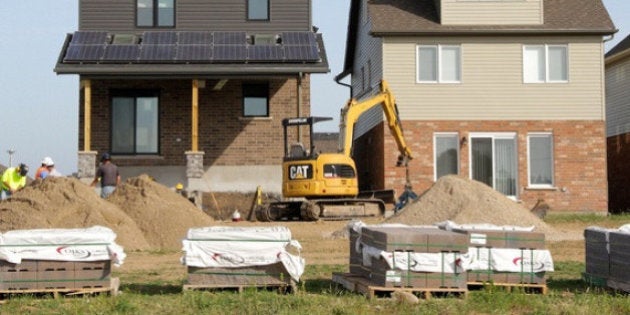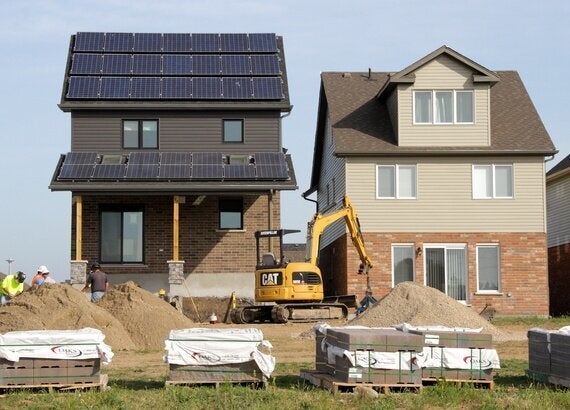 And the prize is one everyone can appreciate: a home that produces as much energy as it consumes over the course of a year. A net-zero home is not a passive consumer in the energy system -- it is a clean and green participant.
Owens Corning was hired by Natural Resources Canada to recruit the builders and help manage the project.
"It's not a question of if net-zero homes are going to be built -- it's a question of when they're going to be built," says Andy Goyda of Owens Corning.
So we went to Cambridge, Ontario and met up with Reid's Heritage Homes, one of the builders selected for the program. They have completed one net-zero home, have another under construction and the foundation for the third will be dug out soon.
Reid's Heritage Homes already builds Energy Star homes that clock in at EnerGuide 83, above the Ontario building code that mandates Energuide 80. And for their first effort at net-zero, Reid's took their most popular plan, a 1,700-sq.-foot split level, and built it in Guelph, Ontario. From the outside the home looks pretty normal, aside from the roof and covered back porch that is packed with eight kilowatts of solar PV modules. And heck, solar PV isn't even all that unusual in Ontario these days. There were two other homes with solar within sight of the home.
But it is a learning process. Putting solar on the south facing covered back porch was a bit of an ad lib in order to fit all the solar PV on the house. "On the next homes we lowered the pitch on the rear of the home and pushed the ridge line forward so that we can actually fit all the panels needed on the home," says Jennifer Weatherston, Reid's director of innovation.
The only other external sign that something is different in this house is the Mitsubishi air source heat pump heating and cooling system mounted on the side of the home.
Like all of the net-zero homes we've featured on Green Energy Futures this home has a very airtight envelope, lots of insulation and high quality triple-paned windows. The R38 walls were uniquely designed using 2x6 framing and a double layer of foam board insulation, the attic is R60 and they have insulated the foundation walls and under the slab.
They've learned a lot from building the first home to the second. The wall assembly in the second home is far simpler. "We went to a 2 x 8 wall system with double R14 batt [insulation] and two inches of CodeBord on the outside. So it's less labor intensive, it's more cost efficient, and we get the same result at the end of the day," says Weatherston.
There was a blower door test going on when we were there; it came in at 1.1 air changes per hour, just a tiny fraction under their goal of 1.0.
"The learning curve on this is we try the way we think it should be done first and then you learn. And as you progress, you get better and better and your costs start coming down, too, because you know you don't have to do certain things," says Goyda.
There is no question Reid's Heritage Homes took the opportunity with the NRCan grant to experiment a little in their first net-zero home, with things like the labour-intensive double layered foam insulated walls, the three day battery backup system in a special cellar room and a complex zoned heating system.
Reid's Heritage Homes estimates their first net-zero home will cost $60,000 to $70,000 more than a typical code-built home, if you include the solar PV system. But to Goyda it's worth every penny.
"When you take into account code-built homes, you're investing all this money into a home that's going to be obsolete in five years' time. In other words, a code-built home today, you can't build legally five years from now. So, why would you want to invest money in a code-built home, when you can invest money into a...net-zero home that'll pay you back."
New net-zero wrinkles
Reid's Heritage Homes first net-zero has lots of bells and whistles, but their second, third, fourth and fifth net-zero homes will undoubtedly be simpler, better suited to a production environment and most importantly, more affordable.
Unlike many of the homes we've seen in Alberta, this net-zero home also retains its natural gas connection for the stove and dryer. This home also included a hybrid air-source heat pump/electric hot water heating system.
"They are pricey, but when we did the return on investment for the home buyers... it was a no-brainer. It made complete sense to put this type of unit in and utilize the energy efficiencies," says Weatherston.
Reid's Heritage Homes' first net-zero home is beautiful. It's clear the builder is learning and adapting with each build. This program is definitely a step in the right direction: housing accounts for 15 per cent of Canada's greenhouse gas emissions and 17 per cent of Canada's secondary energy use.
Innovation and affordability will help spread the net-zero gospel far and wide -- and 25 net-zero homes spread out across Canada is a good start.
Popular in the Community