 Straight out of Der Sturmer and the antisemtiic Protocols of the Elders of Zion, Tony Burman, current Ryerson University journalism professor and former head of CBC and Al-Jazeera news, outrageously claimed that Benjamin Netanyahu is Prime Minister of Israel by day and "Canada's new foreign minister" at night as "the Harper government's outsourcing of Canada's Middle East policy to Jerusalem is now complete."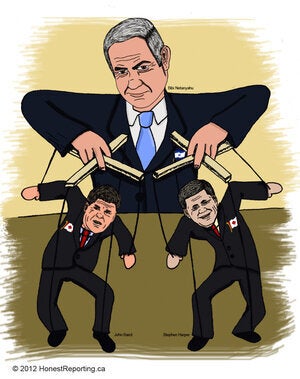 Throwing objective journalism out the window, Burman peddled this odious conspiracy theory that you'd expect to see in the annals of Holocaust denial websites, on the commentary pages of the Toronto Star on September 7.
Without even a modicum of evidence to support his allegation that Israel controls Canadian foreign policy, Burman used only conjecture and specious argumentation to smear Israel, instead of grounding his opinions in facts.
Is it any less far-fetched to suggest that Canada was thinking for itself? Foreign Affairs Minister John Baird proclaimed that Canada's decision to cut diplomatic ties with Iran, brand it a state-sponsor of terror, and to close its embassy in Tehran was a "made-in-Ottawa decision" saying that Canada acted alone in this regard.
Baird listed many reasons to explain what prompted Canada's move against Iran: the safety of Canadian diplomats, Iran's military assistance to Syria, its hateful antisemitic rhetoric, support for terror, deplorable human rights record, and its destructive pursuit of nuclear weapons. Importantly, Burman parroted the Iranian regime's party-line as Iran's Foreign Ministry spokesman Ramin Mehmanparast declared "The hostile behaviour of the current racist government in Canada in reality follows the policies dictated by the Zionists (Israel) and the British."
In an interview with Burman's former employer, the CBC on September 9, Netanyahu said: "I wasn't in consultation with Prime Minister Harper before he chose to do this courageous act in the diplomatic field..." Netanyahu's official statement described Canada as having made its own determinations, while his spokesperson described Canada's actions as being "their own, independent decision."
This isn't the first time that Burman's Toronto Star commentaries have come under the brunt of fierce criticism. In March, National Post columnist Robert Fulford wrote an eviscerating response to a column Burman authored which drew a moral equivalence between Iran's mullah's and the Tea Party. Fulford also observed that another Burman column had begun with an ironclad prophecy that "There will be a war in the Middle East within the next several months, triggered by an Israeli attack on Iran..." but as Fulford adroitly observed, "Before he (Burman) reached the end of the paragraph he confusingly reversed himself and began telling us that the time to prevent war is running out. So the war was, even for him, just a good opening line."
The Toronto Star's historical contempt for Israel is well known, but there's an important line separating legitimate opinion that enhances the public discourse, from hateful rhetoric that interferes with constructive dialogue. While Burman has the right to offend, he crossed the line by saying that Canada's foreign policy is outsourced to Israel and that our Department of Foreign Affairs takes its marching orders from Jerusalem. In so doing, Tony Burman has single-handily tarnished the reputation of Ryerson University's School of Journalism abetted by the opinion pages of the Star.
Popular in the Community