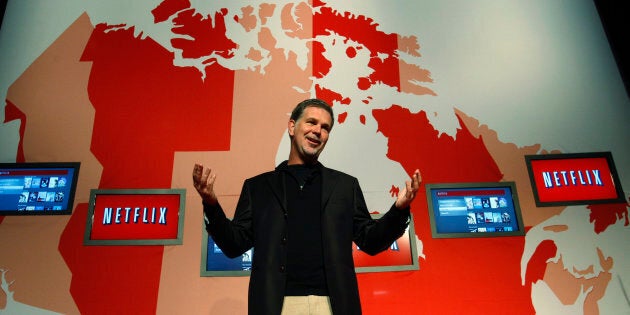 Netflix Canada's recent foray into the politics of Ontario's sex education curriculum may be just the start of a new era of corporate activism, one marketing expert says.
In a tweet Wednesday, the U.S.-based streaming service took a dig at the provincial government of Premier Doug Ford, which last summer suspended the province's existing sex-ed curriculum, temporarily reverting to the previous program which had been formulated in 1998.
WATCH: The Reaction To Ford's Sex-Ed Curriculum Isn't Just Among Parents. Story Continues Below:
The tweet proved wildly popular, being retweeted more than 8,600 times, but also proved controversial with some on social media who criticized the streaming service for taking a partisan political stance.
Yet this sort of thing will likely become more common in the future, says Monica LaBarge, an assistant professor of marketing at Queen's University's Smith School of Business.
"For sure we've started increasingly to see — especially in the U.S. — more corporate activism around political topics," she said, adding that it's been "relatively unusual to see that in Canada."
LaBarge believes this is a growing trend in part because consumers themselves are increasingly spending money on brands that they believe reflect their own values.
Watch: What's new on Netflix Canada, December 2018 (story continues below)
"Increasingly we're going to see companies being pushed to take a political stance that they never would have in the past," she told HuffPost Canada.
There's always a risk with this sort of strategy, "but the company balances the risk against who they believe their customers are."
Businesses today may know their customers better than politicians know their constituents, LaBarge suggested.
And if a company declares it has the same values as its customers, "it's another connection between you and the company that you wouldn't have otherwise."
In Netflix's case, LaBarge admits surprise, given the company's wide customer base, but she notes that younger people tend to be earlier adopters of new technologies, and tend to be more progressive in their views.
"You could argue this is consistent with the views of their users," she said.
Free publicity through controversy
But Netflix's tweet may also simply be a case of viral marketing, said Tim Richardson, a retired professor of e-commerce at the University of Toronto, currently teaching at Toronto's Seneca College.
By saying something controversial, Netflix can garner attention on social media. And if that controversy is loud enough, "it's going to get picked up as a (news) story and get a lot more exposure," Richardson told HuffPost Canada.
Paying for advertising can be risky and companies often don't have the sort of ad budgets they need, Richardson said. Viral marketing reduces costs because "these other people are carrying the story for you."
Now it's personal
Finally, it may be business owners' and execs' own feelings that sometimes drive businesses to take a political stance.
"Let's face it, companies are run by people who have their own priorities, their own political views," LaBarge said.
And in an age of increasing political polarization, business leaders may feel more need to express those views.
"And I'm not sure that's a bad thing, either," she said.