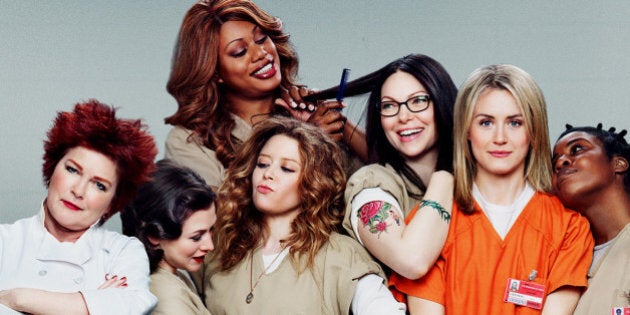 Another month, another set of great movies and TV shows to check out on Netflix Canada.
The streaming service is set to lose some great titles like "Argo" and "Gran Torino," but they'll be replaced by Oscar-calibre fare such as "Foxcatcher" and "Gone Girl."
While we can't wait to watch some of the movie titles that will be showing up this month, we're particularly excited for the return of "Orange is the New Black," the Netflix original series about the travails of inmates inside a women's prison.
Season 3 picks up after Alex (Laura Prepon) has returned to the prison, to Piper's (Taylor Schilling) delight. Meanwhile, Vee (Lorraine Toussaint) has presumably died after escaping. And while many inmates are happy with this outcome, it has left Crazy Eyes (Uzo Aduba) without the one person she felt understood her.
Those are a just a few titles that viewers can look forward to.
Below, we've compiled a list of do-not-miss titles that will give you every reason to spend June on the couch.
Here are the titles that will be streaming on Netflix in June:
Quentin Tarantino's Oscar-winning western sees Django (Jamie Foxx) and Dr. King Schultz (Christoph Waltz) try to rescue the former's wife Broomhilda (Kerry Washington) from a vicious Mississippi plantation owner (Leonardo DiCaprio).
Bennett Miller's film tells of Olympic gold medal-winning wrestlers Mark and Dave Schultz (Channing Tatum and Mark Ruffalo), and their association with eccentric sponsor John du Pont (Steve Carell). Ruffalo and Carell were both nominated for acting Oscars.
Rarely has it been so fun to watch people be so bad to each other. Rosamund Pike plays Amy, a woman who goes missing one day, leaving her husband Nick (Ben Affleck) to become the centre of a media maelstrom.
J.K. Simmons rightly won the Best Supporting Actor Oscar for his turn as Terence, a sadistic jazz instructor who drives cocky student Andrew (Miles Teller) to his breaking point.
"Sense8"(Available June 5)
"Matrix" creators the Wachowskis are just two of the minds behind this sci-fi thriller, about eight people who discover they are mentally linked, and must evade the people who are hunting them down. Daryl Hannah and "Lost's" Naveen Andrews star.
"DreamWorks Dragons: Race to the Edge"(Season 1) (Available June 26)
"How to Train Your Dragon's" Hiccup (Jay Baruchel) and Toothless journey beyond Berk and uncover the Dragon Eye, which teaches them about lands with dragons that have not been discovered yet.


Popular in the Community