The Bloc Québécois are continuing to court NDP voters with a new inflammatory ad that blurs pipeline politics and religious freedoms.
Uploaded Friday, the French-language ad targets NDP Leader Thomas Mulcair over his stance in support of women's rights to wear a niqab while taking the oath of citizenship.
"The elections are coming," says a narrator off-camera. "There is also a big beautiful pipeline that's coming even if we don't want it."
A glob of oil then spills out of the pipeline and forms into the shape of a niqab.
Watch the Bloc's animated ad below:
The narrator then justifies "returning" to the Bloc by calling Mulcair's position against a niqab ban during citizenship oath ceremonies the "final drop."
Some responded to the ad by calling it "racist" while others voiced confusion:
The ad marks a second attempt by the party to frame the niqab debate into a wedge issue to turn NDP voters into Bloc supporters. It comes days after a Federal Court of Appeal ruled a ban on wearing niqabs during citizenship ceremonies to be unlawful.
Bloc Leader Gilles Duceppe reacted to the decision Wednesday by saying, "Women should not have their face covered in our society."
The Conservative government has since announced its intention to stay the ruling pending an appeal.
Earlier this week, the party found itself explaining another social media blunder after it was busted for using a stock image of a Pennsylvania farm in a graphic championing the Bloc's promise to protect the interests of the province's agricultural industry.
With files from Althia Raj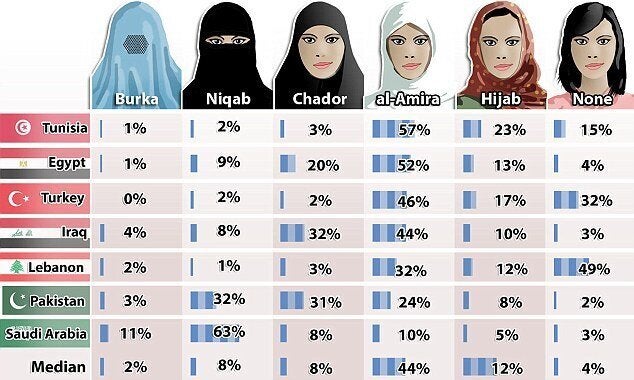 Hijab, Burka And Niqab Use Around The World