The fight for abortion access in New Brunswick has been a long one. But advocates just scored a big win: for the second time, the federal government is cutting funds to the province as retaliation for their treatment of abortion.
Health Canada announced last week that it would withhold $140,216 in health transfers from New Brunswick. The reason, they stated explicitly, was because the province refused to cover the cost of abortions outside of hospitals, forcing those patients to to pay out-of-pocket for termination. An abortion can cost up to $850.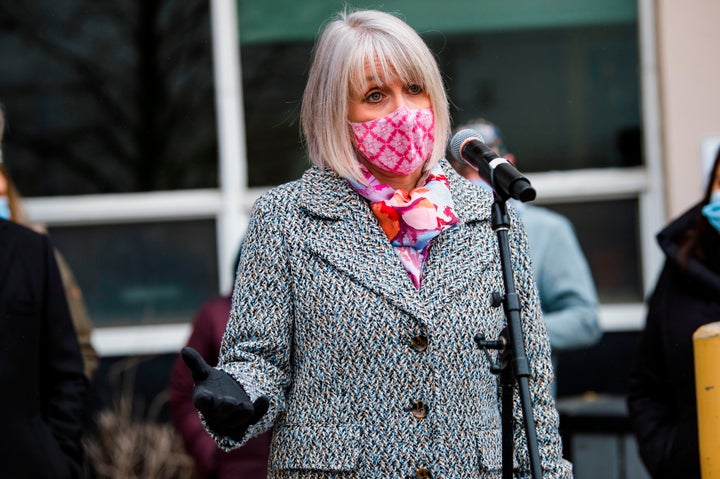 "During these uncertain times, we will continue to uphold the values of equity, fairness and solidarity that underpin the Canada Health Act," Health Minister Patty Hajdu said in a statement.
Hajdu's office did the same thing last April, when it explicitly stated that New Brunswick's abortion policy violated the Canada Health Act. But the feds later gave the money back, due to the pandemic.
A representative for New Brunswick Health Minister Dorothy Shephard told HuffPost Canada it's "very unfortunate that the federal government would consider withholding any health transfers."
"We don't dispute that abortion is a health-care procedure mandated under the Canada Health Act, but if access to abortions is an issue in New Brunswick, we expect that issue to be identified and resolved by the health authorities via our public health-care system," Shepard's spokesperson continued, adding that abortions are available in three publicly-funded hospitals in the province.
They did not respond to HuffPost Canada's questions about what the identification and resolution of "an issue" would look like.
There are many reasons people opt to get abortions at private clinics rather than hospitals. Only three hospitals in the province actually offer the procedure, for one thing. And especially in a small province like New Brunswick, privacy is a big concern.
And of course, during a pandemic, avoiding hospitals is even more important.
The province's policy has long been under scrutiny from abortion advocates who say it's unnecessarily punitive, particularly to people who can't afford to travel or take time off work to access a termination.
"I would suggest if someone really believed it doesn't meet the Canada Health Act they would challenge it through the process that exists," Higgs said.
The Canadian Civil Liberties Association decided to do just that. In October they sent notice to the provincial government that they intended to sue. The province didn't respond, CCLA's Equality Program Director Noa Mendelsohn Aviv explained to HuffPost Canada, and so, in early January, the CCLA officially sued the government of New Brunswick.
"Women's bodies are not to be controlled by government, and women's choices about their bodies are not to be controlled by by government," Mendelsohn Aviv said.
"Squandering resources fighting an unnecessary lawsuit is a real slap in the face to New Brunswickers."
The group believes it will easily win the suit, given that the federal government has explicitly denounced the province. But it's still disappointing that a lawsuit is necessary, said Jessi Taylor, a spokesperson for Reproductive Justice New Brunswick.
"It's been incredibly frustrating for us," Taylor told HuffPost Canada. "Legal actions take time and money and resources. And they're completely unnecessary — this is this is the government's choice, to create this barrier."
The suit would end if New Brunswick were to change its policy. But so far it's given no indication that it will.
"I hope that they will not continue to fight for the purpose of continuing to discriminate against women, girls and trans people," Mendelsohn Aviv said. "That is my fervent hope for the people of New Brunswick, that their government doesn't use its resources for the goal of continuing to discriminate."
"Squandering resources fighting an unnecessary lawsuit is a real slap in the face to New Brunswickers."
Popular in the Community