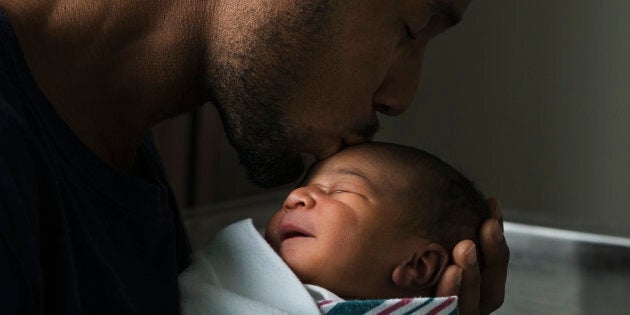 The group support options for new mothers are varied, and finding them — or creating one yourself — is often as easy and going on Facebook and searching. But new fathers also need support, and can benefit from it in different ways. Unfortunately, it is often not as easy to find.
"Most parenting support services are still geared almost exclusively to moms, and of course, with good reason," Oh Baby! A Mom's Self-Care Survival Guide for the First Year author Maria Lianos-Carbone told HuffPost Canada by email. "However, it can leave fathers out of the equation, when they also need their own type of support."
Sharing among other men can be really valuable, just as it can be for women to share among other women. "Last year I attended a men's group for a few sessions and a few years ago one for divorced fathers," motivational speaker Kevin Huhn told HuffPost Canada by email. "I got to share some of the frustrations I was dealing with ... [and] listen to others."
Huhn said this experience played out in his 30 years as a hockey coach as well: it's important to have a group of people you trust and can share with.
Fatherhood can be isolating for new dads, too
Having a newborn is isolating for many parents, but it can be isolating for dads in ways that are different from moms.
"Parenting in isolation is never a good idea," psychologist Jennifer B. Rhodes told HuffPost Canada by email. "It really does take a village and men, especially successful ones, underestimate how challenging parenting can be when they are used to succeeding in life."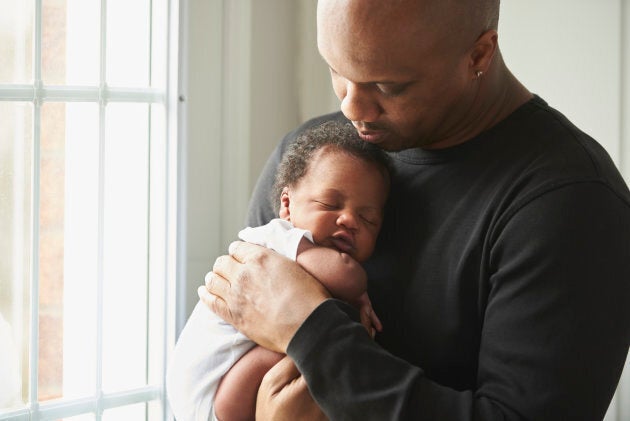 Some dads may end up feeling left out of the bonding with the new baby. "Fatherhood can be isolating particularly when new mom is spending most of her time breastfeeding those early weeks," Lianos-Carbone said.
"Fathers often have a short period of time to adjust to life as a new parent before going back to work. Much of the focus tends to be on new mom and baby, leaving dad feeling left out," she continued.
Some dads also experience depression after a baby is born — it's a big life adjustment, and sleep and self-care often go out the window. "Dad peer support groups would be very helpful for men who want to connect with other dads," Lianos-Carbone said.
Men often struggle when looking for help
It can be hard for dads to find the support they need if they do go looking. "Men often struggle reaching out for help and they may feel it makes them look 'unmanly' to admit their faults to others," Wyatt Fisher, a licensed psychologist and couples counsellor, told HuffPost Canada by email.
"In addition, many men aren't accustomed to sharing their struggles with other people, which often leads to isolation," he said.
Many men are also less likely to reach out to their individual friends for advice or support, Huhn said. "Men are a little more closed off. Go to the cave thing," he said. "So when I hear a man share his problems, pains, issues and frustrations — it is reassuring that we will be OK."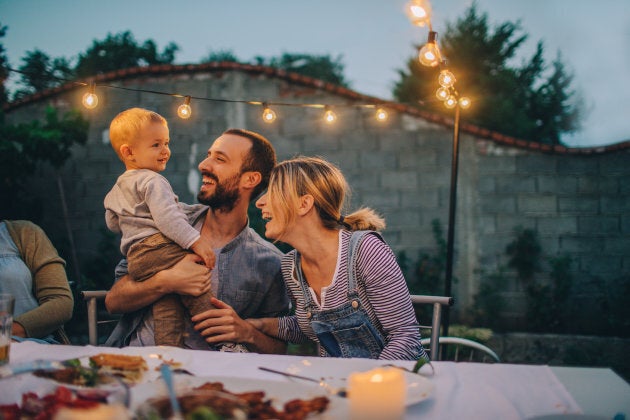 But finding that support could help dispel those feelings, relationship expert April Masini told HuffPost Canada by email. "When they have a support group, they're not alone in these feelings of weakness," Masini said.
"When men form support groups they can express and refute this feeling that weakness means failure. It doesn't, but sometimes it takes a group to help dispel them of their myths."
Support groups for dads have plenty of benefits
When men do find those groups, they can be very positive. "Groups could greatly benefit dads by helping them see they are not alone in their situation and it could provide insight and tools by learning from other members," Fisher said.
It may be harder to find these collective resources for fathers, but they can have the same benefits they do for many mothers.
"When men gather in support groups they have the opportunity to hear solutions and ideas that may not have occurred to them, individually," Masini said. "This is a great way to problem solve through connections and shared resources provided by support groups for men."
Group leaders and facilitators can tweak their groups somewhat to make them more appealing to men who might otherwise hesitate to join them, Fisher said. "Group leaders may want to consider how to appeal more to men by making the group and the focus of it sound more masculine and action oriented."
Lianos-Carbone suggested looking for groups online: try Facebook, or Meetup.com. These sites also let you post your own groups and events if you'd like to take the initiative to get something going.
Look for community organizations that run groups for mom and see if they have any options for fathers as well — or would start one up if the interest was there. Look online as well, to sites like Fatherly that cover parenting from a male perspective.
Popular in the Community