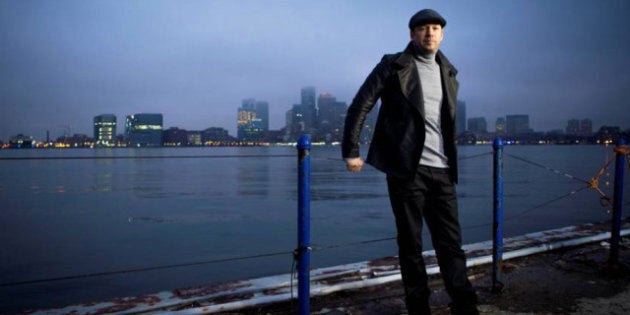 Donnie Wahlberg's been making love.
The 43-year-old singer and actor is returning to his pop star past with New Kids On The Block's just-released record "10" and tells HuffPost Canada Music that making the album was a labor of love unlike any other in the group's three-decade span.
"When we were young we were all about dating girls and having fun," he says. "It's like we've stopped having sex and started making love. That's where we're at as a group now — this is what we do, we love what we do and we're in love with what we do… so it makes making love all the more special!
"I enjoy every aspect more now than as a kid — performing, recording, touring. I feel more at ease and confident, which is saying a lot because it's a young man's game."
While they're no longer kids, Wahlberg says the band have finally embraced their "boy-bandness," returning to their roots and having more fun recording "10" than 2008's reunion record "The Block."
Still, learning to appreciate what they have hasn't been easy. Following the mind-blowing success which saw them dominate the late-'80s/ early-'90s pop scene — much like One Direction does today — the Boston quintet were left directionless in their early 20s and stumped about their futures, having already experienced a lifetime's worth of ups and downs.
"It's like you're on a really fast train and assume it'll keep going but one day it stops," says Wahlberg. "If you're not prepared, it's difficult. The public has an opinion of who you are and may never accept you as anything else.
"It may not seem a big deal, but when you're twentysomething and been through one of the most exhilarating rides of most people's lifetimes, you think it's forever. So being faced with, 'What will I do for the next 70 years?' is daunting because it's not easy to be on the cover of every magazine, then take a job at McDonalds.
"It's scary and lots of kids don't survive that initial huge success. They end up broke or on drugs. It takes a lot of hard work and belief in one's self to get through that and find your next phase in life. But if you can find your way to what it is you can do next — that you can love and be proud of — it's more fulfilling the second time around."
More fulfilling indeed. At 25, lost and baffled about his future, little did Wahlberg realize that some of his greatest successes would lie another 20 years down the track.
In what's shaping up to be the year of Donnie, the father-of-two has helped lead his show "Blue Bloods" to record-breaking ratings, is getting a star on Hollywood's Walk of Fame and filming reality show "Wahlburgers" alongside actor brothers Mark and chef Paul about their Boston area burger restaurant. NKOTB tour dates are selling out and "10" shot to number two on iTunes within hours of going on pre-order sale.
Then there's the project he's most proud of — executive-producing "Boston's Finest." While the title may sound like a show about NKOTB, it's a reality series following the professional and personal lives of the Boston police department, a squad the Wahlberg siblings had many encounters with growing up.
"I really believe I was the perfect person to produce this show, with my love for the city, my experience playing a cop and my understanding of the police department," he says. "It's one of my proudest accomplishments and that's saying a lot.
"Sometimes, as a producer I want them to get called to serious crimes because it'll make great television, but as a human I don't want to see their lives in jeopardy because I've come to care for them so much."
While Donnie says he'd never be as good a cop as those on the series, he's continuing to have a blast playing Detective Danny Reagan on "Blue Bloods." The show's family focus has strongly-resonated with viewers and having grown up with eight siblings, it's what drew him to the role.
"'Blue Bloods' is a throwback show because they don't make shows that focus on families like this anymore. Nowadays, it's about the family down the street selling heroin or the husband with three wives. Everything's focused on the unusual family. When I read the pilot the family dinner scene attracted me most. I've felt the heat of my dad staring down at me and my sister while we're arguing and that same heat's there with Tom Selleck and Bridget [Moynahan].
"And just like we tease Tom on-screen, that's directly from my childhood with my dad. He was a very tough guy and we loved trying to break through that hard exterior and make him laugh."
The parallels between the Reagans and Wahlbergs were highlighted by a recent emotional episode where Wahlberg's son's life hung in the balance. Behind the scenes, Wahlberg was consumed with thoughts of sister Debbie, who passed away nine years ago at 43 — the age Wahlberg is now.
"The way my family came together at the hospital, put our differences aside and were just there for her — mum, dad, siblings, cousins, all spending the nights together. I really felt that spirit during that episode. I thought about how even in the worst of times our family tries to make the best of times."
After playing so many cops plus following them for "Boston's Finest," Wahlberg admits he now thinks like a police officer. While checking out a new condo recently, he left one realtor puzzled while conducting somewhat of a "police investigation" to determine if he could get a better deal because things weren't right in the laundry.
So do those policing traits kick into gear in the studio with NKOTB?
"I'm definitely one of the bosses of New Kids, but I'm not an authoritarian," he says with a laugh. "The guys trust me as a leader because I'm not disciplinary, I'm a good listener and I try to be selfless and put the team before myself."
The group will be joined by 98 Degrees and Boyz II Men when they hit Canada with "The Package Tour" in June. Having spent "a whole phase" of his career here, shooting projects like the "Saw" films and "The Path To 9/11," Wahlberg's pumped about returning.
"Canada has always been a special place to me. Driving to Edmonton two summers ago is one of my favourite touring memories ever. Seeing mountains, glacier-formations, moose… it's something I wouldn't have appreciated 20 years ago. I would've been in the back playing video games, so it's a treat to do these things again.
"And Canada's one of our biggest markets, so we're looking forward to getting back. I can't wait!"
"Boston's Finest" premieres on Bravo in Canada on June 6.
New Kids On The Block will appear at Pickering Town Centre in Ontario on April 13 for a Q&A and autograph session. The NKOTB cruise kicks off on May 18 and their "The Package Tour" launches later that month and ends in August, with Canadian stops in Montreal, Ottawa, Toronto and Vancouver.