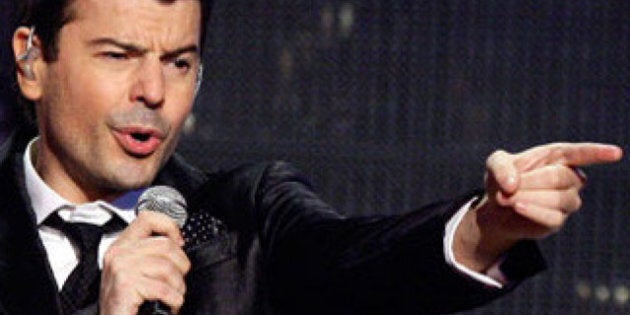 As a kid, Jordan Knight would spend his summers in Canada, hunting for frogs on the beach and hanging out at his grandparents' lake-house. These days, the singer's visits here are more likely to be for tours with New Kids on the Block, sell-out shows with the Backstreet Boys and solo runs like his Live and Still Unfinished tour, currently crossing Canada.
Chatting to HuffPost Canada while preparing to make his debut as a coach for his son's hockey team, the 42-year-old Bostonian filled us in on his childhood memories of Canada, the hurdles he faced making his fifth solo record Unfinished and how fans can get intimate with him -- well, not too intimate (sorry ladies, he's married) -- at morning-after brunches throughout his Canadian tour.
How exciting is it to finally bring your tour to Canada?
It's just good to get to Canada because we have a great fanbase there and people are so polite, nice and grateful. That's always a breath of fresh air.
Your parents are from Canada and you have dual-citizenship -- did you spend much time here growing up?
We used to go up to the Toronto area every summer, every Christmas and for weddings and family events. We'd drive up at least twice a year.
You grew up with a large family, so that must have been quite a road trip!
We took two cars – the van and my father's Toyota pickup. I used to drive with my father because he would let me do the stick-shift. And sometimes he would fall asleep at the wheel, so I'd have to nudge him every once in awhile!
What are your standout memories of your time here?
Just the time with my grandparents and cousins. My grandfather had a cottage that he built by hand on Lake Erie and we used to stay there every summer with my aunts, uncles and cousins. We'd play cards at night, walk along the beach looking for frogs and lizards, and surfboard.
Did you spend most of your time near Toronto?
We were mainly in Dunnville, about an hour away but we would go to Orangeville, Burlington, Kitchener and Toronto itself. Anytime we went to Toronto was like we were going to the big city -- that was a big day!
What are some of your favourite places to visit in Canada?
This tour I'm going to Montreal which is going to be great. It's so beautiful. I also love the atmosphere in Vancouver.
Who's your favourite Canadian artist?
Alanis Morissette. Jagged Little Pill was one of the best albums.
You've got a few solo albums under your belt now. What was the most important thing going into making this one?
I wanted to make sure the quality was great and that you could connect with any song. I think an album should be like a journey – you should feel different emotions as each song goes on and that's what I wanted with Unfinished.
What song are you most proud of?
'Believe'. It's one of the songs that kept me doing the album. Every time I'd hit a snag, I would turn it really loud and it would literally make me believe again, in doing music and staying on course.
Scheduling, writer's block, working out deals with producers, finding a distributor. And just believing in myself. Sometimes that's challenging. People look at musicians and think, "They just do it, they have it, what kind of road blocks could they possibly have?" But anytime anybody's doing a project there's self-doubt. You think, "Am I going to get this done? Is it going to be good? Will people like it? Why am I even doing this?' All those questions pop up and you just have to keep going.
What's the best thing about being on stage solo as opposed to as a group? Are there challenges?
There are challenges because when I'm with the New Kids there are five of us putting in the work and you can take a break. When Donnie's singing 'Cover Girl' I just have to do the steps and smile! So there's more of a burden to carry the show which is challenging, but also very fulfilling and satisfying. I get a strong sense of doing my own thing and being in control. What I don't get is the brotherly love and that great feeling when you're working as a team and getting on stage with friends you really admire.
What do you still want to do?
I'd like to stay on the same path – continue working with New Kids and also doing music on my own. And maybe in the future, help someone else along who I believe in.
Speaking of helping people, you always wanted to be a counsellor, right?
When I was younger and people asked what I wanted to be I would say doctor or counsellor. I don't talk a lot -- I'm more of a listener, so I could see myself in that role.
Maybe you could counsel all the new boy bands out there...
NKOTB have just announced their fan cruise for next May; what else is in store?
We're in the process of recording music. We want to have music and new routines ready for our next tour next year.
You've also been touring with the Backstreet Boys. Is that collaboration over?
For now, but hopefully not forever. That tour was a highlight in my career. Fans tell me they're having withdrawals from the concert and I do, too. I definitely have a new appreciation for the Backstreet Boys. Sometimes you hear groups singing in passing and you're like, "Whatever," but then you get to know them and see their talents, charm and the way they move people.
How does it feel to be getting a star on the Hollywood Walk of Fame?
It's great to be recognized in that way and in that town. Even people who make it don't make it onto the Walk of Fame. It makes you feel appreciated.
So what can fans expect from the "Live and Still Unfinished" show?
I have an amazing band from Boston who really bring the songs to life, the choreography is great and I also play a bunch of songs on the piano. It'll be the last shows I do of Live and Unfinished, so it'll be bittersweet. After that, if I go anywhere I'll revamp the show or have new music. I definitely plan on taking it internationally, but for North America it'll be the last of this show.
And fans can also buy tickets for brunches and dinners with you?
Yes, the brunches are a big hit. It's usually the morning after the show and I go table-to-table talking to fans. With the New Kids we have to accommodate so many fans during a heavy schedule so it's tough to be relaxed and have a conversation. I have more time when I'm solo. The pace isn't as hectic so I have more breathing room to hang out, sit down and chat.
Jordan's Live and Still Unfinished tour kicked off in Ottawa on 3rd October. Check out www.jordanknight.com for more info.