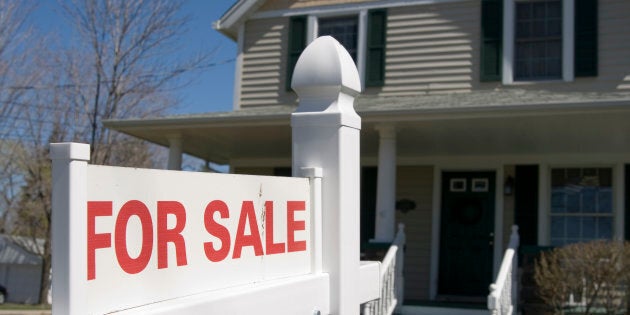 New mortgage rules coming into effect in January will disqualify about 10 per cent of prospective homebuyers from buying the home they want, the Bank of Canada says.
Under new rules put into place by Canada's banking regulator, OSFI, borrowers of traditional mortgages (with 20 per cent or more down) will have to qualify at a rate that is two percentage points higher than the lender's offered rate. It follows a similar rule put into place last year for borrowers with less than 20 per cent down.
According to an analysis from the Bank of Canada, released as part of its financial system review on Tuesday, the new rule will disqualify 10 per cent of prospective mortgage borrowers, impacting some $15 billion worth of mortgages.
Watch: 3 questions to answer before deciding whether to rent or buy
The impact will be felt most acutely in the country's most expensive markets, namely Toronto and Vancouver. There, the new rules are expected to disqualify one in eight mortgage borrowers.
That doesn't necessarily mean those buyers will be pushed out of the housing market altogether. As the bank notes, some buyers will have the option of settling for a less expensive home, or switching to private lenders, which aren't subject to the new mortgage rules.
What's Going On In Housing?

Our weekly newsletter delivers the news and analysis you need on Canada's housing market. Sign up below and don't miss an issue.
Evidence is mounting that some homebuyers are racing into the market before the new rules come into force in January.
Toronto realtors are seeing "a bit of a push to secure property before the end of the year," real estate agent Christopher Bibby told the Globe and Mail.
In its review, the Bank of Canada reiterated its warning that Canadians' debt levels are elevated, making the economy vulnerable to shocks — but the bank also noticed some signs of improvement in that regard.
The bank said there's some evidence Canada's exposure to these persistent trouble spots has begun to ease, thanks to healthy job creation, tightening housing policies and higher mortgage rates.
"Overall risks to the Canadian financial system remain elevated. Some preliminary signs of improvement, however, are emerging," the bank said.
"Better economic conditions and several new policy measures support prospects for additional progress."
Tougher mortgage rules, rising interest rates reduce debt imbalances
The report said indebtedness, especially the number of highly indebted households, remains high. Household debt relative to income has reached historically lofty levels and continues to grow, the bank said.
But it noted there's already some green shoots that suggest stricter lending rules have started to reduce the country's exposure to hefty debt loads.
In addition to tougher mortgage rules, the Bank of Canada has raised its benchmark rate twice since July and experts predict it's likely to continue along a gradual hiking path.
The combination of these factors is also expected to reduce household imbalances by applying downward pressure on prices in major real-estate markets like Vancouver and Toronto.
Still, the bank's report noted that it's uncertain exactly how borrowers and lenders will react to the incoming OSFI measures.
"Our financial system continues to be resilient, and is being bolstered by stronger growth and job creation — but we need to continue to watch financial vulnerabilities closely," Bank of Canada governor Stephen Poloz said Tuesday in a statement.
— With a file from The Canadian Press