A new video shows Toronto Mayor Rob Ford in an apparently intoxicated state and swearing in front of a mother and her 13-year-old son two nights before St. Patrick's Day.
In the video, Ford, who sports a plastic green bead necklace for St. Patrick's Day, is surrounded by a group of younger-looking men, and agrees to take a photo with the teen. Soon after, he indicates he has to leave, saying "Bro, I need a taxi van to take us home."
On the shaky footage, Ford appears to stumble as he hugs a passerby while mumbling unintelligibly. Later, as the camera follows him, he appears to yell, "Don't run into the traffic, you f***ing idiot!" before getting in to a waiting cab. The words were censored by the evening broadcast, and a transcript of the video has not yet been provided.
If inebriated, this will not be the first time the mayor publicly celebrated St. Patrick's Day in a drunken state while in office. A City of Toronto security report from 2012 revealed a surly and slurring Ford was walking around with a half-finished bottle of brandy at City Hall at 2 a.m. Ford later admitted on his former NewsTalk 1010 radio talk show that the 2012 St. Paddy's Day celebrations "got a little out of control."
On Sunday afternoon, Ford showed up at the Toronto's St. Patrick's Day parade sporting several green plastic beaded necklaces, similar to the ones he wore a night earlier, and handed them out to parade attendees. However, when CTV News reporter Natalie Johnson asked him about the video and whether he was drinking the night before, Ford replied, "It's St. Patrick's Day, right?" and "It's good. I'm here, right?" before saying, "Give me a break guys."
The network then caught up with the mayor's brother, Coun. Doug Ford, who said he didn't know where his brother was the previous night.
The councillor then offered the reporter a string of St. Patrick's Day beads. She declined.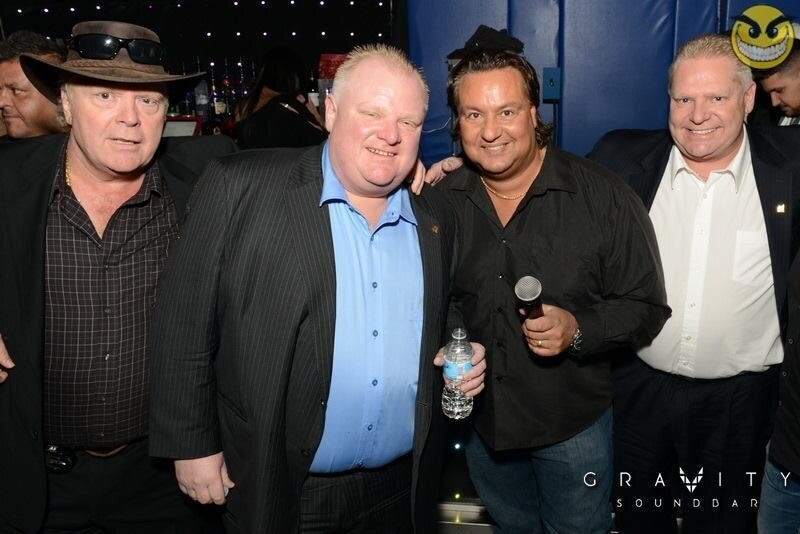 Rob Ford Goes Clubbing For Votes