It's the morning of January 1 and you're trying to shake out the cobwebs from a fantastic New Year's Eve. You pour yourself a glass of water and catch a glimpse of yourself in the mirror when it hits you like a tonne of bricks -- your New Year's Resolutions starts today. And while you might be on a noble quest to quit smoking, or exercise more, or answer your mom's emails, your resolution probably isn't going to be a lot of fun.
But who says you can't have more than one resolution? Why not resolve to expand your life experiences and become a sports fan? It doesn't matter if you don't know a football from a hockey stick, sports are inclusive, exciting, and whole lot more fun than monitoring your caloric intake. Here are the top 10 New Year's Resolutions for the new sports fan:
1. Join a Fantasy Football League
Fun fact: most fantasy football leagues are won by someone with little actual knowledge of football. So it might as well be you! Fantasy football is hugely popular and relatively easy to play, plus there are numerous sites where you can play for free. It's all the glory of the gridiron without concussions!
2. Go To a Pub On a Saturday Morning To Watch a Soccer Game
Europe is six to nine hours ahead of North America, which means that big European soccer games are played in the morning or early afternoon here. Find a pub close to you with an Irish or Italian name and head on over for the best party you'll find before noon. Pick a team and cheer your heart out! Just be sure that it's the team that everyone else is cheering for.
3. Get into a Heated Argument With a Passionate Hockey Fan
Is your co-worker a big Red Wings fan? Tell him they're overrated and lame then watch the sparks fly. Facts aren't important in hockey arguments, just gut feelings so don't worry if you don't know much about the sport. Hockey fans are extremely passionate when poked, which can make an argument rather invigorating.
4. Fill Out a March Madness Bracket
The college basketball season starts in November, but no one cares about it until March when the big tournament begins. Sixty-eight teams compete in March Madness and office pools predicting the winners are extremely popular. Before you know it, you're on your feet screaming and cheering for some college in Mississippi you've never heard of.
5. Spend an Afternoon at the Ballpark
Baseball is a gentle game of nuance, which has lead some to say it's boring. It may move slow at times, but there is nothing like sitting out in the sun drinking a beer, eating a hot dog, and watching a ballgame. The glacial pace lets you take it all in and reflect on life. Plus there's mascots!
6. Watch Any Tennis Match With Roger Federer, Rafael Nadal, or Novak Djokovic
Rarely does a sport have three legends playing at the same time, but that's the case with men's tennis. Do yourself a favour and make it a point to watch these greats play at least once. Federer might be at the end of his career, but he's still capable of greatness, while Nadal and Djokovic are in their primes. Don't miss out!
7. Bet Money on a College Football Game
Google "college football crazy ending" and chances are you'll find a list of some of the most insane endings to sporting events ever. Add in the element of money on the line and you're in for a roller coaster night of highs and lows. For added fun, eat the unhealthiest snacks you can find while you watch.
8. Watch LeBron James During the Playoffs
He made a lot of enemies when he took his talents to South Beach to play for the Miami Heat, but there's no denying his otherworldly talents. Arguably greater than Michael Jordan, James could be on his way to becoming the best basketball player ever. He'll be at his best during the playoffs, so grab a seat and hold on!
9. Order a UFC Pay-Per-View With a Bunch of Friends on a Saturday Night
OK, so mixed martial arts may not initially seem like your cup of tea, but this list is about expanding your experiences. UFC fighters are elite athletes who train for years to step into the octagon and watching them perform might give you a new appreciation for combat sports.
10. Watch the Super Bowl for the Game
Did you know that in between Super Bowl commercials they play a football game? While most people are watching the hilarious new ads, you can prove your commitment to sports by paying attention to the big game. There will be less celebrity cameos, but you'll get to see the two best teams in the NFL battle it out for a trip to Disneyland.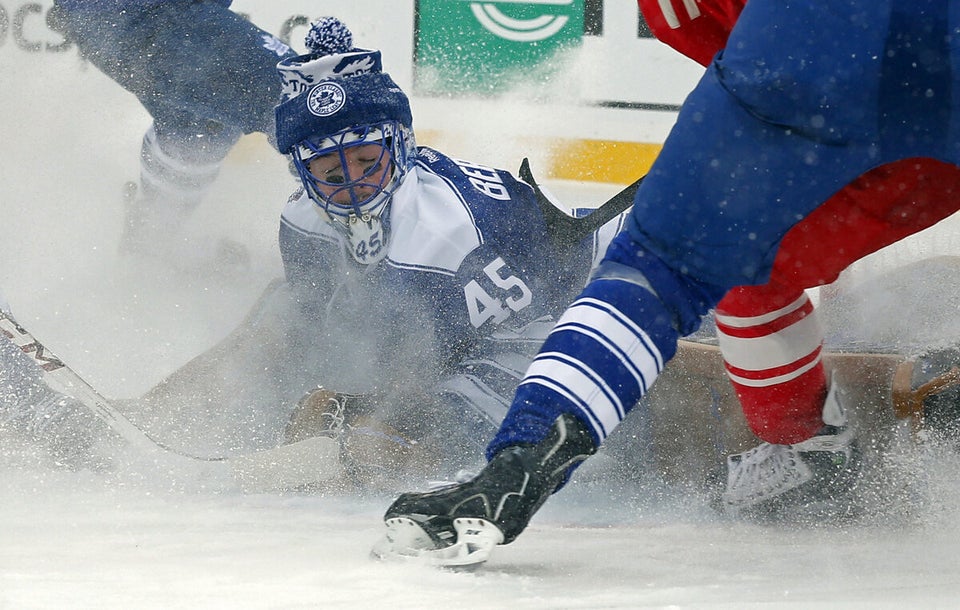 PHOTOS: 2014 Winter Classic