The first day of spring was two weeks ago, but winter is far from over in Newfoundland.
A powerful storm swept across the province this week, and another 75 centimetres of snow is expected by Tuesday evening. Over 97 centimetres was dumped on Gander over the weekend. To put that number in context, Toronto saw 81 centimetres of snow over the entire winter, according to The Weather Network.
Gander broke the snowfall record for March with a total of 200 centimetres, and is on track to break April's previous record of 97 centimetres, VOCM reported.
People trying to get to work have faced some unique challenges.
Flights have been cancelled at the St. John's airport, and many highways are nearly impassible. In Gander, a snow plow and ambulance got stuck in the snow, CBC News reported.
Those travelling by boat didn't fare any better.
Stay warm, Newfoundland. Or, if you're this fellow, just keep shovelling.
With a file from The Canadian Press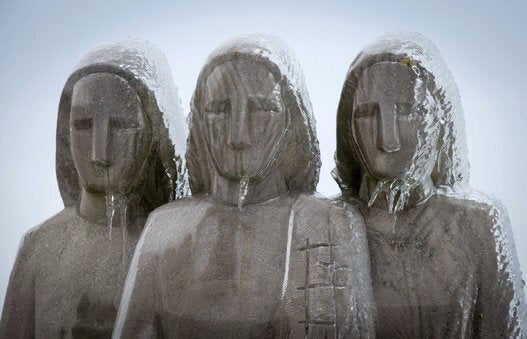 New Brunswick Ice Storm 2017