There are few better feelings than arriving at your chosen hotel for your vacation and sinking back into your bed, blissful and ready to relax. But for those on the autism spectrum, travelling is rarely calm — and more often than not, a source of stress.
"In 2013, a retired Special Ed/Resource teacher, Joan Chaisson, and April Billard, a parent of two autistic children, formed an organization called Autism Involves Me (AIM) here," explains Lomond in an email interview with The Huffington Post Canada. "Some members of the organization discussed how difficult it was to travel with autistic children. Joan approached me and I immediately jumped at working with the group to see what we needed to do to become an autism-friendly hotel."
Lomond's sister, who has Down Syndrome, was a student of Chaisson's when she was a child, and she believes that helped influence her decision to create a space that's accessible to more people.
"My sister is now 51 years old and has always been a part of society," Lomond writes. "Both my parents were very involved years ago with getting support for special need children. So, I guess I was reared up in an environment of the rewards of being involved with special needs individuals."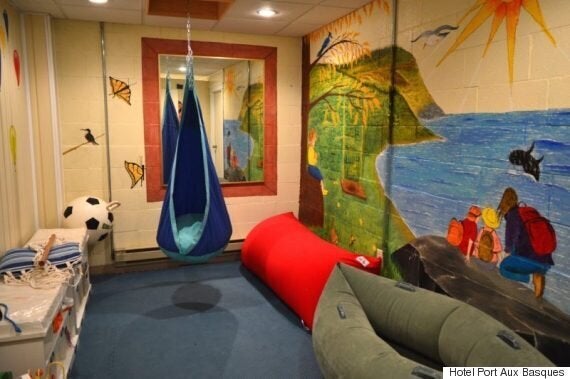 The lounge at Hotel Port Aux Basques for children with ASD.
The hotel features a special lounge with a brightly painted mural, a swing, a climbing wall and a sensory boat to help engage children with autism in a comfortable environment. There's also a kids' menu available with pictures of the food items, which can help foster independence for children who may have trouble speaking.
Staff were also trained to better work with those with ASD. "I wanted my staff to be able to help the customers travelling with an autistic person to understand the needs," explains Lomond.
According to the Children's Hospital of Philadelphia's Center for Autism Research, autism-friendly design can include anything from carpeted rooms (so as to reduce excessive sound) to dimmable lights (to give options for a variety of people on the spectrum). For children, the hospital also notes the importance of spaces like Hotel Port aux Basque's lounge, an area kids can explore on their own while parents can watch safely from a distance.
Lomond notes there are other activities available in the community for those with autism, particularly at the nearby Bruce II Sports Centre, where everything from swimming classes to preschool gyms can accommodate people with ASD, mostly thanks to the work of AIM and the tightknit community.
"I hope eventually that I can help other accommodations to see the benefits of being autistic friendly."
"We live in a small town where there is so much support for the AIM organization," writes Lomond. "Such as, the mural [in the lounge] was painted by [local artist] Alex LeRiche. I hope eventually that I can help other accommodations to see the benefits of being autistic friendly."
Since keeping routine is noted as one of the most important ways to soothe people with ASD, and travel tends to be anything but routine, other services have begun offering autism-specific options on the road.
Amusement park Canada's Wonderland in Vaughan, Ont., meanwhile, offers a Boarding Pass Program, which allows those with mobility restrictions or ASD to better determine waiting times for rides, as well as which attractions they can comfortably enjoy.
"With Autism Spectrum Disorder, every individual is so different," says Lomond. "It can be challenging travelling with any special needs persons, but if there is a way that I can make that stay better for the parents and the person with autism, then I want to advocate doing it."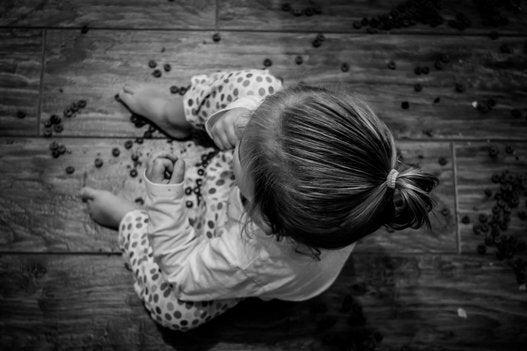 Dad's Photo Series Highlights The Many Faces Of Autism