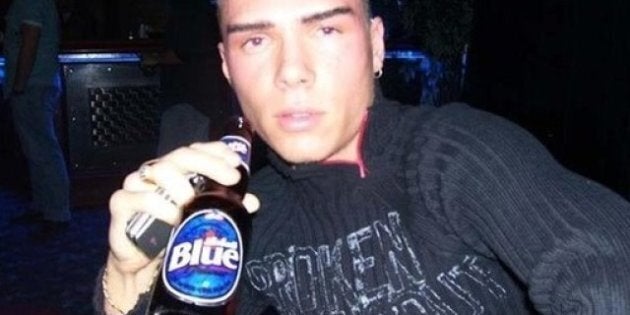 UPDATE:The Canadian Press reports: Labatt Brewing Company says they've dropped a request of the Montreal Gazette to remove a picture from its website of Luka Rocco Magnotta posing with their beer.

The brewer had sent a letter to the paper asking it to take down a photo posted with a story from Magnotta's Facebook page showing him holding a bottle of Labatt Blue.

Marketing experts say media coverage about Labatt's complaints that the picture was hurting their brand only served to draw attention to a very tenuous connection between Magnotta and their beer.
The news Tuesday morning that iconic Canadian brewer Labatt threatened the Montreal Gazette with a lawsuit over a picture of accused "body parts killer" Luka Magnotta has spawned a new meme on Twitter.
And it's one that may make Labatt wish it had stayed quiet about a Facebook photo showing Magnotta sipping a Labatt's Blue.
"As I am sure you can understand, this image is highly denigrating to our brand, and we are disturbed that this image remains on your site despite repeated requests and the many images available of this person," Labatt associate general counsel Karyn Sullivan wrote to the Montreal Gazette, as quoted by the Toronto Star.
The Gazette's response suggests the newspaper isn't about to back down.
"The photo is newsworthy," Gazette lawyer Mark Bantley told the Star. "The Gazette is not in the business of altering photos because they might offend people, and there was certainly no legal requirement to take it down."
But Labatt's real battle is turning out to be in the social media world, where Twitterers are having a field day mocking the brewer for what many perceive as an overreaction. The tag #NewLabattCampaign became a trending topic on Twitter on Tuesday afternoon.
"Stay bloodthirsty, my friends," National Post columnist Andrew Coyne tweeted, referring to the Dos Equis tag line (Dos Equis is unrelated to Labatt.)
"A whole lot can happen in Luka Magnotta's house, out of the blue," tweeted Marty Chan, referring to an old Labatt catchphrase.
"Crack open a cold one! (A beer, not a body)" tweeted LittlestRobo.
It didn't take long for twitterers to point out that the bad publicity surrounding the lawsuit had already exceeded the bad publicity involved in a picture of Magnotta drinking a Blue. Some on Twitter chalked up Labatt's bungling as another example of the Streisand Effect, when trying to squelch bad publicity results in more unwanted attention.
"Oh Labatt. You should have just stayed quiet," Tweeted Politics Re-Spun.
Popular in the Community