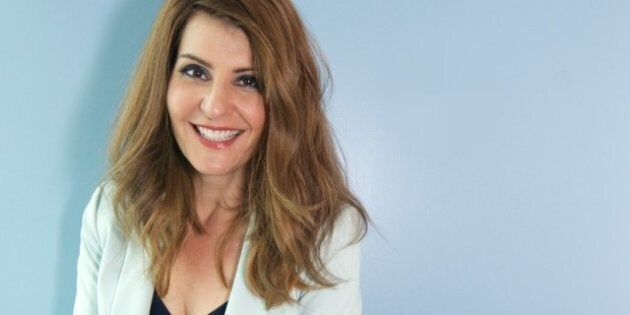 What more could a middle-class girl from Winnipeg want from life after making it all the way to Hollywood, marrying the man of her dreams and getting nominated for an Academy Award?
"I had a terrible secret I was keeping: I felt like I hadn't achieved the simplest thing that's any woman's God-given right," Vardalos tells the Huffington Post Canada.
The actress and writer of other films such as "Connie and Carla," "My Life in Ruins" and "Larry Crowne" says she will never again write about her daughter, who's almost eight years old now, but is working on her next screenplay of an "anti-romantic comedy romantic comedy" called "Leftovers."

What is your idea of perfect happiness?
A tiny bit of solitude every day.
What is your greatest fear?
Anything ever happening to my daughter. Your heart walks around outside your body.
What is the trait you most deplore in yourself?
I don't like it if I act anything other than the humble Winnipeger I was raised to be.
What is your greatest extravagance?
The jewelry that I buy with every contract signed. Every time I sign a contract I donate something to charity, and buy a piece of jewelry. Whether the movie gets made or not, it's a celebration. For this book deal, I got this ring and I wanted to wear it on the cover.
On what occasion do you lie?
Only the details of my daughter's background that we have chosen to keep private ... basically I sidestep, but you can tell. If I'm in an interview and somebody asks "How old is your daughter?," I'm trying very hard not to say her exact age so I can keep the details of her birth private.
What is your biggest challenge as a working filmmaker and mother?
Balance. I believe that if I come home from a stressful day on the set, I just have to leave it there. I used to be able to sit at the kitchen counter and pour it all out to Ian, but now I can't because (my daughter) Ilaria is there so I just have to find a way to leave things behind, so it's definitely about balance.
What is the one thing about the Hollywood movie industry that you would change?
More women in positions of power hiring women, because we have women who are able to do it. Geena Davis runs an excellent organization called seejane.org, the Geena Davis Institute on Gender in Media, and all she does is go to the studios when something is announced and hurdling headlong into production and she asks them to have a moment, take a seat and look at the female roles in the script. How many females are there, what are the positions, are they in demeaning positions, what is their status in the script and I absolutely love it. She's just fantastic, and she goes in in a very gentle way and explains and opens people's eyes to the fact that perhaps they don't realize that the one female role is the girlfriend as opposed to the scientist. And even in my movies, if I write a female clerk, a female this, a female that, by the time I get to the set, invariably a male has been cast. It's just so surprising to me.
When and where were you happiest?
The minute I met my daughter. There's just no doubt. The quiet that happened in my brain ... It's a miracle. And as I say in the book, a lot of miracles have happened to me. Getting to go on from the box office (at The Second City in Toronto), Tom Hanks and Rita Wilson coming to my show ("My Big Fat Greek Wedding"), having dinner with the Queen of England, it just pales compared to this incredible experience of meeting this child.
What do you consider your greatest achievement?
My greatest personal achievement is simply to tap into that obstinate tenacity that led me to my real daughter ... and to be as fearless as her to write that book.
Who are your heroes in real life?
My heroes in real life are definitely my mom for being true to herself, for having a foot in both worlds, for being so very polite-Canadian and also such a traditional Greek woman. I would sum it up this way: the life lesson she would say is be polite while you're breaking the rules. That is her way of saying there's no reason that you need to be constrained but at the same time have some decorum about you. My parents, my dad for immigrating with $8 in his pocket, that's an achievement. He's a hard worker and his life has surpassed his dreams and goals. And then my daughter, my daughter is the bravest person I know. This kid, almost three years old, and she walks into our house, like "Where's my room?" is amazing.
How would you like to die?