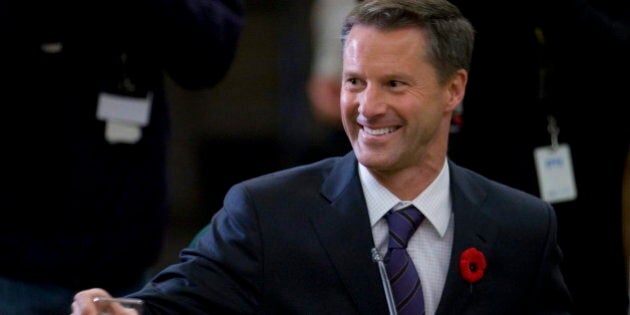 OTTAWA — The RCMP have dropped their investigation into Prime Minister Stephen Harper's former chief of staff Nigel Wright.
The Mounties alleged in court documents made public last November that they believed Wright had committed bribery, fraud and breach of trust when he gave sitting senator Mike Duffy a secret $90,172.24 payment to repay inappropriate housing expenses.
But RCMP spokesperson Corporal Lucy Shorey said Tuesday the evidence gathered in the investigation, which began in June 2013, does not support criminal charges against Wright.
"When the RCMP initiated the investigation there were sufficient grounds to pursue the matter with regards to the offences of breach of trust, bribery, frauds on the government, as well as receiving prohibited compensation contrary to the Parliament of Canada Act," Shorey said.
"Upon completion of the investigation, we have concluded that the evidence gathered does not support criminal charges against Mr. Wright."
Wright is pleased by the news, sources say. He issued a statement Tuesday through his lawyer, Peter Mantas.
"My intention was to secure the repayment of taxpayer funds. I believed that my actions were always in the public interest and lawful.
"The outcome of the RCMP's detailed and thorough investigation has now upheld my position."
Harper spokesman Jason MacDonald said in a statement the Prime Minister's Office is "pleased the RCMP has made progress in their work."
"The Prime Minister's Office will continue offering every possible assistance to the RCMP's investigation," he said.
The Commons' ethics watchdog Mary Dawson said she is reviewing whether to reopen her probe into Wright's actions and would not comment further at this time.
Onex's billionaire chairman, Gerry Schwartz, said in an email to HuffPost on Tuesday that he supports Wright.
"Nigel is a person of the highest integrity. There is no surprise in this entirely appropriate decision."
Tom Long, a longtime friend of Wright's, also expressed relief and satisfaction with the RCMP's decision.
"I am happy beyond words that balanced justice and common sense has prevailed," said Long.
The Globe and Mail reported that now that the RCMP's investigation of Wright has ended, the Mounties won't need to interview Harper, who has not yet spoken to the RCMP on the scandal.
The RCMP, however, may call upon Wright to testify as a witness in a future proceeding, one source said. Wright could be asked to testify against Mike Duffy, signalling more trouble for the embattled senator.
In an email to HuffPost, a source involved with Duffy's legal team said they have several emphatic emails suggesting Wright did not think the senator had acted inappropriately.
NDP ethics critic Charlie Angus said Canadians should be cynical about the lack of ethics in Ottawa right now.
"Now it's okay to make secret payouts from the Prime Minister's Office to a sitting senator to make political problems disappear," Angus said.
"If that's okay, then pretty much anything would be okay under Stephen Harper's watch."
In court documents, RCMP Cpl. Greg Horton seemed to suggest that Wright digged into his own pockets to pay Duffy's expenses after the PEI senator and the Conservative party balked at the $90,172.24 expense.
Wright, in emails sent to his staff, said he didn't think Duffy had committed fraud by claiming his Cavendish home as his principal residence rather than his home in an Ottawa suburb and expensing per diems and overnight costs.
"I personally do not think that Mike committed a crime at all - if I did we would have pursued a different course," Wright wrote to Harper's then-principal secretary, Ray Novak, who is now the Prime Minister's chief of staff.
Wright went out of his way to ensure a Senate committee report and a supposedly independent audit did not find against Duffy.
Wright resigned from his PMO post on May 19, 2013, days after the Prime Minister's Office confirmed he personally helped Duffy pay back his housing expense claims. Harper's staff initially insisted the Prime Minister had no knowledge of the Wright-Duffy deal and stood by his chief of staff. But five days later into the Senate scandal, it became clear Wright had to be let go.
Sources say, however, that Wright kept in close contact with PMO staff and has helped on files such as the European free trade deal.
Wright has also has been volunteering at the Ottawa Mission, a homeless shelter close to his luxury condo. He is said to be mulling over several offers of employment, and appreciative that so many in the business community stood by his side. Wright told one friend that he felt his reputation in Toronto was better than ever.
In February, former Conservative senator Patrick Brazeau and former Liberal senator Mac Harb were charged with one count each of fraud and breach of trust in relation to their living and travel expense claims.
Mounties continue to investigate allegedly fraudulent expense claims by suspended senators Duffy and Pamela Wallin.

Highlights From The Wright-Duffy Police Documents