America is due for a long, uncomfortable look in the mirror come Wednesday morning.
A close race between Hillary Clinton and Donald Trump for the presidency got many election watchers anxious as vote numbers trickled in Tuesday — for some, not in the way they expected.
Viewers were flummoxed over the possibility a sexist and racist businessman-turned-reality star could beat a trained lawyer with over 30 years of public service experience.
And one election watcher offered a depressing takeaway of the night.
There are many accounts of Trump having said racist comments on the record.
In May, the Republican nominee called a federal judge overseeing a class-action lawsuit against Trump University biased because of his background.
"He's a Mexican," he said at the time. Trump has campaigned on the promise of building a wall along the U.S.-Mexico border as a hardline approach to stem illegal immigration.
U.S. House Speaker Paul Ryan called the remark a "textbook definition of a racist comment."
News of a Trump lead even had adverse effects on the markets. The peso, Down Jones and the S&P 500 each took hard plunges before midnight.
In New York City, actor Melanie Griffith called the night's turn of events a "nightmare."
She said she was upset over the possible reality Americans may elect Trump to the White House.
"People are missing the big picture," Griffith said.
With files from Emily Peck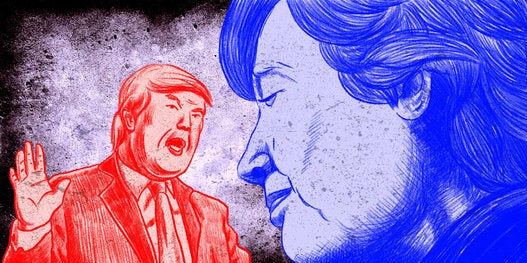 U.S. Election 2016
Popular in the Community