Nike has announced it will be producing a line of performance hijabs for female Muslim athletes.
"The Nike Pro Hijab may have been more than a year in the making, but its impetus can be traced much further back, to an ongoing cultural shift that has seen more women than ever embracing sport," Nike said in a statement, according to Al Arabiya English.
The Nike Pro Hijab, a lightweight, breathable, adjustable and competition-worthy garment for Muslim athletes, took 13 months to design and had input from athletes across the world, including Emirati Olympic weightlifter Amna Al Haddad and Emirati figure skater Zahra Lari.
"I was thrilled and a bit emotional to see Nike prototyping a hijab," Lari said in a statement to The National. "I've tried so many different hijabs for performance, and.... so few of them actually work for me. But once I put it on and took it for a spin on the ice, I was blown away by the fit and the light weight."
Egyptian Manal Rostom, a Nike+ Run Club Coach and the brand's first hijabi ambassador, also noted, "For a brand like Nike to come out and say that these people exist and are inclusive of hijabis is a big deal. It's not just about making a product available for Muslim and Arab women but it is also giving a chance to those women who are putting off the idea of wearing the veil completely in order to compete."
This news comes after Nike released an advert titled, "What Will They Say About You?"
The commercial shows women running in hijabs, boxing outdoors and skateboarding through streets.
Coming in three colours — black, vast grey and obsidian — the Nike Pro Hijab will go on sale to the general public in spring 2018.
"It means the world to have the leading sport brand in the world come up with a product like this," Rostom said. "It's not just speaking to athletes, but speaking to the whole world that Nike supports all athletes to literally go out there and Just Do It."
For more photos of the Nike Pro Hijab, check out the slideshow below: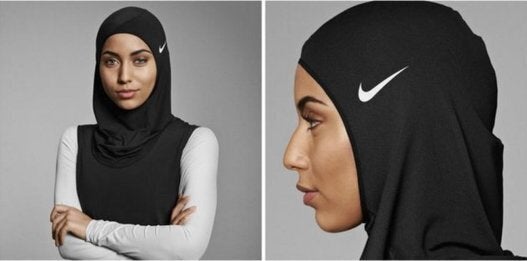 Nike Pro Hijab