OTTAWA — NDP leadership contender Niki Ashton attempted Friday to walk back earlier comments on the right of Quebec's National Assembly to legislate secularism after a firestorm erupted on social media and in party circles.
"Perhaps my statement isn't clear," the Manitoba MP said in a string of tweets to individuals who criticized her stated willingness to allow Quebec to legislate against religious rights.
"I will not compromise on women's right to wear what she chooses or on respecting our rights & freedoms," she said.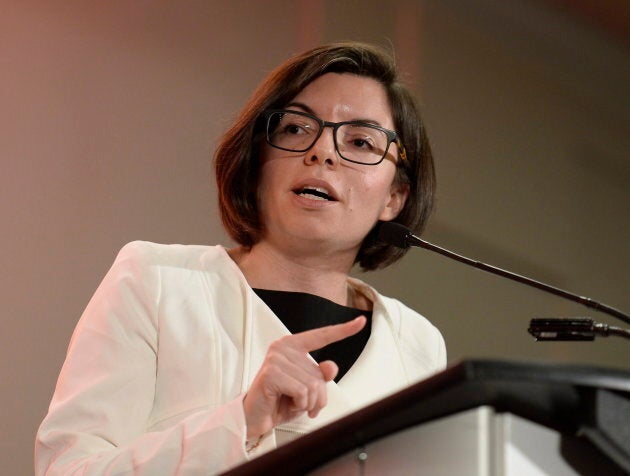 Ashton had told HuffPost Canada on Thursday that while she believes "there is no justification" for a government to tell a woman, or anyone, what they should wear, and she hoped no party in Quebec would see women's clothing as something to exploit for short-term popularity...
"That being said, there is a consensus in Quebec's political leaders emerging on secularism, and the Canadian government should respect the will of Quebecers on this matter," she said in a statement. "The place religion has held in Quebec since the Quiet Revolution has been perceived widely differently than in the rest of Canada, and this is something the federal government must respect."
Ashton had been asked to comment on whether she believes women wearing face coverings should be prevented from receiving or delivering government services, as the provincial Liberal government in Quebec is attempting to do with Bill 62 — effectively targeting Muslim women who wear a niqab or a burqa.
Ashton, who did not make herself available for an interview Thursday or Friday, declined through a campaign aide to state her position on Bill 62.
"Regarding Bill 62, Niki is not going to deal with a hypothetical piece of legislation, but as leader of Canada's NDP and as prime minister, Niki would work with Quebec and Quebecer's [sic] to ensure that secularism is not used as an opportunity for racial discrimination under any piece of legislation," her campaign manager, Jenn Prosser, told HuffPost.
"Once the National Assembly has finished debating Bill 62 and it is public in it's [sic] final form, Niki will be more than happy to discuss the particulars then," she said.
Ashton is confident that religious minorities will be protected through the Charter of Rights and Freedoms, Prosser added.
A firestorm erupted on Twitter Thursday after HuffPost published a story about the candidates' positions on Quebec's effort to create a more secular state.
Ian Capstick, a former NDP staffer and television pundit, also questioned Caron's and Ashton's stances with some off-colour language: