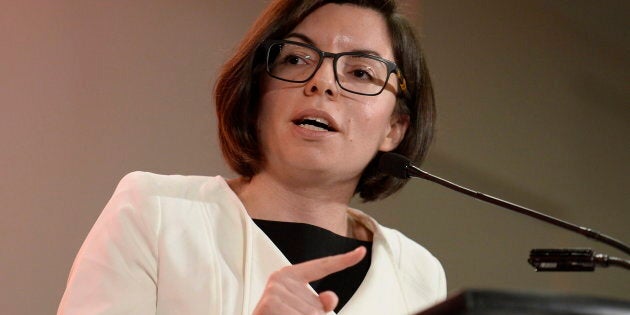 NDP leadership hopeful Niki Ashton says racial justice cannot be achieved in Canada without "bold" changes that go beyond ending the controversial police practice of carding.
Ashton has unveiled a suite of policy proposals to reform a criminal justice system that she says upholds "the oppression of radicalized communities," and fosters Islamophobia, anti-black racism, and violence against Indigenous peoples.
"Systemic racism and the impacts of colonization are alive and well in Canada today," Ashton told HuffPost Canada Monday. "You see it in our policing, you see it in our incarceration system, you see it in our immigration system."
Calls for changes in policing
But some members of the policing community appear to be taking exception to her approach.
Carding typically involves officers randomly stopping people and collecting personal information for databases, without making an arrest. Multiple investigations show black people and persons of colour have been disproportionately affected by carding.
While carding is often seen as a local or provincial matter, The Toronto Star reported in April that Ontario police services were directed to share data with the RCMP. Halifax Mounties also came under fire earlier this year after it was revealed officers were disproportionately stopping black people for street checks.
Ashton calls carding a racially motivated practice that does not improve public safety. She's promising to remove RCMP access to carding databases and put an end to street checks.
Ashton's platform has other a number of other proposals involving police, including:
Creating an independent special investigative office to review reports of discriminatory behaviour in the RCMP and "inform disciplinary action, including criminal prosecution."

Expanding the mandate of the Canadian Human Rights Commission to address racial discrimination or sexual violence due to policing.

Mandating racial justice training for all police.
She also wants to revise the mandate of the inquiry into missing and murdered Indigenous women to investigate misconduct by federal, provincial and municipal forces. However, the final report from the inquiry is expected in the fall of 2018, about a year before the next federal election.
"There's been a growing discussion about the way in which the police have engaged in racial targeting, whether it's through carding, whether it's through broader targeting measures," she said.
"It's clear to me that this has mobilized many, whether it's through Black Lives Matter, whether it's through Indigenous activism, to speak out and push back."
Ashton added that many Canadians, "particularly those who are not racialized or Indigenous, have become sensitized to this reality."
Some leaders of police associations have objected to Ashton's use of the term "forces," saying they prefer to be called "services."
Tom Stamatakis, president of the Canadian Police Association, told HuffPost that as the voice of 60,000 police personnel, he would have liked the opportunity to provide Ashton the "frontline policing context" for the issues she raised. He also cautioned against painting all police officers with "the same sort of brush."
"We have police officers working communities right across this country that are doing fabulous work every day and building strong relationships with all kinds of people that live in those communities," Stamatakis said.
He agreed, however, that it is critical that all police services are held accountable to ensure they are delivering "the kind of policing the community expects.
"There's no disagreement around that."
Ashton said she is happy to see a "vivid discussion" of her platform and is not concerned it could be seen as anti-police.
"I do know people in policing who are keen to move forward and do a better job when it comes to working with Indigenous and racialized communities," she said. "And I would hope that folks... see the need to better."
Ashton is committing to repealing Bill C-51, the anti-terror legislation passed under the previous Conservative government that she says targets people of colour. Yet she is also critical of federal Liberals for opening a counter-radicalization centre without what she sees as true "grassroots engagement" from Muslim communities.
"They're continuing to engage in surveillance and I would say fear-mongering with C-51, so it certainly takes away from a genuine sense that they may want to work with communities to make things better."
Ashton also wants to completely scrap Canada's "no-fly list," which she says discriminates against Canadians based on secretive information. Singh recently announced he would remove children from the list.
If we're going to build a society that is better off, one that is free of discrimination, then we need a comprehensive approach and a bold approach.
"We're way past the 9/11 world and it's clear that much of what government continues to do, certainly in the emergence of C-51, is to continue to marginalize and target Indigenous and racialized communities," she said.
She is pledging to investigate racial profiling at the Canada-U.S. border, repeal the Safe Third Country Agreement that governs how asylum claims are made at the border, and immediately extend citizenship to all migrant and temporary foreign workers.
Ashton says that while Prime Minister Justin Trudeau likes to talk about his "inclusive government," he has carried over "divisive" policies from the Conservative era.
"If we're going to build a society that is better off, one that is free of discrimination, then we need a comprehensive approach and a bold approach."
New Democrats are in the home stretch of the leadership campaign. Voting begins next month, with results to be announced in October.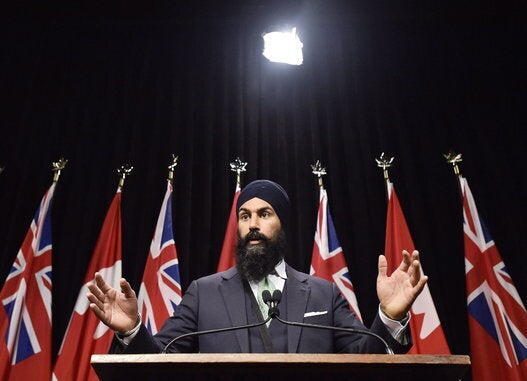 NDP Leadership Race 2017: Candidates
Popular in the Community