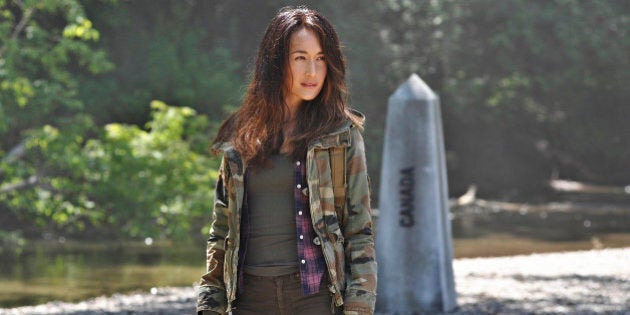 It was a hot, muggy day in September when I, frizzy hair and all, visited the suburban set of "Nikita." It's pretty much what you would have expected — crew members everywhere, extras dressed in military gear, army vehicles parked along the street, fans trying to get a glimpse of the stars and the action. It may have been in the outskirts of Toronto but each house in the cul-de-sac had an American flag at its door and there was a white mailbox adorning each lawn. It felt like Wisteria Lane — with a little camouflage and a can of whoop-ass thrown in. Oh, and Maggie Q, Shane West, Aaron Stanford, Noah Bean and Lyndie Greenwood milling around.
It's been three fabulous seasons of kicking ass and taking names but, sadly, "Nikita" comes to a close when its shortened fourth season ends on Dec. 27. At the time, Q, who was in the middle of filming the fifth (out of six) episodes, was in a little bit of denial. "It's weird, it doesn't feel like it's ending even though it is." That's exactly what long-time fans are feeling. While we should be happy the show gets a true ending, at the same time, six episodes?! Is that really long enough to properly wrap up a show as mythology-heavy as "Nikita"?
According to the cast, yes.
"If we had stopped at the end of Season 3, it would've felt horrible," says Devon Sawa, who plays Sam (or Owen, if you're Nikita). "It would've felt horrible to the fans, the diehards who've really watched all along, all those open stories … It's great, we're all happy, we got these six, and we're doing some amazing stuff."
Here's where we left off: Nikita was framed for killing the president and instead of staying with her friends and fighting, she went on the run solo — arguably, what she does best — and is now the most wanted woman in the world. But the question is, can she do it all on her own, or will she finally realize she needs the team, just as much as they need her?
"Had it been a regular season with as many as 13 or 22 episodes, she probably would have been on her own for a while, maybe until 7 or 8," says Maggie Q, who plays the titular character. "But in this, she's got to meet up with them soon because it's over in six. It's all kind of on steroids, and has to be pushed forward quicker than you would normally."
According to West, who plays Michael, the premiere picks up three weeks after the president's murder.
"Team Nikita is still together — but without Nikita," details West. "It's about: how likely are we going to find her, are we going to be able to clear her name, clear our names, and resolve this all in six episodes? It's going to hit the ground running."
West added that the first scene is "going to throw everybody off, scare viewers a little bit and then we keep going from there. I've been very proud of these first five. Hopefully the sixth, the last one, is just as good."
Why would Nikita want to do all this on her own? Yes, she's always been an independent woman who doesn't need anyone, but like I tell my daughter, there's nothing wrong with asking for help and in the last couple of seasons, she has grown close to and come to rely on all these people who have become her friends, her family.
"Nikita has her own plan in mind and executing it the way she does, she doesn't really realize that the team is tracking her and trying to help from far away, even though she doesn't want it," explains Q. "I loved how this season was going to start [similar to Season 1], which was Nikita on her own, rogue, by herself again. That's why I fell in love with the show, that sort of independent thing. That's always been her challenge, and she reverted right back to that because she was put in that situation and now she's got to fight her way back out of that again."
West is pleased with how it's all coming to fruition. "We managed to get a lot done, wrap up some storylines, include some new stuff in the first five and we still make it action-packed, fast-paced, what we have been used to."
But it's not all action, assures West. "One of the great things about this show that I've always loved is there are always underlying storylines. There's always one main storyline, but it spreads out in different paths. And with this season, obviously there's only the six episodes, and the intent is to clear Nikita's name for the accusation of the wrongful assassination of the President, and for the rest to clear their names from their pasts in Division. But the underlying story for Michael and Nikita is: what the heck is happening with Mikita and are they able to get together again? That's my main storyline for this year."
West adds: "What happens with Birkhoff and Sonya? What's going on with Ryan? This potential setup with Alex and Owen/Sam? It's a lot of stuff. Then, what's going to happen to Amanda? Does she die or does she not die? We killed all the bad guys before, maybe we'll pull a surprise and she doesn't die."
Ahh, Amanda. How does she balance her involvement with The Shop (or The Group, as they call themselves) with her obsession with Nikita? The answer is easy: she doesn't. "I think Amanda is now — especially after that personal episode she had with Nikita — she's pretty much off the rails," says West. "The side storyline with Amanda is that she really wants Nikita gone and I think that will be part of her undoing this season."
Q concurs. "Even I read the scripts over and am like, "Really? Really?! Amanda being involved with them, it's clever, for sure, her part. It gives her an amount of power we didn't really realize. In the second and third season, she was this woman scorned and she was out to get Nikita because she had hurt her. Now, things get very interesting. This is like world domination Amanda which is way scarier than the other Amanda." Gulp.
As for Mikita fans, Q acknowledges that Michael isn't happy with Nikita and it's going to take some time to earn his trust back and realize she did what she did "out of love and nothing else."
West divulges that "there's going to be some sadness. There are some deaths involved. Multiple. The fans may be upset with some deaths." Ugh. Sounds dire but the actor is still hopeful the fans get closure.
"I hope for Michael and Nikita's relationship that there is a positive ending for them. They've been through so much in their own personal lives and they have been through so much together. To have one of them die or them not to be together just makes it a lot more sad and dark. I'm not quite sure [showrunner] Craig [Silverstein] necessarily wants to go that route. So I'm hoping to see a positive future for them."
Division was destroyed, the stories were getting increasingly complex, and it looked like a new beginning for the series, so it does suck for those of us who are truly invested because, honestly, it was getting good. Really good. "Nikita" evolved from a suspenseful spy show to a fully fleshed-out drama that balanced a ton of action, romance and some truly heartbreaking moments. And just when it looked like it was getting too dark, too serious, the fantastic writers always managed to break it up, and seamlessly throw in some comedy, whether it was Owen/Sam bumbling around as Michael rolled his eyes, or the ongoing sister/brother relationship between Nikita and her nerd, Birkhoff.
But if there is one show that can pull off a compact final season, it's Team Nikita. Sawa puts it best: "The six can be put on a shelf on its own. It does have the closure of all the other stories but it's like a big action movie." Buckle up, fans, because it looks like it's going to be a wild of ride into the sunset.
"Nikita" returns on Friday, Nov. 22 at 9 p.m. ET on The CW, and on CTV Two at an undisclosed date.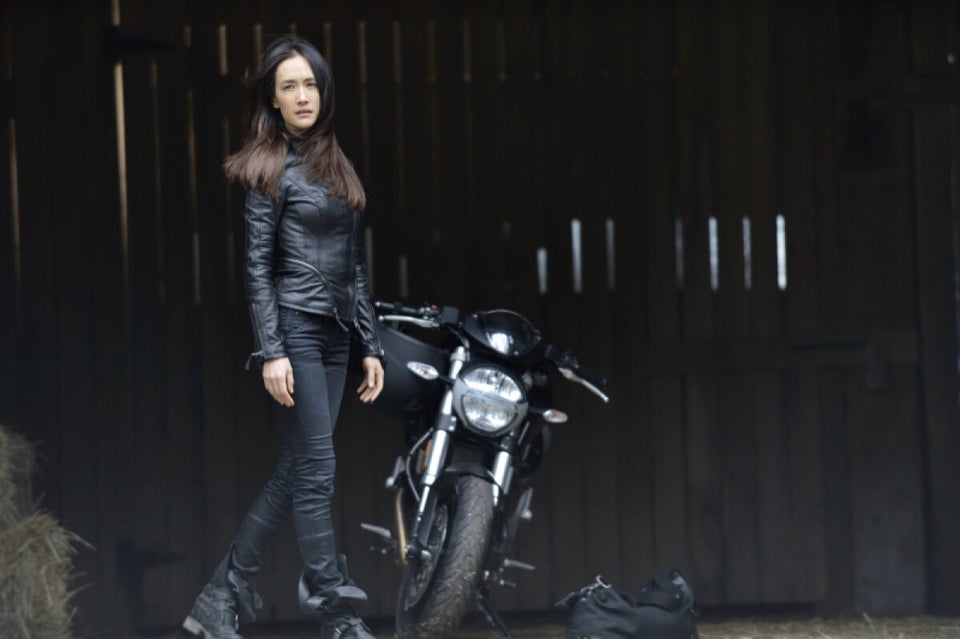 Nikita Season 3