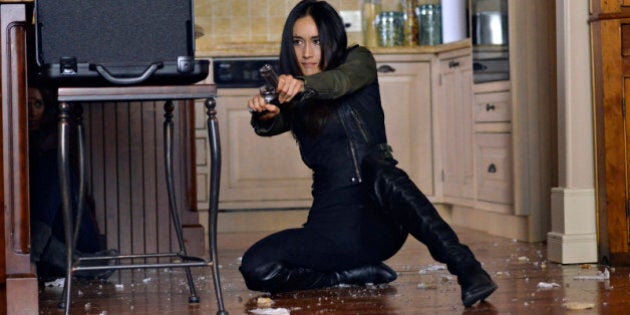 It's one thing to be angry when a favourite show gets cancelled. But when a favourite show gets cancelled in its prime, while it's on a roll, and is consistently killing it every week? Well, that's a whole other kind of pissed. That's "Nikita"-level pissed.
The CW may have shocked people when it picked up the low-rated Friday night drama for a fourth and final season. Fans were grateful for the renewal, even though they were essentially scraps. How was "Nikita," a show that has become so mythology-heavy, going to wrap in six measly episodes?
Back in September, Maggie Q, who plays Nikita Mears, told me the short season was "on steroids," and, man alive, she wasn't exaggerating. It's been firing on all cylinders -- times 100. While the cast was professional and had nothing but positive things to say about their time coming to an end, it still had to feel like a roundhouse kick to the heart. But it's evident that they and the crew were poking fun at their eventual demise, based on the final episode titles alone ("Wanted," "Dead or Alive," "Set-Up," "Pay-Off," "Bubble" and, perhaps the most fitting, "Canceled.")
The penultimate episode, "Bubble," was as high-calibre as an hour can get. It was a little off-putting, seeing the characters in normal, everyday settings, (Shane West's Michael reading a newspaper on a plush sofa in a cookie-cutter house in a cul-de-sac in the 'burbs was kind of hilarious), though it was nice seeing Nikita get recognized for her heroism and not slammed for her crimes. But it was also a heart-breaker. Everyone was focused on their future, but Ryan (Noah Bean) couldn't let the past go -- rightfully so -- and in one of the best scenes of the series, he went out like a champ, busting up Amanda's (Melissa Clarke) face, taking out a bunch of bad guys in the aftermath, and then choosing to save himself by going out on his terms and not letting The Shop use him like so many others before him.
We knew one or more characters, major characters, were going to die, but it was still sad to see Ryan's life cut short. The former Division chief used to be the most level-headed of the bunch but his transformation into a seemingly paranoid conspiracy theorist -- with what Birkhoff (Aaron Stanford) deemed a "wall of crazy" -- was a sign of things to come. Ryan was able to unload a last serious earful on Nikita and while we don't know what he said, we saw a light bulb go off, her eyes saying everything, and Nikita looked more focused than ever before. She was going to end things her way and there was only one person who she wanted to do it with: Alex (Lyndsy Fonseca), who was with her from the beginning. A fitting way to end, the two women willing to do whatever it takes to get their lives back.
Frustrated that MDK is still active, Nikita decides to end it her way. Leaving Michael and the team behind, Nikita takes Alex on the road to exact revenge. Nikita and Alex capture Jones and force him to reveal the names of the rest of the members of MDK. Armed with the information, Nikita goes down a dark path that may ultimately cost her her soul. Michael tracks her down and must get her to surrender before the military opens fire and kills her. However, Nikita isn't one to give up on a fight, leading her to make a shocking decision.
What will the final fight cost Nikita and Alex, not to mention Michael and Birkhoff and Sam (Devon Sawa) and Sonia (Lyndie Greenwood)? It's not like they're going to sit on the sidelines and let them go it alone, so how will they help? Will Amanda finally get her comeuppance? Will it be cruel and slow? Or will it be as clear-cut as that? Sadly, I'm not sure how many people are going to see what happens. Not only did the show have to cram everything into half a dozen hours to give its loyal fan base closure, but the final hour is airing the week of Christmas. Not exactly the kind of impactful ending it should have. Of course, "Nikita" fans aren't going to let it go off the air unnoticed, but it's still a shame that the action-packed, consistently compelling, superbly written, wonderfully acted drama is going to go out so quietly.
It would be easy to feel disdain for the network, but at the same time, I guess The CW didn't have to pick it up at all. Thankfully, fans are going to get closure, even though it is less than the show and its cast and crew deserve. Nikita and Alex teaming up and going rogue in one final attempt to take down Amanda -- what's better than that? Emotions are going to run high in "Canceled," but hopefully they won't get the best of Nikita. If Nikita is truly coming full circle, then we're going to see her and Alex like we did in the beginning -- as cold-blooded killers. There will be no second guesses, no second chances, no bad guys talking their way out of dire situations; just two women kicking ass and taking names.
The series finale of "Nikita" airs Friday, Dec. 27 at 9 p.m. EST on The CW.