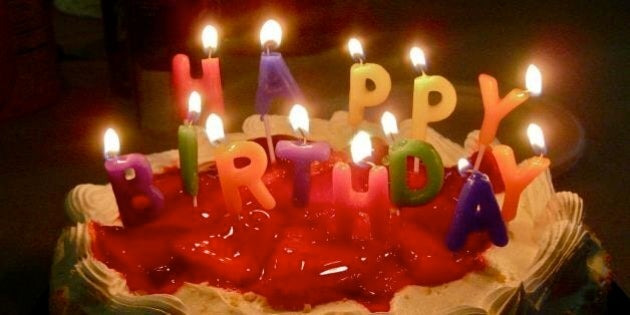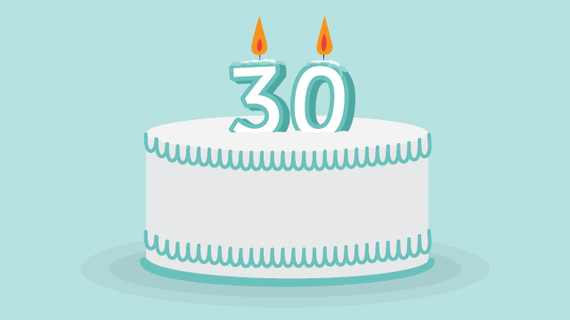 I turned 30 last weekend, which means I now have to tick off the 30-39 box on demographic surveys; I'm no longer eligible for 30 Under 30 lists (thanks Marketing Magazine for putting me on one a few years ago); and I've joined the elusive over 30 club at 88 Creative, a club that currently has two members.
Naturally as I approached 30 I reflected on my career thus far, and the path that led me here. Milestone birthdays tend to make you evaluate the things you've done well and any regrets, and they also make you want to impart your new 30-year-old wisdom on the 20-somethings who are following in your footsteps. Here are the things I've learned over eight years of building a career -- hopefully some of them resonate and help you as you're building you own. *Note: Being 30 doesn't make me a career guru, so take any advice with a grain of salt.
1. Get the muffins with a smile. My first job out of university was an account coordinator at a PR agency, which involved a lot of admin tasks, from setting up coffee and muffins to covering the receptionist's lunch break. Every new grad has dreams of doing meaningful, challenging work in their field, but the truth is there's always going to be a level of admin work in any role, and you have to get the muffins with a smile. Always volunteer to take on new projects and ask for new opportunities above your pay grade, but don't think you're beyond the menial jobs -- the best leaders are the ones who aren't too good for the small tasks.
2. Take risks early, take risks often. I loved working at a PR agency and enjoyed going to work every day, so when I was presented with the opportunity to join a startup at the height of the 2008 recession it was a tough decision, not just because I would be leaving a job I liked but because it was a stable job at a mid-sized company. I remember asking everyone in my inner circle what to do, but my mom had the best advice: "What's the worst that could happen? It doesn't work out and you either go back to your job or get a new one." Your 20s are when you should take career risks -- take a new job, switch industries, move abroad. The worst that happens is it doesn't work out and you return to what you were doing before -- but more likely than not, you'll thrive in the new opportunity and be better off than before.
3. Your personal brand matters -- take the time to build it. When I joined Sprouter I was tasked with growing the platform, which was an online community for entrepreneurs. As part of that mandate, we held monthly events for local entrepreneurs, and I did a lot of writing and speaking about social media for entrepreneurs. In turn I built a strong personal brand around small business, technology, and digital marketing, a brand that has afforded me a ton of opportunities, from writing a column for the Financial Post to holding a weekly segment on CTV News. While you don't need a large profile to be successful, it definitely opens doors. Think about what you're passionate about, whether it's food, travel, or tech, and start talking about it online and in person. Carving out a career niche and building your brand around it is key to differentiating from your peers and landing opportunities.
4. Look at challenges as an opportunity to take a new path. After several years at Sprouter our founder Sarah Prevette had to make the extremely tough decision to shut down, meaning our team was out of a job. Then, after Sprouter was acquired by Postmedia and we launched startup publication BetaKit, I was laid off almost two years later. Both experiences were humbling, but they both came at times that I was itching to do something new. When Postmedia bought Sprouter I took on a new role launching BetaKit, which was a huge new challenge and gave me experience in the publishing industry. And after I was laid off I took time to travel and decide what to do next, and ultimately joined 88 Creative, which has turned out to be an amazing decision. You will experience some lousy career situations, but try to think about how you can use them to your advantage and turn a negative into a positive.
5. Hire for resourcefulness and culture fit, not experience. Getting your first job can be a Catch-22 -- employers want experience, but you need them to hire you in order to get said experience. After Sarah hired me to work at Sprouter, I asked her why she took a chance on me since I had zero startup experience. Her answer formed the basis of my hiring theory at 88 Creative: hire for resourcefulness, not for experience. She didn't care whether I knew how to do something, just that I could find the answer on my own. While experience never hurts, I'm much more apt to look for people who are smart, passionate, capable, and independent, and they always turn out to be a better fit. I also learned that culture fit is equally as important as capability, especially at a small company, so hire people you think would fit in with your team and the corporate culture.
6. Treat outgoing employees with kindness and respect. This one sounds like a given, but it's worth re-iterating. I had a negative experience when I resigned from my first job to join a startup, and it left me with a bad taste in my mouth. I've had employees leave at both BetaKit and 88 Creative, and each time I've respected their decision and wished them the best. People ultimately have to be selfish in their careers and do what's right for them, and you never know when you'll work with them again. Treat people with kindness and respect, and you'll ensure those relationships won't be sour the next time you meet.
7. Never underestimate the power of your network. When I worked at an agency there wasn't a big emphasis on networking -- I came in every day, did my work, and went home -- the only people I networked with were my colleagues. When I joined a startup that all changed, since I was tasked with forming industry partnerships, meeting key stakeholders, and building a network of entrepreneurs around the world. Many of the relationships I formed during that time have stayed strong to this day, and have led to speaking engagements, media opportunities, client contracts, and of course friendships. While going to a networking event can be awkward and the last thing you want to do at the end of the day, meeting people and expanding your network will always pay off. If you're ever laid off, switching industries, or looking for help, you can tap into your network for advice and connections. At 88 Creative I've made it a part of the job description to write for industry publications, attend events, and try to make industry connections -- while some of the team may lament having to do it, hopefully they'll thank me later.
8. Find trusted mentors who can guide you through the forks in the road. Navigating the early years of your career can be confusing. Are you doing the right things to get ahead? Should you stay in your job or find something new? What's your five or ten-year plan? Those are the questions mentors can help answer. I've been fortunate to have one key mentor, Sarah Prevette, who always had my best interests at heart when I worked for her, and is always willing to offer advice now that we're no longer at the same company. I've also worked with executive coaches (Victoria Turner is my go-to) and participated in formal mentorship programs like Mentor Exchange, and each person I've worked with has helped provide a different area of expertise or a new perspective. Ultimately the goal is to have someone who has your best interests at heart who is willing to answer my and every question that comes up, so whether you find a mentor organically or through a formal program, make the effort to secure one early in your career.
9. The worst anyone can say is "no." This is more a life lesson than a career lesson, but it's one that's worth learning early on. Whether you're asking for a raise, negotiating the value of a contract, looking for advice, or applying for a new job, remember that the worst someone can say is "no." At Sprouter I used to approach famous entrepreneurs like Steve Wozniak and Mark Cuban for interviews, and while some of them did say "no," the overwhelming majority said "yes." When the worst someone can say is "no," shouldn't you at least try? (Another associated lesson: get used to hearing the word no)
Those are just a few of the lessons I've learned along the way. What are some of your key pieces of career advice?