It was Prime Minister Stephen Harper who amusingly expressed the importance of the Indian Canadian bilateral relations in Canada. Upon visiting the South Asian nation a year ago, he described how he hopes the "Canada-India relationship follows a typical Bollywood movie script: two lovers survive ups and downs to eventually live happily ever after." But it's not just country to country relations that matter. So, too, do the relationships between various cultures within Canada.
Within Canada's population of almost 35 million, according to the latest government census, more than 200 languages are spoken. 6.8 million of us are foreign-born while over 1 million identify as Indo-Canadians. Furthermore, there are many that are children of immigrants born in Canada and who live within distinct, and at times opposing, cultures on a daily basis.
The McGill Law School graduate, noted broadcaster and blogger describes herself as having "lived at the intersection of Canada and India my whole life." As a Canadian, she experiences life "from the prism of two cultures, and draw[s] value and meaning from both". Her legal career reflects her South Asian Canadian citizenry, as it has taken her to India as an intern with a Supreme Court lawyer in New Delhi and given her the opportunity to work with the Commission for the Walkerton Inquiry here in Canada.
Kumar has also become an accomplished blogger in the premier site for South Asian arts, culture & lifestyle, MyBindi.com, and for the CBC Parenting website. She comments on social issues within the South Asian communities as well as on mainstream Canadian issues. She describes her blogging as a reflection of how she is "a Canadian, born and bred, and proud of it". But she is "also a South Asian, and having that cultural heritage has nuanced [her] life at every age and stage, through all of life's milestone moments, from birth and presumably until death." She is also a regular host of a show on Rogers Community TV on social and political issues in the Peel region.
Her journey began when her parents came to Canada in their 20's in the 1960's. Her dad came in 1965, and brought her mom with him after they married in 1969. He came as a professional, an engineer, at a time when Canada was actively wooing these professionals during the influx of South Asian immigrants from South Asia and East Africa. She soon was the eldest daughter born in Montreal.
She speaks several languages including English, Hindi, French, and Spanish. She is also a trained classical Indian Dancer, and as a student at McGill, she joined the women's law hockey team. She is indeed a Canadian and an Indian all in the same sentence.
How does the self-described Canadian who wears "both saris and business suits" handle being Indian and Canadian? "I know cultural tension: I remember when I found the perfect Indian guy and thought my parents would be thrilled, never imagining it could cause tension in our relationship because they would want me to marry within months, whereas we wanted to date for a couple of years."
She continues - "Now I have two little kids and my husband and I struggle with what parts of each culture to impart to them (Hindi classes, piano, classical dance or skiing) and I wonder what parts of each culture they'll choose."
It is no wonder that CBC radio recruited her to host a new program titled - Intersections. The show that ended its summer run at the end of August was an exploration of the cultural tensions that exists among Canada's diverse population. CBC describes it as "a show about how we connect -- or not -- in our ever-changing Canada."
In 1930, describing himself as a reformer, Canada's one-time Depression era Prime Minister, R.B. Bennett, held an ambitious vision for Canada. He spoke of a "reform (that) meant government intervention, government control and regulation." To complement his belief, he created a slew of public institutions from the Bank of Canada to CBC's predecessor, the Canadian Radio Broadcasting Commission, upon the recommendation of the 1929 Royal Commission on Radio Broadcasting.
In his support of public broadcasting, Canada's 11th Prime Minister spoke of how Canada "must be assured of complete Canadian control of broadcasting from Canadian sources. Without such control, broadcasting can never be the agency by which national consciousness may be fostered and sustained and national unity still further strengthened."
With Intersections, CBC, it seems, is fulfilling the promise of its Canadian content mandate. For Kumar in her pursuit of excellence -- in journalism, activism and law -- she is actively contributing to a quintessential and essential Canadian conversation.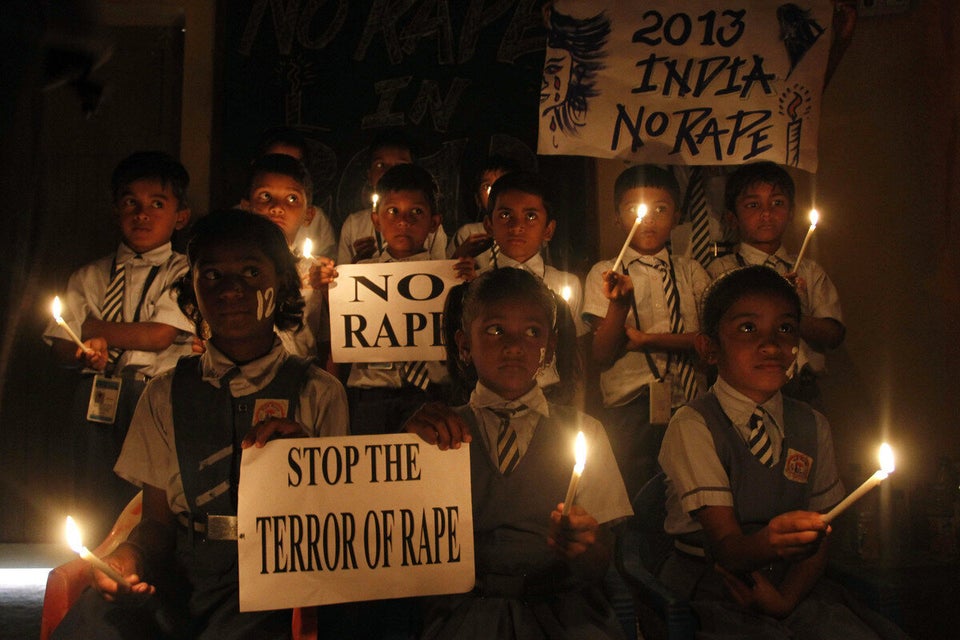 India Protests Against Gang Rape Case