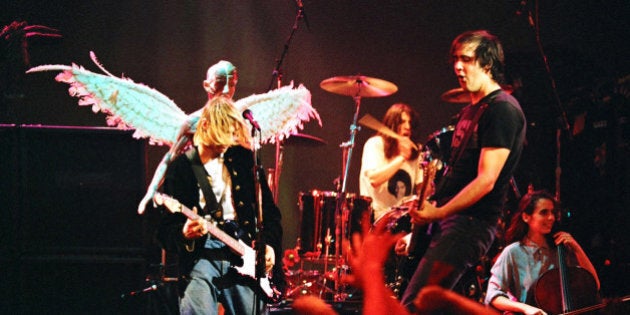 Twenty years ago, Nirvana released "In Utero," their most controversial and, sadly, final studio album. After the unlikely mainstream success of 1991's "Nevermind," the band felt like they could do whatever they wanted and, at Kurt Cobain's behest, chose to work with an early hero, no-frills recording engineer/punk rocker Steve Albini.
The result was the pure, uncompromising sound of a ferocious band at the peak of their noise-pop artistic power but all their label Geffen heard was a (relatively) cheaply made and challenging album without any prospective hit singles. Mud was flung at Albini who suffered near-bankruptcy when his indie clientele assumed he was now priced out of their league and major labels were wary of him because he openly discussed what useless and parasitic assholes most of their employees were, while also putting the interests of whatever client he works with ahead of anyone external to the immediate creative process.
As for Nirvana, they bent slightly to the will of their label and had a couple of songs remixed by R.E.M. producer Scott Litt so they might fit in better on the radio but essentially released "In Utero," as they wanted it to be heard.
Now the whole story (including Albini's revealing, prescient four-page missive to the band about his expectations ahead of working with them and Geffen) and all its sonic artifacts have been captured on a special edition commemorative box set that includes original mixes of every song from the record, a slew of bonus tracks, plus a brand new, noticeably different mix of In Utero overseen by Albini, Krist Novoselic, Dave Grohl, and Pat Smear this past summer.
"After 20 years, I thought maybe it could breathe a little better; open it up," Novoselic says over the phone. "Speaking of posterity, y'know somebody down the road's probably going to remix it, maybe after we're all gone. So I thought, 'Well, why not remix it now?' So I had the chance to work with Steve Albini again who recorded and mixed the record and that's part of the package."
The core songs are unchanged but by simply going through the master recordings and adding and subtracting flourishes to the mix and using audiophile quality mastering techniques at Abbey Road studios, even casual Nirvana fans will hear things on this 2013 "In Utero" that makes it sound like a totally different album.
"It's like 20 years and four ears later and it's a different take," Novoselic agrees. "There's different levels, background vocals are louder in some places, different guitar solos in some places."
On the controversy surrounding initial release of "In Utero," Novoselic is surprisingly diplomatic.
"Well, you had 'Nevermind,' which was a very polished record okay? And there are obligations when you're a number one rock band, getting played on the radio, and you make this record that sounds really edgy. And so, that's one of the reasons that drove us to compromise and we knew it too. We started working with Scott Litt who had produced R.E.M. and he had just done 'Automatic For the People' in Seattle. We went in that same studio with Scott to remix those songs and those are the ones you hear on the radio."
The aforementioned songs are "Heart-Shaped Box" and "All Apologies" and Novoselic plainly says they were meant to placate "mainstream people."
"That's it in a nutshell; it's just more radio friendly. It was a 'radio friendly unit shifter' is what it was," he jokes, quoting the title of one of that album's most caustic tunes.
Interview continues after video gallery
Though the Nirvana camp gave "Bleach" and "Nevermind" similar deluxe treatments when they each hit their respective 20th received a radical re-think. Novoselic says it was a labour of love for fans but he also reveals a somewhat surprising influence on the proceedings.
"Y'know where I got the idea for it was listening to a Doors greatest hits record," he explains. "It's the newest one. 'The Future Starts [Here]' I think it's called? So, I'm listening to these Doors songs that I've heard my whole life and those songs were mixed in 1970, 1969. They just remixed them and, if you're a fan, you know what to listen for and you can hear things.
"That's what gave me the inspiration to think, 'Y'know, maybe we should do this with 'In Utero.'' If the Doors can do it, we can do it. George Harrison, he remixed 'All Things Must Pass'. The Beatles remixed 'Let it Be' and somebody who's listened to those records for decades, the remixes were fun to listen to. It's just a new take. Or even the Beatles' Love. That's a re-mash is what that is. That's a mash-up of Beatles."
Novoselic goes on to say that he's heard from some artists who are unhappy with aspects of their older records but are reticent to alter them because they're "a document of a time." He rightly argues that the original album will always be here and that, from his observation, classic releases that suffered from hasty or ill-conceived mixing and mastering totally deserve a re-introduction to, if not get things 'right,' than at least offer new perspective on familiar songs. It's a fascinating notion for anyone cynical about the recent rash of remixed/remastered reissues to consider.
As for the mythology surrounding Nirvana's final LP before Cobain's tragic suicide in 1994, Novoselic claims he mostly shuts himself away from all that noise and that same outlook informed his work on this edition of "In Utero."
"I mean, there's a lot of lore and perspective but it has to just be about the music," he says. "And that's what you get and that's what Nirvana was about. It's a band. And, like all Nirvana releases, it's a tribute to Kurt Cobain and his vision as an artist and how he expressed himself. That's what you hear with 'In Utero;' you have this signature of his style."