Kurt Cobain died twenty years ago this week. A couple years after that, Lorde was born, and last night she was one of four women who replaced Nirvana's late singer as the Seattle band reunited for their Rock Hall of Fame induction.
Cobain's widow Courtney Love made nice with Nirvana, calling Dave Grohl and Krist Novoselic "family" and saying, "I just wish that Kurt was here to hear this and feel this and be this. Twenty years ago, the Rock and Roll Hall of Fame maybe wasn't… But tonight he really would have appreciated it. And I just want to give this [award] to Francis, our daughter, who's not here because she's ill."
Nirvana was inducted by Cobain's close friend, REM's Michael Stipe, before Grohl grabbed his drums, Novoselic strapped on his bass, late-joining Pat Smear git his guitar and the surviving members played a four-song set of Nirvana songs, possibly for the first time since Kurt's death. Replacing him would have been a monumental task for anyone, but one has to imagine that Cobain would have liked the cast of women that were brought in.
The legendary rock goddess Joan Jett performed "Smells Like Teen Spirit," Sonic Youth's Kim Gordon, another close friend of the band, sang "Aneurysm", St. Vincent tackled "Lithium" and Lorde closed the set with "All Apologies."
Joan Jett joins Nirvana for "Smells Like Teen Spirit"
St. Vincent joins Nirvana for "Lithium"
Michael Stipe inducts Nirvana into the Rock and Roll Hall of Fame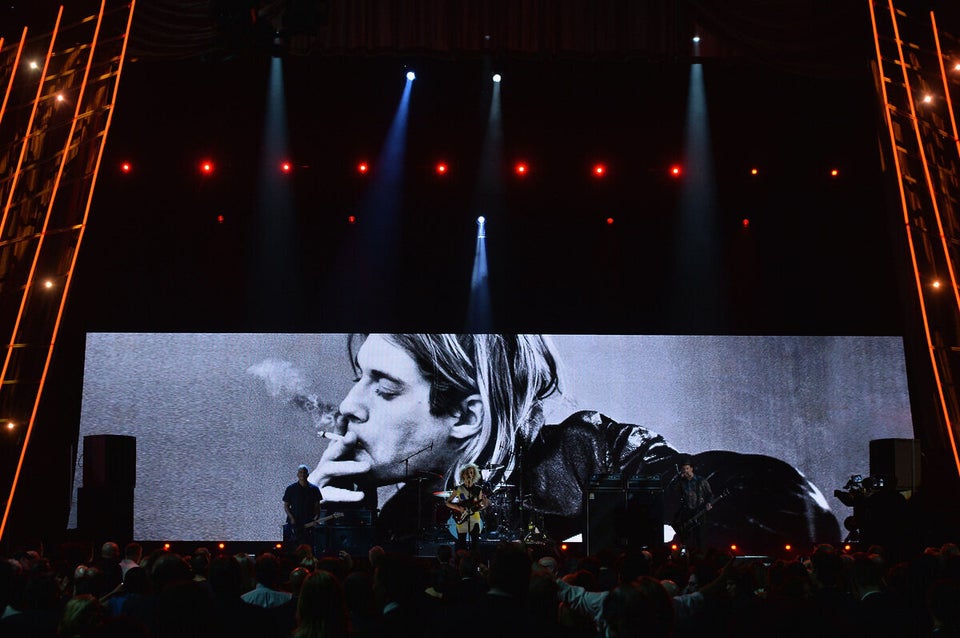 Nirvana Rock Hall of Fame Induction
"Nirvana tapped into a voice that was yearning to be heard," Stipe said during his induction. "In the '80s and early '90s, the idea of a hopeful, democratic country had practically been dismantled by Iran Contra, by AIDS, by the Reagan, Bush Sr. administrations. With their music and their attitudes, Nirvana blasted through all that with crystalline, nuclear rage and fury. Nirvana were kicking against the system to show a sweet and beautiful, but fed-up fury coupled with howling vulnerability. They spoke truth, and a lot of people listened. They were singular and loud and melodic and deeply original. And that voice… That voice. Kurt, we miss you."
Nirvana was joined in the Rock Hall of Fame by Peter Gabriel, inducted by Coldplay's Chris Martin; KISS, inducted by Rage Against The Machine's Tom Morello; Cat Stevens, inducted by Art Garfunkel; Linda Ronstadt, inducted by the Eagles' Glenn Frey; Hall & Oates, inducted by Questlove; and Bruce Springsteen, who inducted his own E Street Band.