Two months and 1,600 kilometres later, a group of Cree youth arrived in Ottawa today, completing their trek from Northern Quebec in support of Idle No More and the Quebec Cree Nation.
They were met with cheers, chants and waving flags as the group stepped onto Parliament Hill. Some attendees tweeted that an eagle circled overhead soon after the trekkers arrived.
"The Journey of Nishiyuu" started with 17-year-old David Kawapit Jr. and six other youth from Whapmagoostui in Northern Quebec, all determined to hike and snowshoe to Parliament Hill. Since leaving on their journey south in mid-January, their group swelled as members of First Nation communities along the way joined their trek.
The new Aboriginal Affairs Minister, Bernard Valcourt, has also said he'll speak with the trekkers.
"I'm going to be listening," he said. "This is about informing myself about their concerns."
Supporters were also quick to note who wasn't there: the prime minister.
"It says a lot that Stephen Harper isn't here, that he's greeting the pandas,'' Elizabeth May told the Canadian Press. "It says a lot that we need to move heaven and earth to meet First Nations on a nation-to-nation basis with respect.''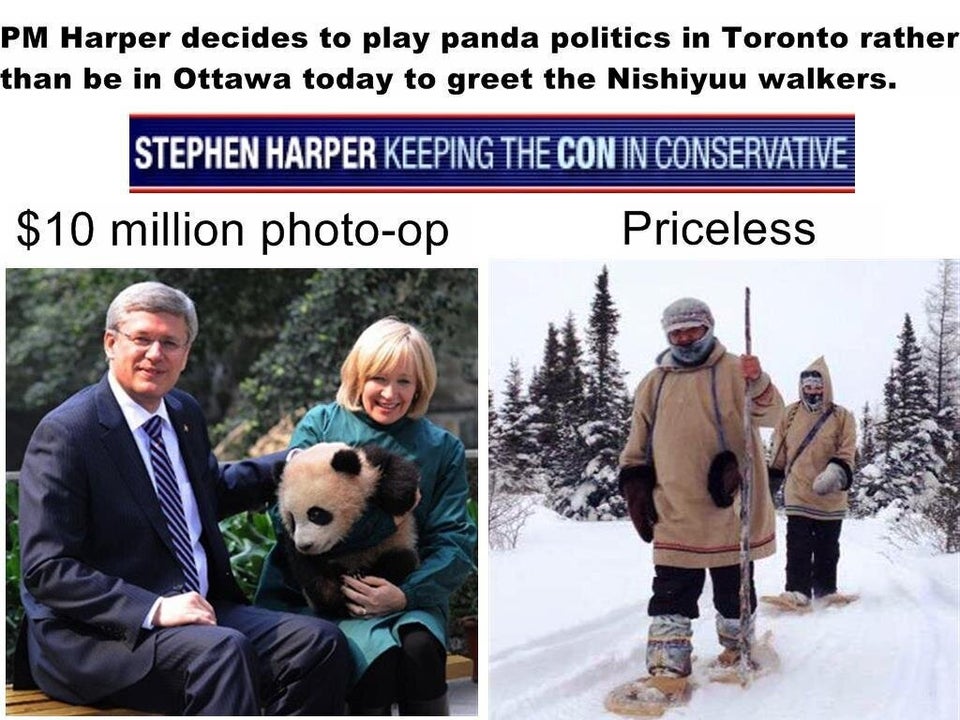 Twitter Reacts: Nishiyuu Journey Ends
With files from the Canadian Press.