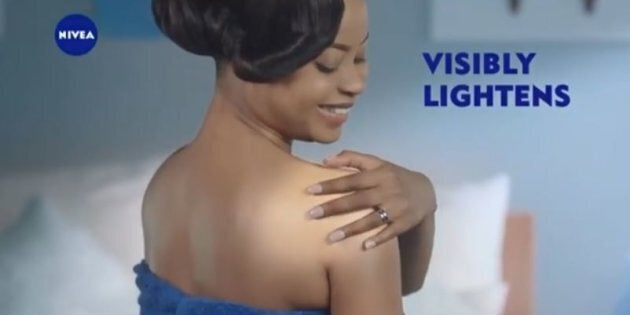 This is problematic as the ad's messaging equates light skin with youth and beauty, with the subtle implication being that dark skin isn't desirable. Naturally, social media was quick to call out this out and criticized the skincare brand for being blatantly racist.
While Nivea's skin-lightening ad first appeared on TV and billboards back in June, it only recently caught the public's attention after competitor brand Dove shared its own tone-deaf ad, Quartz noted.
Dove's controversial poster showed a black woman taking off a brown shirt to reveal a white woman in a white shirt. The ad's messaging, which associates white with cleanliness, resembled that of Nivea's.
On Wednesday, Nivea issued a statement on Facebook. "We would like to emphasis (sic) that this campaign is in no way meant to demean or glorify any person's needs or preferences in skin care," it read.
Despite the backlash, some Twitter users noted that Nivea was simply catering to a market of black women who do use skin-lightening cosmetics. However, it's important to note that racist media messaging — in which light skin is promoted as the most desirable — from companies such as Nivea and Dove are likely what created that market in the first place.
"Beauty is in the beholder," she wrote on Instagram. "My chocolate is elegant. So is what I represent. I represent a nation of warriors. You can see it in my presentation. MaMa Africa. My roots run deep!"