Growing up, we never talked about the importance of sun protection. There was no such thing as a sunscreen aisle or slathering on SPF all summer long. We ran and played outside, without even thinking about applying sunscreen. We were so (unintentionally) ignorant to the dangers of sun exposure -- just as we were about not wearing seatbelts or helmets for high-impact sports. Had I known that ignorance would lead to a stage 3b metastatic melanoma diagnosis in my mid-30s, I would've done things a lot differently.
Even though we now know better, there are still many who aren't doing better. The majority of Canadians recognize that skin cancer is dangerous -- yet we continue to see apathy around sun safety, with personal stories online accompanied by #SkinCancerHereICome and #SkinCancerDontCare.
No bronzed glow is worth any of what I have been through.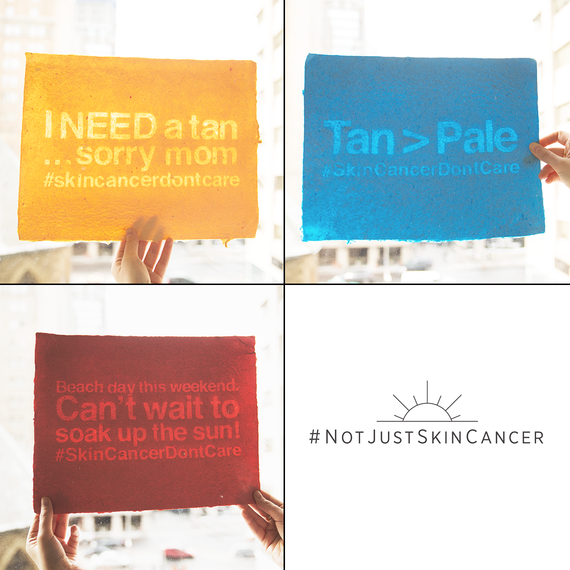 Ignorance isn't always bliss
I get the idea of thinking that something so awful could never happen to you. Before I was diagnosed, I noticed a mole changing but didn't get around to having it checked because of my hectic schedule. It wasn't until I was at a doctor's appointment for one of my twin girls, where my daughter insisted the doctor look at my worrisome mole. This led to my metastatic melanoma diagnosis. Not only did I have skin cancer, but it had also spread to my lymph nodes. I can assure you it is not just skin cancer. And it can happen to you; melanoma claimed the lives of 1,150 Canadians last year alone.
To date, I've had four surgeries; I've been injected with powerful immunotherapy drugs that have permanently damaged my gastrointestinal system; my right leg is injured from surgery and subsequent lymphedema (fluid retention and tissue swelling); and I undergo CT scans every three months to monitor the possible return of disease. All of this stemmed from one little mole. No bronzed glow is worth any of what I have been through.
Coming out on the other side of this nightmare, I needed to do anything I could to correct the misconception that skin cancer can always just be cut out of your skin and then you carry on with your life.
In addition to chronicling my journey on my blog, I recently joined the #NotJustSkinCancer initiative with Save Your Skin Foundation and Melanoma Network of Canada. Alongside other survivors, physicians and spokespeople across Canada, we're working to help shed light on melanoma and the complacency that exists around a skin cancer diagnosis in Canada. More than 6,800 Canadians are diagnosed with melanoma each year, making it one of the most commonly diagnosed cancers in the country. We want to change the online conversation to better educate people on the seriousness of skin cancer, and deter positive online conversations about excessive tanning.
Working on this initiative has been a cathartic piece of my overall recovery. Since 2014, I have been fighting a painful physical and emotional battle and have seen the toll it has taken on my children, family and friends who have been fighting with me. I want to help prevent others from spending time in the operating room and chemotherapy unit -- I can attest to the fact that there are much better ways to spend your days.
I highly recommend that anyone facing a cancer diagnosis reach out to a patient support network. I sought out the Save Your Skin Foundation, a national not-for-profit organization focused on skin cancer and skin disease. It's dedicated to patient advocacy across Canada and uses its vast experience with this disease to strive for equal and timely access to melanoma treatments, for all Canadians. I have been provided with unwavering support and educational resources, so that I can tackle this disease head on.
Giant strides are being made in the field of melanoma treatment and a melanoma patient's focus can and should be to research the various options available via state-of-the-art surgery techniques and advanced therapies based on their specific gene mutations. Meet with your oncologist frequently and seek the resources that can aid your journey -- you're not alone.
I'm very hopeful that through education and awareness about melanoma, we will see continued advancements in medicine, reduced diagnoses and bright futures for myself and anyone else facing this disease. But in the meantime, if you're going to take anything from this blog, let it be this: always wear (and re-apply) sunscreen and other sun protection, never use a tanning bed and be mindful of what your body is telling you. If you see anything suspicious, speak to your doctor right away because there's no such thing as just skin cancer.
Follow HuffPost Canada Blogs on Facebook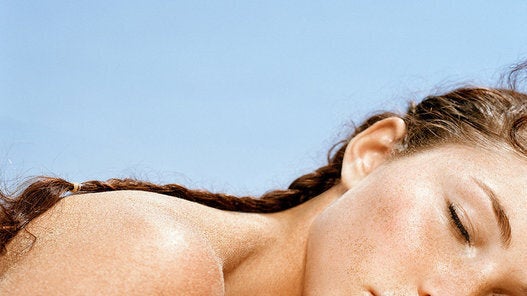 Your Essential Sunscreen (and Skin Cancer Prevention) Guide
Popular in the Community