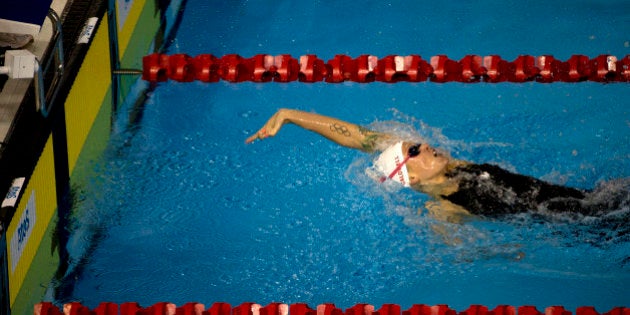 They say it takes a village to raise a child.
I would say that rings even more true for an athlete. Behind every personal best, every win, every medal, is a team of dozens, hundreds even, who helped make that moment into a reality.
I'm Hilary Caldwell and I am proud to swim for Canada. I was in the pool before I could walk, my favourite game as a child was tying my legs together in the water and pretending I was a mermaid!
When I made my first Olympic team in 2012, it really was a dream come true. Since competing in London, I've been on the podium at World Championships and Commonwealth Games, I've become a Pan American champion and I'm a Canadian record holder several times over.
Throughout all my successes and failures along the way, I've had an amazing team of people behind me. Beginning at a young age with my parents and my family, the support team now encompasses coaches and teammates, a whole staff of sports scientists and therapists, in addition to the sponsors that make a career in sport a viable option. To truly acknowledge everyone involved in the final outcome, the podium would have to be miles long!
The road to success in so-called "amateur" sport is not always easy.
The team of people surrounding me now is absolutely integral to my success. Beyond my coach, who designs the whole program and knows infinitely more about swimming than I do, I work almost daily with a physiologist, a physiotherapist, a massage therapist, a biomechanist, a strength and conditioning trainer and a dietician. Their constant feedback and advice means that my whole program is always evolving to make me better.
The other day-to-day support I depend on is that of my teammates. I have an awesome, world-class group of people in the water with me to train beside every day. Without them I would be lonely, bored and lacking anyone to challenge me. When you are pushing your body to its absolute limit, it's nice to know that there are people beside you who are in just as much pain as you!
Beyond those who work with me every day, there are the financial supporters. The road to success in so-called "amateur" sport is not always easy. We aren't the athletic superstars that football or soccer or basketball players are. We aren't in it for the fame and fortune. That said, a little fame and fortune never hurt anyone!
That's where sponsors come in. Sponsor organizations contribute to the success of the whole Canadian swim team. It's a pretty great partnership that means that we can stress that much less about the financial burden of competing and training on the road. The less distracted we are from peripheral factors, the better we can focus on achieving our podium dreams.
The partnership between sponsor organizations and Swimming Canada leads to some pretty cool opportunities as well. I was lucky enough to get to be a part of a fun promotional video, "The Farm," while also checking out the ins and outs of a Canadian chicken farm.
I have to tip my hat to Farmer Derek for dealing with the smell of a farm every day! As he promised, however, I did get used to it and it wasn't too bad. It was definitely not like the pool smell that I'm used to! The most amazing thing was learning all about his daily routine as well as his hard work and dedication on the farm and in his community. Throughout the year, Derek works hard to raise thousands of chickens, providing Canadians with lots of the fresh, delicious chicken they love.
It was great to see the birds roaming around freely throughout the barn, and I was also happy to learn that their feed is mostly grain. It's good to actually see where your food is coming from. We had a really enjoyable day and got some cool effects from some of the farm equipment too. It's wonderful to be a part of this partnership and to know that they are behind me one hundred percent.
So, add your name to the list of supporters by watching the video and supporting Chicken Farmers of Canada, as well as all of the Canadian swimmers and the rest of the Canadian team as we head into Rio this summer for the Olympic Games.
It takes a village to raise a child but it takes the whole country to raise an athlete.
Follow HuffPost Canada Blogs on Facebook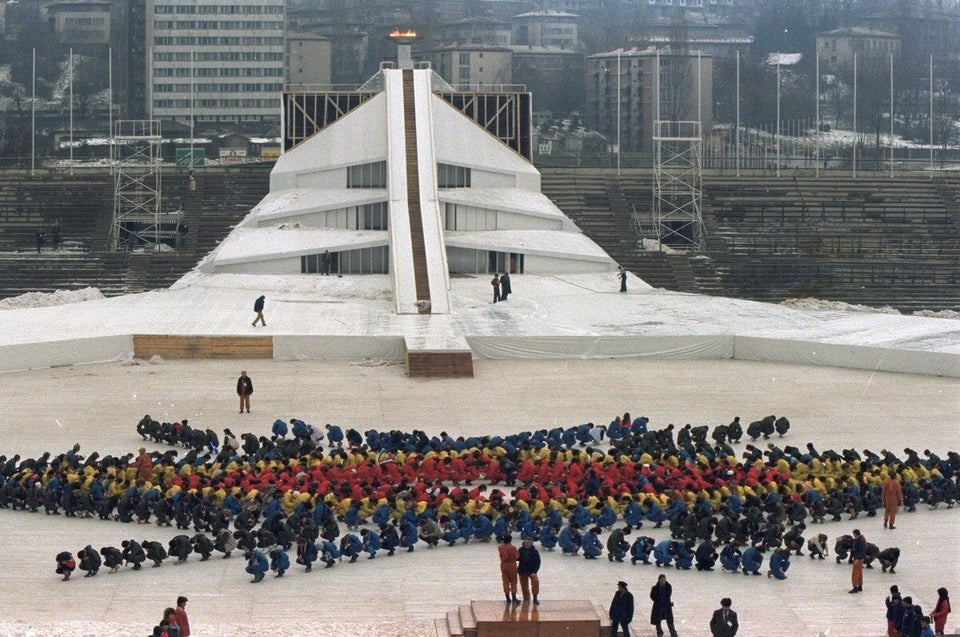 Past Olympic Venues: Then And Now
Popular in the Community