It's true. Albertans cast their ballots Tuesday and elected New Democrats leader Rachel Notley as premier with a majority government behind her.
The shocking twist in provincial politics ends a 44-year Progressive Conservative dynasty that saw premiers including Peter Lougheed, Ralph Klein, and Alison Redford in power.
"I don't know, but I think we might have made a little bit of history tonight," Notley said in her victory speech to supporters in Edmonton.
Final election results:

NDP: 53 seats
Wildrose: 21 seats
PC: 10 seats
Liberals: 1 seat
Alberta Party: 1 seat
"I believe change has finally come to Alberta. New people, new ideas and a fresh start for our great province," she said.
Here are some other highlights from election night:
The ousted premier won his seat in Calgary Foothills—then resigned immediately.
"Albertans needed to make those choices, those decisions, and they have now done so and chosen our collective future," Prentice said in his concession speech.
"And while I'm personally saddened by the decision, the voters are always right in our democracy."
His new job comes just five weeks after replacing Danielle Smith as leader.
"I want to congratulate all of our candidates. Not one of them screwed up," Jean joked in his speech. "And I didn't screw up either!"


More election night photos: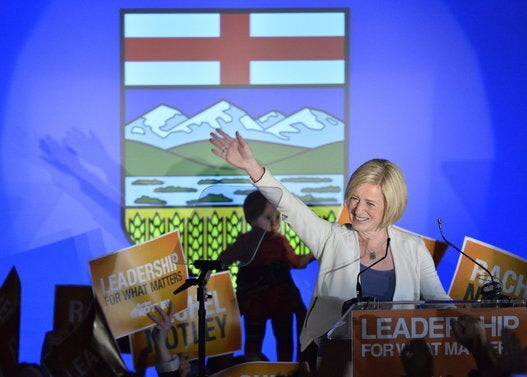 Alberta Election Day 2015
Popular in the Community