It is always interesting to see who receives Nobel Prizes. The award this year of the Nobel Prize for Literature to Alice Munro is inspiring in some respects. She is a lovely writer and it is a recognition of Canadian letters certainly, but also of Canada, that her stories about ordinary people in ordinary Ontario towns, can attract such recognition. It was certainly time that Canada was so honoured. Iceland, Guatemala, and many smaller countries have received Nobel Prizes for Literature; I don't begrudge those recipients, and am not familiar with the work of all of them, but it was inexcusable that Canada was so long overlooked. I once inquired of my late and always lamented friend Mordecai Richler, why he had not received a Nobel Prize for Literature, and there were other Canadians who were clearly eligible. Mordecai claimed that the nomination procedure was so elaborate, no friend of his could be bothered with it, and he couldn't blame them.
There is even a slight political aspect to this. Though it is becoming increasingly more difficult to do it, it is part of the mythology of the Quebec separatist movement to claim that Quebec is retarded by Canada, that it is a distinct, vibrant people and that Canada is just a mediocre excrescence of the Anglo-Americans (and all but the most rabid Quebec separatists acknowledge that the British and Americans are distinguished nationalities). Had this award gone to a French-Canadian writer, and there are some who are of that calibre, all Canadians would be happy, but if, as is not impossible, that writer were a foaming-at-the-mouth advocate of Quebec's secession from Canada, it would have led to a lot of annoying cultural narcissism on the part of the sovereigntists. The thought of the unutterably tiresome premier, Pauline Marois, claiming some political legitimization in such an event is too nauseating to bear thinking about.
Less satisfactory is the Norwegian Nobel Committee's award of the Peace Prize to the Organization for the Prohibition of Chemical Weapons. (When Alfred Nobel bequeathed the prizes, Norway was part of Sweden and so the two countries have committees awarding different prizes.) Dozens of times, the Nobel Committee has awarded the Peace Prize to individuals and organizations because they espoused good causes. By one criterion, this is appropriate, but by another, it can be misleading, as it may convey unwarranted confidence to democratic public opinion that the goal espoused by the Peace Prize recipient is actually being achieved. Three times refugee organizations and three times the International Red Cross have won the Nobel Peace Prize, as has the Institute for International Law. By the criterion of seeking admirable goals, they were doubtless deserving, but to the extent that the awards implied that they had assured a future less troubled by the scourges they were combatting, this was not the case. The same was true for many individuals, including the benign but ineffectual (in terms of promoting peace) Frank Kellogg and Aristide Briand (who "banned" war in the twenties), and such willful purveyors of violence and terror as Le Duc Tho of North Vietnam and Yasser Arafat of the Palestine Liberation Organization. By contrast, Norman Borlaug, the 1970 recipient, did greatly expand the world's food supply and was responsible for immense permanent benefit to all mankind by his development of more productive strains of wheat.
This year's recipient may be a more well-chosen Peace Prize laureate than the Intergovernmental Agency for Climate Change, which has made a great many unsubstantiated claims and has sown as much confusion and misplaced alarm as wisdom on this vast subject, but it may be closer to the International Atomic Energy Agency, which is trying to combat the spread of nuclear weapons, but has been quite thoroughly unsuccessful. The Organization for the Prohibition of Chemical Weapons is doubtless well-intentioned, but it has absolutely no method to achieve its ends. In the current controversy, over Syrian chemical weapons, recently employed by the beleaguered president of Syria Basher Assad to kill 1,400 of his own people, its ability to do anything useful depends on the flimsy possibility of anything useful coming of the voluntary surrender of chemical weapons by Syria to Russia. There is no reason to believe that the OPCW will have any ability to verify whether such a handover is complete and accompanied by an end of Syrian production of such weapons. It might be advisable for the Norwegian Nobel Committee to specify whether it is awarding the Prize for genuine achievements of designated goals of peace, or for strenuous effort in such a cause with no implication of whether the recipient's efforts will actually be fruitful.
At least in the area of economics there is good news. The recipients, led by Professor Robert Shiller, who foretold the 2008 economic crisis, are excellent choices, doubly so because they prevailed over Richard Posner, who sometimes made sensible legal decisions about the costs and consequences of regulation many years ago, but has for decades been a querulous and erratic appellate judge in Chicago. He is a megalomaniac who has been drinking his own bathwater for years and if he were awarded a Nobel Prize, it would bring the entire institution to mockery and degradation.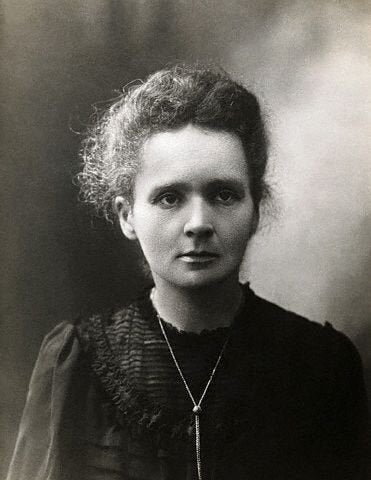 Women Nobel Prize Laureates in the Sciences