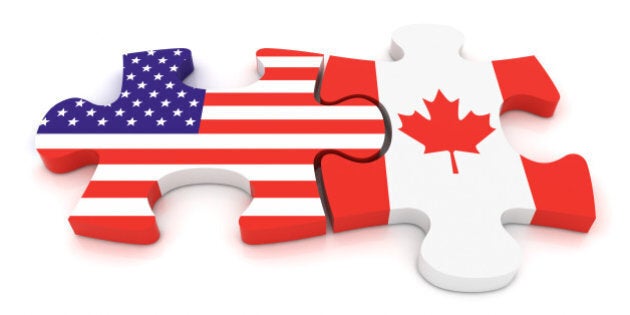 It's time for Canada to merge with the United States.
Francis' argument centres around what she sees as the threat posed by state-run economies such as China and Russia to Western prosperity. In her view, these nations are using a variety of nefarious means to buy up Western resources and corporations while barring such purchases in their own nations.
In an excerpt from the book published by the National Post, Francis argues that the antidote to this Eastern encroachment is for Canada and the U.S. to become one giant nation.
She lists a number of potential benefits, among them:
- The U.S. will more easily gain energy self-sufficiency, and thus lower trade deficits, through easier access to Canadian oil.
- Canada is "basically empty" and presents massive development opportunities which would be kickstarted by a merger.
- Even with high levels of immigration, Canada is getting older. A merger with the U.S., which has more healthy demographics, would solve this problem.
- Nation states are basically obsolete in an age of globalization. A single Canada-U.S. nation would be a mega-nation controlling 12.25% of the world's landmass with the potential to dominate the global economy for decades to come.
Story continues after slideshow
Suffice to say, there are some issues with Francis' plan.
- Francis says Canadians in the new nation would get a special health card that would entitle them to free care that Americans would not be granted. In what world would Americans accept this?
- Under Francis' plan, the U.S. would also pay Canada $17-trillion in debt bond in exchange for Canada's abundant resources and wealth. This would roughly double America's already massive debt load. Francis suggests it could be paid for with a gas tax, a deeply unpopular idea that has been repeatedly rejected by Republicans and Democrats alike.
- America can't even pass a budget and Canada can't even reform the Senate. Why should we expect politicians to be capable of engineering a deal that's about a bajillion times more complicated?
- Francis argues Republican would embrace the deal because of the economic and security benefits. Democrats would be in favour because an influx of liberal Canadian voters would ensure there "would never be another Republican president again." Why would the Republicans ever accept a deal that would lead to their extinction?
- Quebec. Ya, Quebec is not going to like this.
- And, in no particular order: guns, the drug war, religion in U.S. politics, profoundly different legal codes and three downs in the CFL.
To be fair, Francis told CBC that she views her book as a "thought experiment" and is well aware how difficult a merger would be to achieve. She said she also favours more modest moves toward union, such as a fourth level of intra-national government similar to the EU or deeper economic integration, such as the adoption of a single currency.
All of a sudden, the Tories' focus on promoting the War of 1812 make a lot more sense.
Do you think Canada and the U.S. should merge? Is it inevitable? Share your thoughts in the comments below.
Popular in the Community