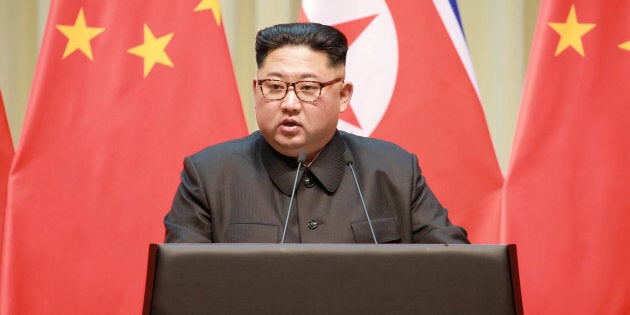 Announcing the cancellation of the talks with Seoul, which had been scheduled to take place Wednesday, North Korea's official Korean Central News Agency condemned the joint military exercises as a "flagrant challenge" to the declaration adopted in April by the two Koreas.
"This exercise, targeting us, which is being carried out across South Korea, is ... an intentional military provocation running counter to the positive political development on the Korean Peninsula," said KCNA.
The exercises, codenamed "Max Thunder," began Friday and involved about 100 U.S. and South Korean warplanes, including B-52 bombers, the report said.
Pyongyang also issued an apparent warning to the U.S. about the upcoming summit involving Trump and North Korean leader Kim Jong Un.
"The United States will also have to undertake careful deliberations about the fate of the planned North Korea-U.S. summit in light of this provocative military ruckus jointly conducted with the South Korean authorities," KCNA said.
'We will no longer be interested'
In a follow-up statement on Wednesday, Kim Kye Gwan, North Korea's first vice-minister of foreign affairs, expanded on this warning, saying Pyongyang would be forced to "reconsider" the summit if the U.S. insisted on "unilateral nuclear abandonment."
North Korea has long cited Gaddafi's fall as a reason for maintaining its nuclear program. In his statement, Kim said it was "absolutely absurd to dare compare" North Korea with Libya.
"If the United States is trying to drive us into a corner to force our unilateral nuclear abandonment, we will no longer be interested in such dialogue and cannot but reconsider our proceeding to the North Korea-U.S. summit," Kim added.
Pyongyang will not abandon its nuclear program in exchange for economic support from the U.S., Kim said. He also warned Trump to stop clinging to previous administrations' "outdated" policies on North Korea, adding that Trump would be a "more tragic and unsuccessful president" than his predecessors if he chooses to follow in their footsteps
South Korea said it was "regrettable" that North Korea had canceled Wednesday's talks, which were supposed to be a follow-up to the April inter-Korean summit. South Korea's unification ministry urged Pyongyang to swiftly return to the negotiating table.
The White House said it was aware of the North's decision to cancel the meeting with Seoul but that it had received no indication that it should stop planning for the upcoming meeting in Singapore between Trump and Kim Jong Un.
U.S. State Department spokeswoman Heather Nauert told reporters Tuesday that Pyongyang had previously expressed understanding that routine military exercises between the U.S. and South Korea would continue.
"Kim Jong Un had said previously that he understands the need and the utility of the United States and the Republic of Korea continuing in its joint exercises," said Nauert. "We have not heard anything from that government or the government of South Korea to indicate that we would not continue conducting these exercises or that we would not continue planning for our meeting between President Trump and Kim Jong Un next month."
The Pentagon has described the Max Thunder exercises as "routine" and strictly defensive in nature.
Some North Korea experts said Pyongyang's latest warnings may not constitute a serious threat to the Trump-Kim summit but are possibly an attempt by the North Korean leader to see how willing the U.S. might be to make concessions.
Mintaro Oba, a former state department expert on the Koreas, suggested the threat to pull out of the summit is "about par for the course" for Pyongyang.
"The question is whether they're willing to go so far as to go through with it, or whether they're mainly trying to gain some leverage [or] test how much we want the summit," he wrote on Twitter.
Observers have said the threatening rhetoric from Pyongyang will be a test for Trump, who must keep a "cool head" to avoid escalation.