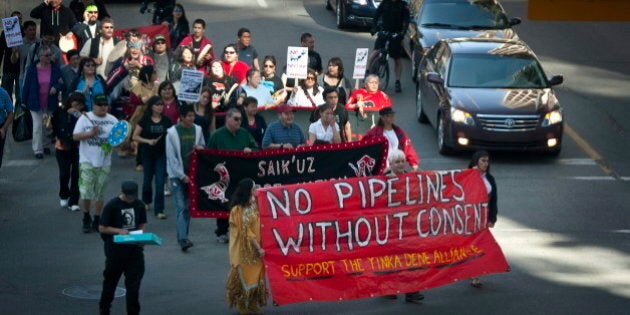 Stephen Harper can approve the Northern Gateway proposal, but that doesn't mean it will ever be built. With 130 First Nations and two-thirds of B.C. voters vote against it, Enbridge has no clear legal or democratic avenue to proceed. But approving oil tankers on the North Coast would have one sure result: it would inflict serious damage to the Conservatives in British Columbia, and threaten Mr. Harper's chances at another majority government.
As an opposition MP, I'm tempted to welcome such political folly. Let's see what history says about a prime minister willing to trample our rights in order to build a pipeline. Let's see those Conservative MPs from Vancouver Island, the Lower Mainland and the Interior explain to B.C. voters why we're so lucky to live between the oil sands and all those refineries overseas.
But for those of us who live in northwest B.C. this is far more than politics. This is our home, and this debate has already consumed years of our lives. In April, the people of Kitimat -- the only B.C. community that stood to draw any small benefit from the project -- rejected Northern Gateway in a plebiscite. Almost every community along the pipeline route has said "no."
We're ready to move on. There's lots of work to be done building the future and economy we want in northwest B.C. If Ottawa keeps forcing bitumen, all they'll do is potentially delay other good projects. It would be best for everyone if Mr. Harper walked away from this one.
But he doesn't have to take my word for it; he can listen to Conservative voters. Forty-six per cent of British Columbians supported Conservative candidates in 2011, winning the party 21 seats. Yet a new Nanos poll finds only 29 per cent of the province supports Northern Gateway. In a clear warning sign to Mr. Harper, one in five Conservative supporters surveyed said they will switch their vote if Mr. Harper says yes to Northern Gateway.
Admittedly, it's getting harder to find people in this province who identify with the Conservative brand. In February, another pollster, Andre Turcotte, could only find 20 per cent of British Columbians who would call themselves Conservatives. Turcotte used to be the Reform Party pollster, back when Preston Manning was Stephen Harper's boss. A reporter asked Manning about the trend in B.C. His response? "I think it's mainly the temporary controversy over the pipelines."
But it won't be a "temporary" controversy if Northern Gateway is approved. The crisis will last for years. First Nations will fight the Conservatives in court to the bitter end. Meanwhile, blockades and civil disobedience could stretch across hundreds of kilometres. British Columbians will have one party to blame: Mr. Harper and the B.C. Conservative MPs who refused to listen.
The former natural resources minister, Joe Oliver, tried to scapegoat citizens for raising concerns about Northern Gateway. He called us "radicals" and "enemies of the state." Former Indian Affairs minister Jim Prentice tried to buy off First Nations along the route. Enbridge flooded British Columbians with years of saturation advertising. None of it has worked. In fact, their efforts have had the opposite effect.
I've toured communities all over British Columbia in the last few months, listening to people's concerns about Enbridge and the federal government's belligerence on this file. And one thing rings true, whether you're in Kamloops, Campbell River or Kitimat: the people of this province are united in defense of our salmon-bearing rivers and beautiful, life-sustaining coast.
Mr. Harper and Enbridge fundamentally misunderstood this fact. They mistook resistance to Northern Gateway as a knee-jerk reaction by a fringe element. Some voters they would never have to worry about. So they wrote us off and plowed ahead.
What Mr. Harper falsely identified as some kind of anti-development conspiracy was something much less complicated and much, much stronger: a love of home. It was British Columbians reacting to the threat posed by toxic, sinking raw bitumen to the things we love. Clean rivers, full oceans, healthy food, and a sustainable economy. Unbroken cultural traditions. A better future for our kids. Those things are important to us as British Columbians whether you're politically left or right, young or old, native or non-native.
We share a basic need to take a stand and defend our home. And that's more powerful than a pipeline company's ad campaign, and it's more important than partisan politics. If Mr. Harper listens to his own supporters in British Columbia, they'll tell him the same thing.