Like many Canadians, I have struggled to understand the importance of something as seemingly mundane as water. With our Great Lakes and mighty rivers, we're used to seeing water everywhere.
I began appreciating how critical water is to survival when visiting the Kurdish region of northern Iraq with World Vision last month. I learned what it means to battle water insecurity -- and how Canadian-funded projects are making a life-giving difference.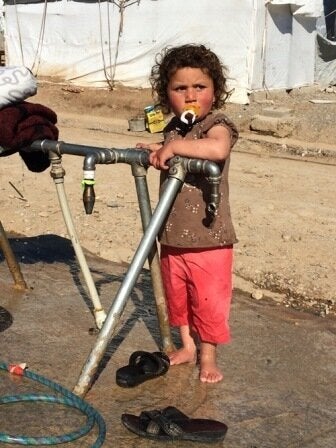 It was great to see the cool, clean water flowing through the tap where Rana's family was doing the washing. Photo: Brett Tarver/World Vision
I met two-year-old Rana in a camp for internally displaced people in Khanke, northern Iraq. With her skeptical expression, soother and curls, Rana reminded me of my daughter when she was the same age. Except that my kids have never had a day without clean water to drink. Even when we go wilderness camping, we have a small water filtration system to take along.
Rana may not remember being a babe in arms in August of 2014, when she fled with thousands of terrified people to escape the ISIS onslaught in northern Iraq. Perhaps her subconscious has filed away impressions of spending eight harrowing days in a mountain refuge without water or food, hunted by those who wished her harm. It wasn't until after this that the group navigated safely out of the war zone.
An area parched for water
For Rana and the more than three million Iraqis displaced by conflict, that initial escape from immediate danger was just the beginning. What followed was a daily struggle familiar to people have been uprooted by war. Lack of water was a huge part of the strain.
Rana and her family now live in a camp for internally displaced people (IDP) in the community of Khanke, which is near Lake Mosul. Virtually overnight, the town's population nearly doubled to approximately 40,000 people with the inflow of displaced families.
The community was quick to embrace the newcomers. One man told us he had 93 people living in his home during the turbulent early weeks. But Khanke's infrastructure, already overwhelmed by decades of neglect, would quickly buckle under the strain.
Beyond the immediate need for food and shelter, it was clear that lack of water was going to be a major issue. The area, already suffering from severe water shortages, became even more parched. Everyone underwent severe water rationing.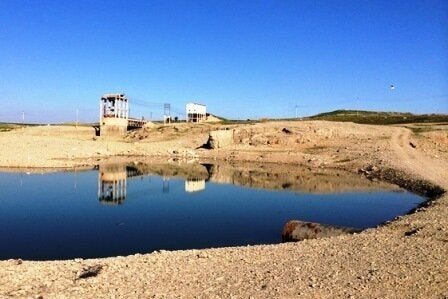 The levels in Lake Mosul sank to below the intake pipes, leaving thousands desperate for water in local communities. Photo: Brett Tarver/World Vision.
Clean water to the rescue
That's when the Canadian government partnered with World Vision on a remarkable project to bring life-giving water to thousands. We revitalized the water supply, providing enough clean, cold water for more than 40,000 people.
Very soon afterward, Rana could drink as much water as she wanted, from a faucet near her home. There was water for drinking, cleaning clothes and dishes, washing -- and even water to enjoy playing in!
"They saved us," said Hasan Taher, a civil engineer with northern Iraq's department of water. "We had been overwhelmed. The IDP camps were turning into cities."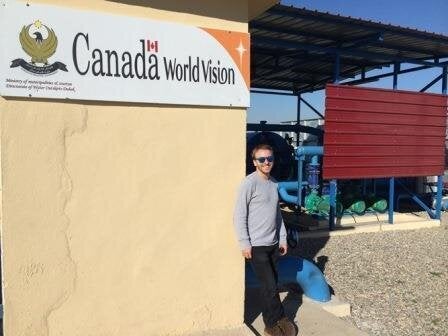 World Vision engineer Michael Wicker showed me the pumps and pipes helping bring clean water to the community of approximately 40,000 people. Brett Tarver/World Vision
Water brings life -- and hope
Throughout Iraq, a staggering 6.6 million people require water, sanitation and hygiene assistance. If water shortages aren't addressed, they can cause major public health risks as more and more people get sick. They can also heighten social tensions between displaced people and their host communities.
According to Hasan Taher, the engineer, the importance of water projects like the one in Khanke can't be overstated. They do more than hydrate people and help keep them healthy.
"Clean water gives people hope," said Taher.
Clean water means cheaper groceries
And it's not just in Khanke that Canadian funds for water and sanitation projects are giving people hope. It's all across the region. Boreholes funded by the Canadian government throughout the city of Erbil have done wonders for families displaced by conflict.
When Hussen Ali and his family first arrived from Syria as refugees, they had to pay for water. The water cost more than groceries, putting a major burden on the family. Now that burden has been lifted, because the city has more water to provide.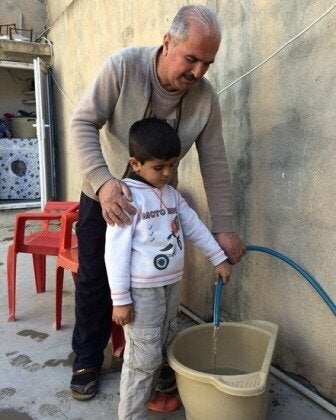 Hussen Ali and five-year-old son Olvan now have abundant water, thanks to an infrastructure project funded by the Canadian government in the city of Erbil. Photo, Brett Tarver/World Vision.
Prayers for water answered
In August of 2014, Mar Elias Church in the Christian quarter of Erbil would be changed forever by the arrival of hundreds of terrified families who showed up at their front gates.
The church gardens would quickly become an urban IDP camp. At first, people slept outside, exposed to the elements. But with international assistance, the community now has trailer homes, a school and a library. And thanks to funding from Canada, World Vision has been able to build toilets, showers and water tanks
"Everyone embraced the newcomers with open arms," says Father Daniel. "Even the church gardener, he simply got another job helping with the new project!"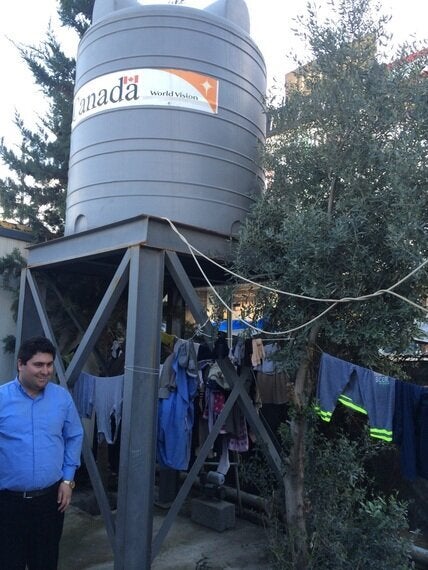 Father Daniel proudly stands in front of water tanks for residents of Mar Elias IDP camp. Photo: Brett Tarver/World Vision.
A lot of great work has been done, thanks in part to the Canadian government. But there are many more displaced children who need our support. That's why World Vision is encouraging Canada's government to keep responding to the crisis, to keep working with humanitarian organizations to help families across the region. The ultimate goal is to find a peaceful solution to the crisis.
Lack of water remains a deadly concern around the world. Nearly 1,000 children under the age of five die every day from diarrhea caused by contaminated water, poor sanitation, and improper hygiene.
Right now, World Vision provides clean water to a new person every 30 seconds. Our goal is to reach a new person every 10 seconds by the year 2020. And with your help, we can make it happen.
Follow HuffPost Canada Blogs on Facebook