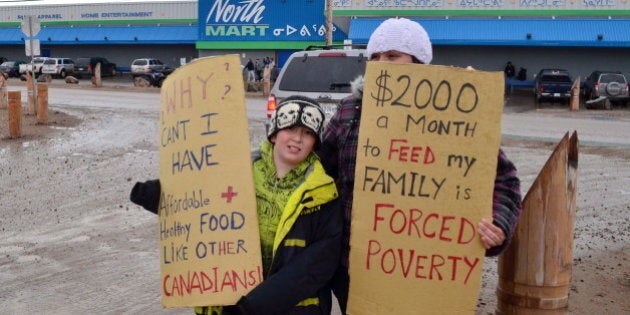 Food at the biggest grocery store in Iqaluit is overpriced, expired and sometimes rotten — and many residents are getting sick of it.
Leesee Papatsie, who has been organizing protests against expensive, low-quality food for the past three years, told CBC she thinks the grocery store is selling food that they wouldn't dare to sell in southern Canada.
Papatsie is the founder of Feeding My Family, a Facebook group with more than 20,000 members where northern residents share photos of overpriced food and work together to help each other find cheaper alternatives.
"We need to keep standing up to the stores to show them that we are not going away, we have no choice in this," she posted on the site June 2.
Story continues below slideshow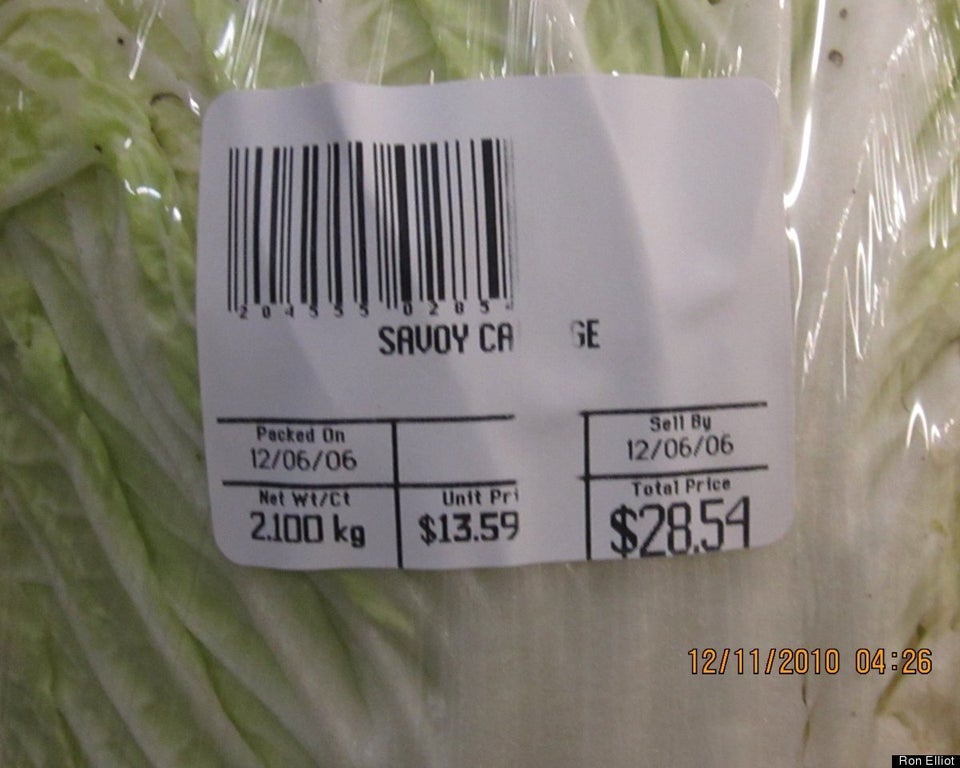 Crazy Northern Food Prices
A report released in March found that 68 per cent of Inuit don't have consistent access to healthy, nutritious food, which the World Health Organization defines as food insecurity. The Inuit have the highest food insecurity rate of any indigenous population in the developed world, the report found, and 35 per cent of households don't have enough to eat.
The Nutrition North program, in which the federal government subsidizes retailers instead of the cost of shipping food, has been controversial because many residents aren't seeing a discount reflected in their grocery bills and worry the stores are just making a bigger profit. Papatsie told the Canadian Press last year the shift hasn't made a big dent in her $600 weekly bill.
"Some vegetables are definitely cheaper," she said. "Canned stuff is still expensive. Meat is still expensive."
One of the people at Saturday's protest cut out labels from boxes of food that were sold at Northmart past their best-before date. But a representative from the store's owner, the North West Company, told Nunatsiaq News there is a difference between selling "expired" perishable food and non-perishable food past its best-before date. The Canadian Food Inspection Agency says this food is still safe to eat but may be less fresh or flavourful.
Visitors to the Feeding My Family page have shared some innovative ways to save money on food, like ordering a big box from a southern store subsidized by the Nutrition North program and splitting it among several families.
But another strategy is more ingrained in Inuit culture. Many small communities are trying to teach young people how to hunt the rich game that is all around them, skills families have not passed on as they learn to rely on store-bought food.
Papatsie, frustrated by what she sees as the lack of progress, is now encouraging people to send a letter to their local MP asking for a special strategy on northern food security.
"Some day we will make a change, we have to keep on trying over and over again. I am tired of being treated like crap from the stores, that is how they treat us by marking food really high, they treat us like shit."