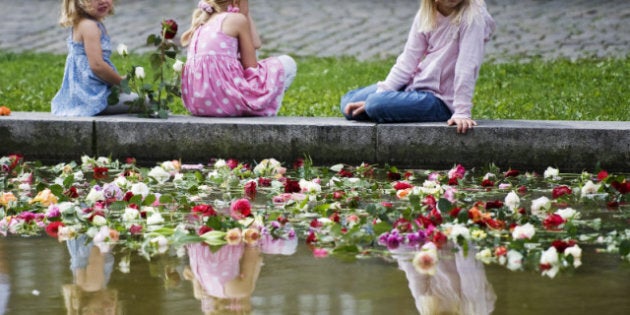 For my family, the last week of July qualifies as summer's no man's land. For the children, it marks the end of one set of programs and some down time before next week's departure for a small camp in an Alpine village. As my children were checking their packing lists, and tagging everything from toothbrushes to tennis rackets, they learned about the massacre in Norway -- the news of dozens of children dead at a camp in an otherwise serene northern European country.
Understandably, the news of these attacks was unilaterally and universally met with horror, shock and sadness. But for many children, their interpretation of these events cuts down to the very basic tenets of survival. Their evaluation and understanding makes the impact of the events directly correlated to its relevance to them. For my children, and the thousands of others spending idyllic summers at camp in sleepy towns, the news became instantaneously relevant. It is no wonder then, that many parents and caregivers are faced with the challenge of conveying difficult news while witnessing the implications that this information can have on children.
As someone who spends a fair amount of time relaying tough news to children I have found following a set of guidelines helpful. In these situations, is imperative to talk about tragedies while striking a delicate balance between managing any potential anxiety and providing context children can relate to.
1) Communicate the facts: Whether discussing a senseless crime such as what happened in Norway, natural disasters such as the earthquake and tsunami in Japan earlier this year or the recent death of Osama bin Laden, it is important to present the raw facts in a sequential and logical manner. As a parent or caregiver, you will always be met with the question "why?" Why did this man attack these children? Why do earthquakes happen? Why did the Navy Seals kill bin Laden? Presenting the facts will address many of these questions.
2) Manage the anxiety: Children will immediately try to put the facts they are presented with in a context relevant to their own lives. Will this happen to me? This means that it is important to provide information that manages anxiety and fosters compassion. With regards to Norway, I believe that communicating that the suspect has been apprehended and has confessed to the crime is paramount in allaying fear and anxiety. I think that relaying the fact that the killing spree in Norway, however tragic, is an isolated incident can reduce children's brewing fears. And while no one is immune, I think that the probability of events like these happening with frequency is slim. In the context of a natural disaster, providing reference and highlighting the fact that the risk of a severe earthquake or volcanic eruption with thousands of fatalities in most parts of the planet is probably minimal.
3) Focus on relief: People from all walks of life come together in unexpected ways that draw on the kindness and compassion of the human spirit. Following the earthquake in Haiti in 2010, schools began fundraising on a small scale, while celebrities held telethons on an epic scale. Communicating the combination of a disaster and the relief effort shows children, in very basic terms, that while bad things happen, people come together to effectuate improvement and relief. Similarly, in Norway and around the world, an outpouring of solidarity for the victims and mass mourning highlights people's grief. While the blanket of flowers and candles in front of the Oslo Cathedral won't bring back the lives lost, the act of mass mourning is the first step to relieve a nation of its grief.
4) Start an interesting and educational conversation: Using all kinds of current events -- good news and bad news -- as a platform for discussion with children can often result in conversations that a parent or caregiver may not have otherwise had. The exchange can lead to a stimulating experience for the child based on subject matter that is equally relevant to adults and children alike. Not only will a child take away some general knowledge but according to a study conducted by the Dutch Programme Council for Education Research based in Den Haag, parents who engage their young children in serious conversations seem to boost their children's language proficiency.
When the details of current events are communicated appropriately, children become more and more aware. While the implementation of these guidelines does not lessen the impact of a tragedy, it does provide children with knowledge that in turn, empowers them to manage their anxieties and uncertainties. In understanding the realities of the world they live in, they grow up acquiring some tools to cope and understand the impact of the news to which they are exposed.