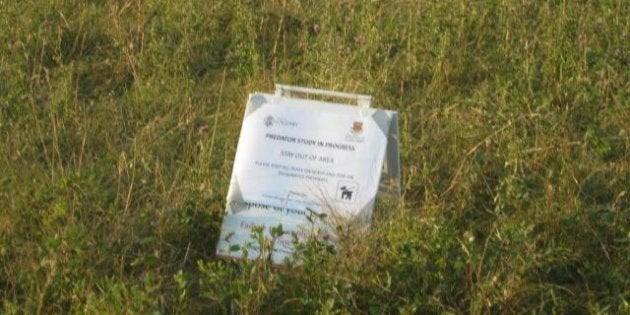 UPDATE: The University of Calgary released a statement late Friday evening, further explaining the study and methods as well as addressing the pause in the project.

"As of 4:30 pm on August 24, 2012 – at the City of Calgary's request – all catch-and-release equipment has been removed from Calgary parks so that current public concerns can be addressed prior to the study being resumed. Researchers will take all feedback into serious consideration and make appropriate modifications."
The City of Calgary is asking the University of Calgary to put wildlife study on hold after at least one dog got stuck in a leg hold trap at a popular city park.
According to an email sent to Where's Your Sit, a Calgary-based dog training service and blog, a woman was walking her dogs at Nose Hill Park when she noticed a sign on a sandwich board approximately 20 meters to the left of the pathway near the Shaganappi Trail entrance. As she stopped to read the sign:
Two of my dogs had run into the trees to find the birds while I was reading (the sign). Before I could finish reading one of them is yelping! I run into the trees and realize they are caught in a leg trap! The only good thing about this story is the trap doesn't have teeth, it just has bars that snap closed on the leg.
The blog post goes on to include photos of the sandwich board, another smaller sign taped to a tree, a food baiting system and a picture of one of the traps.
According to Metro Calgary, the traps were placed in the park this week as part of a U of C study to help researchers better understand coyote movement and interaction with other animals.
Jade Robertson, professional dog trainer and Where's Your Sit owner, explained to OpenFile Calgary the traps are a point of concern because of the potential harm to dogs and humans as well as a lack of communication from the city.
"The sign is really small, and even if it is the on-leash section of Nose Hill, people have children that run around in the woods up there," she told OpenFile. "It's not a middle-of-nowhere kind of place."
CTV Calgary reports the traps were set in the on-leash sections of the park in deep bush between 8:00 p.m. and 6:30 a.m. and there were three sets of warning signs, including one next to the trap itself. These safety precautions didn't cut it for some, however.
"My concern is the 4 year old son I have who likes to go walking the dogs, and tends to get distracted by birds and gophers and goes chasing them into the brush. I'll be very concerned if we have to start putting kids on leashes in public parks...," commented What's Your Sit reader John, underneath the original blog post.
Alessandro Massolo, Assistant Professor in Wildlife Health Ecology at the U of C, took to the blog to explain and quell fears.
"The catch and release equipment is humane and is not intended to injure animals or people. In the event of a dog becoming caught, there are nearby signs immediately adjacent to them to indicate a phone number to call for immediate assistance. Any dog caught will immediately be conveyed to an emergency 24-hour veterinary clinic," she wrote.
"I can assure you that this study was subject to rigorous academic ethic approvals prior to being undertaken and is entirely humane. We did our best to mitigate potential risks and it is not our intent to have any animal hurt."
The City of Calgary tweeted late Thursday afternoon that they would halt the study, which also saw traps placed in Bowmont and Fish Creek Parks.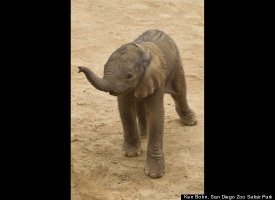 Baby Animals