The saga of Nosey the Circus Elephant is back in the limelight, with dissident voices getting louder. Despite nearly 200 animal welfare violations, the U.S. Department of Agriculture (USDA) has recently renewed Hugo Liebel's license, so the ailing animal can be exploited for human entertainment, decries People for Ethical Treatment of Animals PETA. In an email interview with me, PETA's spokesperson Katie Arth said:
"This comes as no surprise, given the USDA's absurd practice of rubber-stamping license renewals, even when it knows that the applicant has not demonstrated compliance with the law. This practice violates the Animal Welfare Act and has caused innumerable animals to suffer, for years on end, at the hands of neglectful exhibitors who leave animals to languish in filthy cages, without wholesome food, clean water, or proper veterinary care."
One of those suffering animals is Nosey. Dr. Philip Ensley, a veterinarian with over 30 years of experience submitted a scathing report to the USDA, in which he outlined that Nosey suffers from chronic diarrhea, arthritis, foot abnormalities and a serious skin condition that has persisted for over 22 years.
Regarding Nosey's mental state, he observed that she walked around "expressionless and dazed stupor" in a tiny barricaded area, consistently displaying an indifferent and dispirited attitude.
"This is the worst, most prolonged, documented example of an uncorrected case of suffering and abuse in an elephant I have ever reviewed."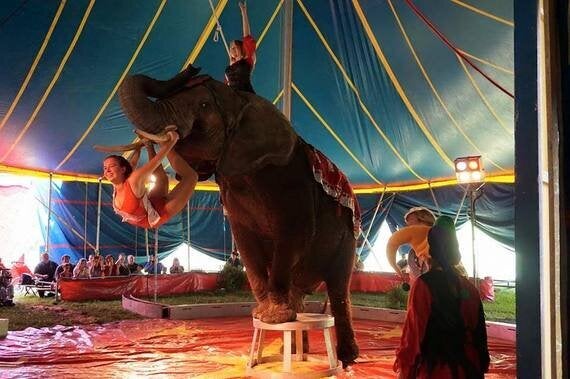 Nosey, performing at a circus in New Jersey
Photo: Courtesy, Barbara Lovett
In this cell phone video provided by Barbara Lovett, an advocate at Save Nosey Now campaign, a distressed Nosey sways back and forth inside her barricade, a psychotic behaviour typical of all captive elephants caused by boredom and lack of exercise.
Lovett says that Nosey appeared drugged so she would obey their commands easily, however she's concerned that the elephant could collapse if her feet buckled in due to arthritis and joint issues, posing a grave threat to public safety.
"Nosey appears to wobble and limp when people are on her back. She is a danger to the public should she fall or falter in her gait. There is also always concern that captive elephants may have TB which is spreadable from elephant to human. People could be trampled and or killed if Nosey decides she's had enough of the stress and boredom and abuse of circus life. "
Meantime, realizing the seriousness of Nosey's condition, 32 members of the US Congress signed and sent a letter to Thomas Vilsack, Secretary of Agriculture, highlighting Liebel's "serious, willful, and chronic violations of the Animal Welfare Act (AWA)", asking the USDA to consider confiscating Nosey.
"As Members of Congress, we must continue to advocate for the humane treatment of animals and protect all animals, large or small, domestic or wild, from mistreatment. Most importantly, we have a responsibility to treat all animals with kindness and respect. Therefore, we urge you to act swiftly to address this issue and look forward to collaborating with your office."
However, neither the negative medical reports, nor petitions from animal activists, and not even the letter from congress members seem to have cast a dent in USDA's decision. Last year PETA sued the USDA for the third time, seeking to void licenses that were issued illegally to chronic violators.
"The USDA's own inspector general admitted that in five separate audits, the fines for animal welfare violations were so small that exhibitors considered them a cost of doing business, paid the fines, then went back to violating the law."
I emailed USDA's Bernadette Juarez asking, despite numerous violations and Nosey's deteriorating health why the USDA hasn't yet confiscated Nosey. Among other questions I also asked if the USDA was waiting for a tragedy to unfold before Liebel's license is suspended. However, I had not received USDA's response by the time I filed this report.
Nosey is one of the 63 baby elephants imported to the US from Zimbabwe after its government organized a mass culling of elephants. Hugo Liebel, a circus clown, bought Nosey in 1988, and since then she's been doomed to slavery, transported all across America to perform and give joyrides despite her deteriorating health.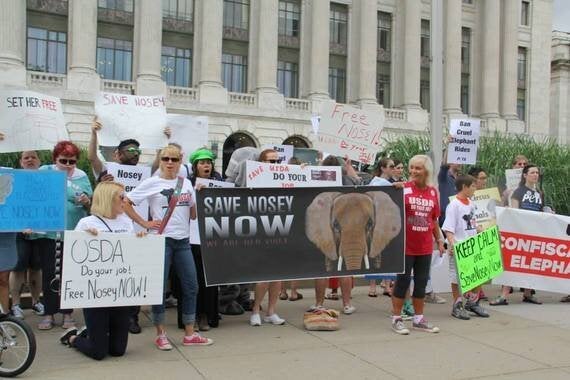 The good news is collective voices of animal advocates and celebrities are creating waves across the nation, prompting many fairs to cancel Nosey's appearances, some even pledging never to host Nosey again. PETA's Arth says,
"Until Nosey is retired from the circus, PETA will continue to protest and document her suffering. We have been working with members of Congress to put pressure on the USDA to do its job and have also enlisted celebrities such as Olivia Munn to speak out for Nosey."
In January 2016, Save Nosey NOW campaign members organized a summit, with six animal welfare groups in attendance, including PETA, Animal Legal Defense Fund, Compassion Works International, and Action for Nosey Now. One of the main focuses was to find a way to reintroduce The Traveling Exotic Animal Protection Act (TEAPA), which would prohibit use of wild animals in circuses across the USA.
This would have a positive impact on all traveling circus animals and potentially the best possible outcome for Nosey. The Elephant Sanctuary in Tennessee is ready to take her in and introduce her to their elephants so she can socialize and wander freely for the rest of her life.
Correction: A previous version of this blog mistakenly referred to the activist group Save Nosey Now as Free Nosey Now.
Follow HuffPost Canada Blogs on Facebook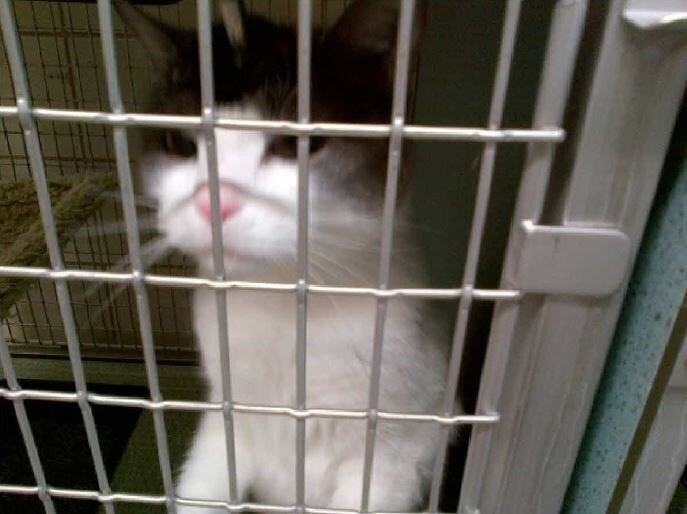 PETA Reveals Wisconsin-Madison University's Experiments On Cats
Popular in the Community