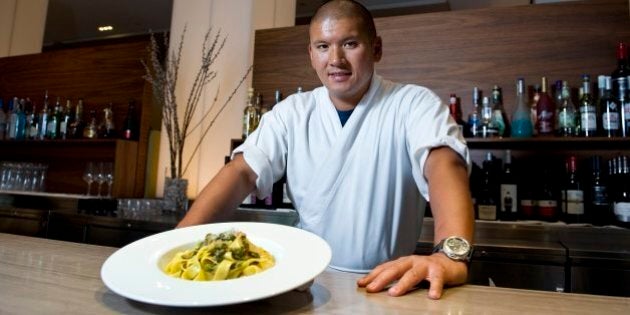 When he was just a little boy in Mauritius, chef David Lee remembers walking home with 10 to 15 cousins after a long day at the beach.
As his cousins would fight to use the bathtub at home, Lee, the youngest member of the brood, headed straight to the kitchen to watch his grandmother cook. She even showed him how to kill his own chicken.
Raised in a family of simple living and simple cooking, Lee, 43, quickly learned how to use fresh and local ingredients.
Born in England, his background combines British, Chinese, Mauritian and French heritage. Of course, "Canadian" also got added to the mix, after the third generation chef moved to the country nearly 20 years ago.
"From a very young age, there was an exposure my parents gave me without me knowing what it would be in 25 years," he says. "One of the most important things about cooking is the respect for food."
This motto is also something he tries to teach his three-year-old daughter — who unsurprisingly loves the kitchen herself.
Before opening his restaurant Nota Bene in 2008, Lee also worked at Centro and co-owned Splendido.
During an interview at Nota Bene before the dinner rush, chef de cuisine Geoff O'Connor brings Lee two plates: one with foie gras and the other with a slice of a buttery tart they're testing out. "I think this plate needs a change, do we have duck prosciutto?... Warm this one up," Lee directs, examining the dessert.
"This is the creative process," O'Connor says.
Besides the finer things in life such as duck liver and French pastries, we talked to Lee about his favourite cheap eats, his love for Canadian cuisine and why his team likes to party like rock stars in the kitchen.
What does "Canadian" food mean to you?
It's the farmers market and it's the caribou — caribou has to be my favourite meat. From land to sea, Canada has a lot to offer: You can go to Nova Scotia to get lobster, you could have duck in Ontario and you can go to Prince Edward county and meet a farmer who is growing her own tomatoes and vegetables.
You've also cooked in several countries, how do bring these skills to your kitchen here?
Being raised in Mauritius, you have African, Chinese and Indian influences. They're hardcore cultures in terms of ingredients and flavours.
But in North America, a lot of our cuisine is based on popular food trends... How do you feel about things like the cronut?
It's not for me. I don't want to disrespect those guys but I believe in tradition and a foundation in cooking. I believe going outside the box...but what exactly is a cronut?
It's a doughnut and croissant hybrid. Basically, it looks like a doughnut on the outside but when you open it, it's flaky like a croissant.
It's all art but who am I to say it's newsworthy or a trend? Trends come and go, so is he fine-tuning an art or grossing it out? To me a croissant is a croissant. So do I need a doughnut and croissant to be satisfied? I just don't understand it to be honest.
What is one of the first things you crave when you go back to your hometowns in England or Mauritius?
In England, it's St John's restaurant, it's English comfort food and it's all very rustic in a sense. And also some fish and chips with mashed peas.
When I go to Mauritius, there's a cake called chili cake (gateau piment). It's like a falafel. Oh, and the rotis as well. I die for the rotis.
What's your favourite food to make for yourself at home after a boozy night out?
I would have to say pizza in my backyard. And honestly I can do damage with a bag of chips and wine gums too. But probably pizza with double toppings like bacon.
What's your favourite poison?
If you could prepare only one last meal, what would it be?
Lobster and frites. I just love them.
What would be in your emergency "survival pantry"?
I would probably say cheese, or even better, charcuterie.
What is the wildest thing you've done in a kitchen, culinary or otherwise?
I think our staff parties are pretty notorious when we dance. Yeah, at staff parties we dance on tables, probably when we first opened, and listen to ACDC. I love ACDC.
How do you feel about people taking photos of food in your restaurant?
The problem is you can't fight it. I won't tell people not to take pictures of my food, these days it's a part of our culture and it would be offensive to ask someone that. It's a memory they're going to tell their friends and it's a form of communicating to the world instantly.
What is the best restaurant that no one's ever heard of?
What is your favourite cheap food thrill?
What would you be doing if you couldn't be a chef?
A scuba diver or photographer. Photography has always been a hobby as a kid. I love portraits, sculptures, wide angles and food, too. And scuba diving is just very zen and peaceful, it's like you're in a different world.
What is the most memorable food city in the world?
San Sebastian in Spain. Spain is like unbelievable, the cod cheeks, the tapas were outstanding. The street food in Singapore, in Thailand in Chiang Mai — I don't think I've ever been to a country with food just so incredible. But I would say hands down the best food I've had is in Spain.
What's the most unusual and delicious food that you would suggest people try?
Beef penis in a restaurant up in Markham (Ont.). All the writing was in Chinese and I didn't speak Chinese but the chef gave it to me. It's more the texture.
Which Canadian restaurants would you recommend?
'Grilled' is a new regular chef interview that runs every other week. Who would you like to hear from next? Let us know at canadaliving@huffingtonpost.com.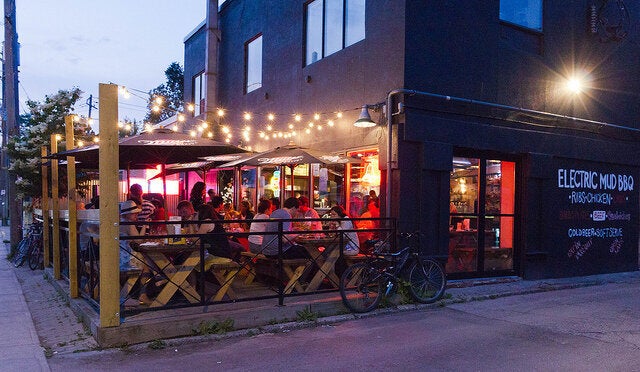 Best Toronto Restaurants (HuffPost Picks)
Popular in the Community