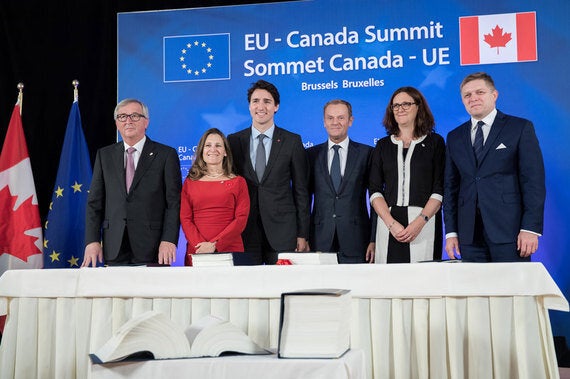 Prime Minister Trudeau and International Trade Minister Freeland at CETA signing in Brussels
Photo credit: Adam Scottie/PMO
For those of us in the business of attracting more international investment to Canada, it's been a watershed week that offers a sharp contrast to the protectionist rhetoric now in vogue in several countries.
First, we've let the world know we're wide open for business, as evidenced by the signing of the Comprehensive Economic and Trade Agreement (CETA) in Brussels at the start of week. CETA signals that Canada is moving toward creating the largest trading and investment block in the world.
Second, we're not waiting for investment opportunity to come to us, we're putting a focused sales team in place to go get it. Finance Minister Morneau's Fall Economic Statement
commits to a "new, dedicated high-impact sales force to promote Canada, and to work with global companies to forge global partnerships and invite them to expand into Canada."
The work put into the fine print of CETA recognizes that modern commerce is much more than moving goods across borders. It is about financial and knowledge-based consulting services, digital commerce and entertainment, and the freedom of movement for the skilled workers who are creating the 21st century global economy. CETA addresses these and many more opportunities. With this agreement Canada is demonstrating leadership in building the agreements necessary to protect our economic future and guarantee access to prosperity for all Canadians.
1) Dollars and sense: Supporters of CETA say it will increase Canadian-EU trade by 20 per cent and boost Canada's economy by C$12 billion and the EU economy by €12 billion.
2)Unparalleled market access: Once the Canada-EU Comprehensive Economic and Trade Agreement (CETA) comes into force, foreign investors in Canada will have assured preferential access to both NAFTA and the EU with nearly one billion consumers and a GDP of over US$35 trillion.
3)Enhanced investor protection: CETA will provide Canadian and EU investors with greater certainty, transparency and protection for their investments.
4)Easing of investment restrictions: The net benefit review threshold under the Investment Canada Act will be raised from the current C$600 million to C$1.5 billion following CETA's entry into force.
5)Signals open trade, not closed borders: While populist movements in some developed economies appear to be antagonistic to expanding trade agreements, Canadian cities are welcoming aggressive investment interest from across Europe and around the world during investment missions conducted in partnership with Federal government colleagues.
While an expanding portfolio of trade agreements like CETA are important, their mere existence does not ensure success. To that end, my colleagues in the 12 economic development offices of Canada's largest cities were very pleased to learn about a new Federal Invest in Canada Hub to be put in place by the end of 2017.
Global commerce is changing and so are the factors driving foreign investment.
According to the Fall Economic Statement, under the leadership of a new Chief Executive Officer, the Invest in Canada Hub will be established by the end of 2017, and will work globally, in partnership with Global Affairs Canada, the Canadian Trade Commissioner Service, and Innovation, Science and Economic Development Canada, as well as with provincial and municipal investment attraction offices.
We see many new doors being opened with this focused federal initiative, and want to emphasize that international investment deals always close at the city level.
"Companies ultimately invest in cities" stated Carl Viel, Chair of the Consider Canada City Alliance and President of Québec International, in a recent press release. "Our 12 economically powerful city members know first-hand the tremendous opportunity that Canada offers to companies considering foreign expansion. We have intimate knowledge of talent, locations, merger and acquisition synergies, research institutions and are the go-to people for companies making new investments in our country."
Global commerce is changing and so are the factors driving foreign investment. Cities play an increasingly critical role in the health of national economies. We look forward to working with our federal partners over the next year to help define an Invest in Canada Hub that responds to the changing world economy, recognizes and builds upon the strengths of the partners selling Canada as an investment location and advances our global leadership position for economic growth and prosperity.
Michael Darch is the founding President of the Consider Canada City Alliance Inc.
Follow HuffPost Canada Blogs on Facebook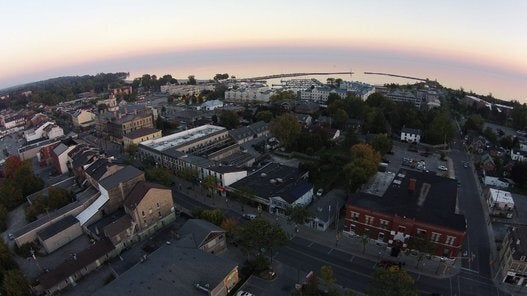 The Best Canadian Cities To Do Business In: CFIB (2016)