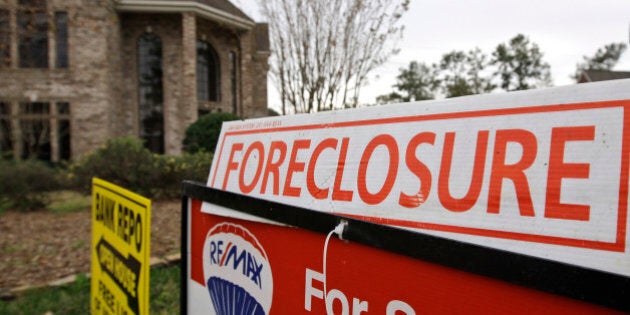 Halloween is coming up, but if you've been paying any attention to the housing headlines this fall, you might be getting spooked for a whole other reason.
It could be the skyrocketing price of homes that's causing you to lose sleep. Perhaps it's Finance Minister Bill Morneau's recent changes to mortgage rules which took effect on Oct. 17. Or maybe that very same day while flipping through your copy of The Globe and Mail, you came across Canada Mortgage and Housing Corp. Chief Executive Officer Evan Siddall's column sounding the alarm that Canada's housing agency plans to issue its first "red" warning for Canada in its forthcoming Housing Market Assessment on Oct. 26.
Meanwhile just this morning, the Bank of Canada downgraded Canada's economic outlook, blaming slower housing resale activity and a lower trajectory for exports.
News like this may especially have first-time homebuyers heading for the hills. But don't worry too much, Big Brother is on top of things.
Earlier this month, Morneau's changes to Canada's mortgage rules aim to slow overspending, which was been encouraged for the last few years by ultra-low lending rates. Under the new rules, insured mortgages (those with less than a 20-per-cent down payment) must now qualify at the central bank's posted rate - currently sitting at 4.64 per cent. This puts many first-time homebuyers out of the running, which would be good in the grand scheme of things.
"High levels of indebtedness coupled with elevated house prices are often followed by economic contractions...The conditions we now observe in Canada concern us," Siddall wrote of Canada's housing market. "We expect Mr. Morneau's actions therefore to support our economy. Seen this way, the resulting delay in when people can purchase their first home, or their decision to buy a smaller home, rent or stay put is rather a small price to pay."
And to put a little more terror into first-time homebuyers, there will also be other factors to consider beyond the usual worries of mortgage rates and rising prices. It's called "life."
So, what can homebuyers do to protect themselves? Get a helmet, and do your due diligence. Review your assets and your debts, including mortgage (current and expected payments), car loans, lines of credit, student loans, and any other bills you pay regularly. Ask yourself, are you secure in your job? Are you planning to grow your family, and will you be taking parental leave from work? Are you putting money aside for your retirement?
Are you in a buyers' or sellers' market? Will prices rise or drop in the foreseeable future? Should you buy now, or wait until the feverish buying frenzy blows over? Rather than losing sleep about things you can't control, consider your own circumstances and plan your future based on your comfort zone - keeping in mind that interest rate hikes will happen, the economy will respond, and circumstances will change.
While it's prudent to pay attention to the headlines, reports and all the accompanying advice, take it with a grain of salt. While the picture may look a certain way from a national, provincial or even a city-wide perspective, what happens from one street to the next can differ dramatically. Once you figure out what your reality is, you'll be better equipped to make that important home-buying decision without being scared off by the latest headlines.
Follow HuffPost Canada Blogs on Facebook
Popular in the Community