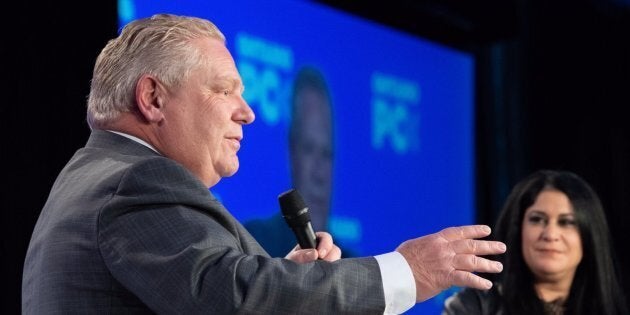 Anti-abortion activists are calling on Ontario Premier Doug Ford to invoke the notwithstanding clause in order to block certain topics from being taught in schools.
Campaign Life Coalition, a national anti-abortion group, handed out pamphlets to Ontario Progressive Conservative supporters at the party's annual convention in Etobicoke, Ont. this weekend.
"Please encourage Premier Ford to invoke the Charter's Notwithstanding Clause to override the negative court rulings from activist judges and biased human rights tribunal decisions that the left will inevitably produce in an attempt to block Ford from keeping his promise to repeal [former premier Kathleen] Wynne's radical sex ed," one of the flyers said.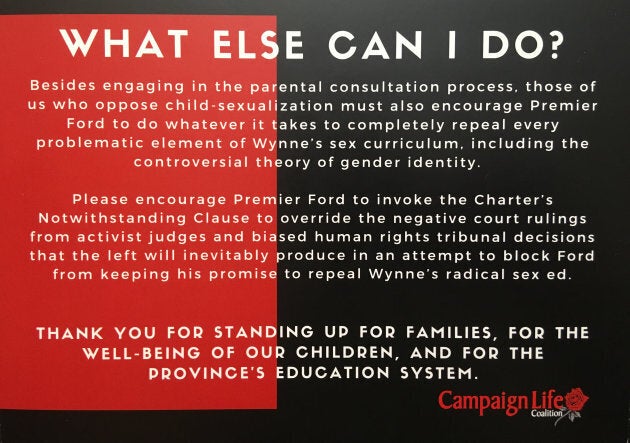 Ford faced national backlash when he became Ontario's first premier to table legislation that invoked the notwithstanding clause in September. The clause lets provincial governments protect laws from constitutional challenge for a five-year period. That means a law can be passed even if a court would find it infringes on Canadians' guaranteed rights, like the right to be protected from discrimination based on race or sex.
Ford's office did not respond to HuffPost Canada's requests for comment Sunday at the time of publication.
"The entire curriculum reads like a pedophile manifesto," the coalition's political strategist, Jack Fonseca, told HuffPost Canada by phone on Sunday.
According to its website, Campaign Life Coalition does not think schools should teach:
The names for certain body parts, like vulva, vagina, testicles and penis, in Grade 1,
That some people masturbate,
That it is normal to start developing crushes on classmates around age 9,
That some families have two mothers or two fathers,
That some people express their gender outside of the norm for their biological sex,
That all parties should consent before engaging in sexual activity.
In the 2015 curriculum, teachers are told it's age-appropriate to talk about consent with Grade 1 students. But Burlington, Ont. teacher Paul Brandreth said educators wouldn't introduce consent in a sexual context at that age.
"It's about having consent to give them a hug, so that one kid or another can say, 'I don't like you touching me. I don't want you that close to me.' Stuff like that," Brandreth told HuffPost Canada in a previous interview.
Fonseca said his biggest problem with the curriculum was that it introduced students to the concept of gender identity.
At the PC convention this weekend, a motion calling for the party to declare gender identity "a Liberal ideology" passed its first test. Delegates agreed to debate the motion next year, and have another vote to decide whether it will be adopted as official party policy.
Opposition leader Andrea Horwath slammed the resolution as a "dangerous position that drags our province backwards."
Two groups are taking the government to court over its repeal of the new sex-ed curriculum, and another has filed a complaint with the Ontario Human Rights Tribunal.
The Elementary Teachers' Federation of Ontario argues that using the old curriculum infringes on teachers' right to freedom of expression and students' rights to security and equality. A civil liberties group says the 1998 material "stigmatizes, degrades, and alienates" LGBTQ parents and students.
At the Human Rights Tribunal, lawyers for families of queer and trans youth will challenge the government with a section of the Ontario Human Rights Code that provides protection from discrimination in services.
Doug Ford made specific overtures to win the support of social conservatives.Jack Fonseca
Ford should use the notwithstanding clause to be sure his legislation won't be derailed by a left-leaning judge, Fonseca said.
"Doug Ford made specific overtures to win the support of social conservatives. He wasn't shy about that," Fonseca said.
He noted Ford's promises to repeal the 2015 sex-ed curriculum and to support any MPP that brings forward legislation to require a parent's permission before a teenager is allowed to terminate a pregnancy.
"The liberal media is trying to scare politicians like Doug Ford into not following through on their commitments to socially conservative voters," Fonseca said.
But he said Ford is much more open to socially conservative members of the party than former leader Patrick Brown was.
"I think [Ford] saw common sense in these policies."
CLARIFICATION: A previous version of this article stated that Campaign Life Coalition does not agree with teaching the names for certain body parts at all. The group's website states that it is an inappropriate lesson for Grade 1 students, but does not clarify at what age that would be appropriate.