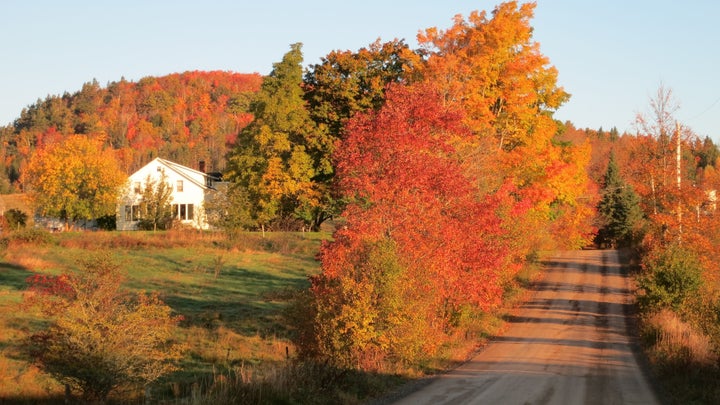 Tour the rolling countryside of Nova Scotia in the fall and it's like driving right into a post card. The undulating hills are redolent with bright oranges and reds with the odd evergreen to change it up.
Head west of Truro and not only do you get this scenic drive but you'll find Nuttby Mountain wind farm -- the turbines popping up into view quite unexpectedly. It turns out those beautiful, treed hills also mean you don't see wind farms from miles away.
I am here with Austen Hughes of Natural Forces, a community wind energy developer. We are here to stand in the shadows of wind turbines to talk about Nova Scotia's community feed-in-tariff program. A program that supports smaller community scale wind and other renewable energy projects throughout Nova Scotia.
The transformation in Nova Scotia from burning dirty, unhealthy coal to cleaner, greener forms of energy has been remarkable. Since coming to power, the NDP government of Darryl Dexter has reduced coal-fired electricity from about 85 per cent of the electricity mix to 56 per cent today. A 75 per cent increase in coal costs was a motivator, but local jobs and investment and positive effects on the environment were the icing on the cake.
Nova Scotia is in the midst of the one of the most aggressive energy transitions in North America. "We are moving from having 15 per cent of our electricity come from renewables when we came to power to having 25 per cent by 2015 and 40 per cent renewables by 2020."
To meet these goals they've contracted 100 MW of mostly wind energy out to Nova Scotia Power. Another 100 MW is coming from independent producers via a competitive bid process. And lastly, Nova Scotia is also looking for 100 MW of wind through its Community Feed-in-tariff program, shortened to COMFIT, even by the Premier.
"We call them COMFITS actually, community feed-in tariffs and you know this was an effort for us to bring communities into the energy portfolio and allow them to feel like they actually have some control over their energy destiny," said Dexter.
Dexter says 45 projects have been approved under the COMFIT program from more than 100 applications received by the province.
THE HISTORY
Hughes' company, Natural Forces is partnered with Wind4All, a Community Economic Development Investment Fund (CEDIF) to fund it's Fairmont project in Antigonish, Nova Scotia. With these CEDIFs, regular folks can invest their RRSPs in renewable energy projects, be they wind, biomass or tidal, right in their own community.
This CEDIF raised $2.35 million in just three and a half months. Wind4All owns 35 per cent of the Fairmont project and will capture a proportional amount of the profits.
They're building a 4.6 MW wind farm consisting of two Enercon 2.3 MW wind turbines under a 20-year power purchase contract for the electricity produced. This agreement means regular, forecastable income for the next 20 years, something investors, whether local or not, always appreciate.
This is local, community scale development with local investment and the jobs profile is respectable. "Taking Fairmont Wind Farm as an example, our 4.6 MW, two turbine project up in Antigonish would come in at a capital cost of approximately 11-million dollars. Of that $11 million, I would expect around three to three and a half million dollars would stay within the province of Nova Scotia," says Hughes.
When Hughess extrapolates Natural Forces' numbers this means the COMFIT program will kick $60-80 million of direct investment into local economies around Nova Scotia. That's just construction and doesn't take into account all of the other economic spinoffs including snow clearing, avian consultation, lawyers, taxes paid to local governments and more.
Natural Forces has five COMFIT projects in various stages of completion right now. That's more than 20 MW of power where local communities not only control their energy destiny but also get to see the financial upside of the project.
While the days of really cheap electricity may be in the past, renewable energy and its cheap to non-existent fuel costs may actually help stabilize the cost of electricity and avoid the economic and environmental pitfalls of importing coal and heating oil.
To get to the 40 per cent renewable energy goal by 2020 Nova Scotia is also betting on an investment in the Muskrat Falls Lower Churchill hydroelectric project in Newfoundland. The estimated cost of Muskrat Falls recently rose from $6.2 to $7.4 billion inspiring a flurry of political debate in Nova Scotia.
The project is not without its critics and large hydro projects almost always face concerted opposition before being built, both for the environmental and economic costs.
Nova Scotia's community energy program not only supports renewable energy projects, it supports local involvement, local investment and local economic development. It's a lot of hard work and it means a lot of meetings but getting communities involved in their energy destiny is not just important financially it's important for people to be a part of their energy system in a real, tangible way.
All things being equal would you be more inclined to have a coal fired power plant in your backyard or a wind turbine that you helped raise the money for?
Popular in the Community