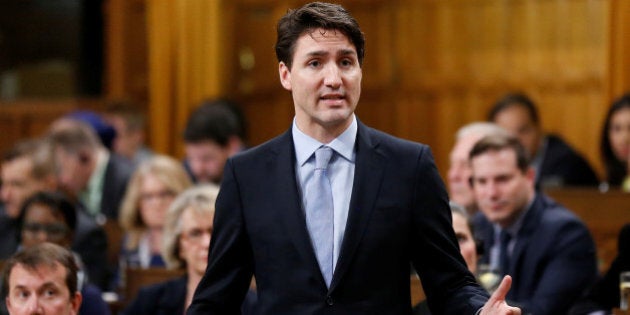 The Trudeau government has tackled several key pieces of its criminal law reform strategy but it's long past time to decriminalize sex work.
Being elected to lead our country involves more than easy victories and politically expedient "people-pleasing" issues. The Trudeau government has a moral obligation to address the public health and safety of all its citizen. The weight of the Liberal majority needs to be put behind the health and safety of all people in Canada, including sex workers.
In 2017, sex workers in Canada continue to live and work in unsafe conditions, face predatory and state violence, immigration raids, deportation, surveillance and arrest as well as see their human rights violated. The failure to address it so far suggests that this human rights issue is intentionally being left off the legislative agenda, which is a serious concern.
Meaningful sex work law reform in Canada is long due. Among those concerned, the UN Special Rapporteur on the right to health has condemned the criminalization, full or asymmetrical, of sex work as a violation of the right to health by creating barriers to sex worker's access to health services.
Governments have an obligation to show due diligence in the protection of sex workers' human rights, including their right to health and to freedom from violence. Laws and policies must be evidence-based and address the intersecting and layered systems of oppression impacting sex workers' experiences. This can only start with our government taking the necessary steps toward the decriminalization of sex work in Canada.
The move toward decriminalization was backed by thousands of pages of evidence and expert testimony as well as decades of government sponsored commission reports and research, topped with relentless activism from grassroots organizations.
The Supreme Court's Bedford decision marked a huge step in recognizing sex workers' rights specifically, and human rights in Canada more generally. For more than thirty years, sex workers had been calling on Canada to repeal laws that target them, their clients and the people they work with, pointing to the harm in criminalizing elements of sex work and the inability of criminal prostitution laws to protect them from violence. Many lives were lost waiting for this victory.
Almost immediately, the Harper government communicated their intention to introduce new laws. A shift toward a discourse that conflated sex work and human trafficking soon kicked into high gear and introduced the idea of sex workers as victims to justify the continued aggressive regulation of sex work and sex workers. In December 2014, bill C-36, the Protection of Communities and Exploited Persons Act, became law.
Like the laws struck down in 2013, this new regulatory regime fails to comply with the Charter of Rights and Freedoms and the requirements outlined by the Supreme Court of Canada in its Bedford decision.
This turn of events dealt a serious blow to those directly impacted by the criminalization of sex work, some of whom had spent decades fighting for their rights and were being told to wait once more. The social science evidence from Canada and throughout the world clearly indicates that criminalization of the sex industry - whether clients, third parties or sex workers - continues to send the sex industry into the shadows, restrict sex workers' access to important safety mechanisms and has significant and profound negative consequences on sex workers' health, security, equality and human rights.
The Liberal Party of Canada, then an opposition party, clearly denounced the new law. They took a clear stance and expressed serious concerns about the new legislation failing to adequately protect the health and safety of vulnerable people, particularly women.
Once elected, the Trudeau government took the unprecedented step of publicly releasing all ministerial mandate letters. These documents provide a framework for what Ministers are expected to accomplish, including specific policy objectives and challenges to be addressed. The public mandate letter received by newly minted Attorney General of Canada and Justice Minister, the Honorable Jody Wilson-Raybould, did not mention sex work; a timeline to address the criminalization of sex work was not included.
The Trudeau government has touted itself as one that promotes, respects and fights for Charter rights; yet, their response to sex workers' Charter rights is dismal to date - a year and a half later, we wait.
Justice Minister Jody Wilson-Raybould needs to promptly begin a process of sex work law reform that culminates in the decriminalization of sex work as part of this government's criminal law reform strategy. The time is now. In fact, the time was long ago.
Follow HuffPost Canada Blogs on Facebook